Blog
Video KYC – Understanding the 'what' and 'how' [A short guide]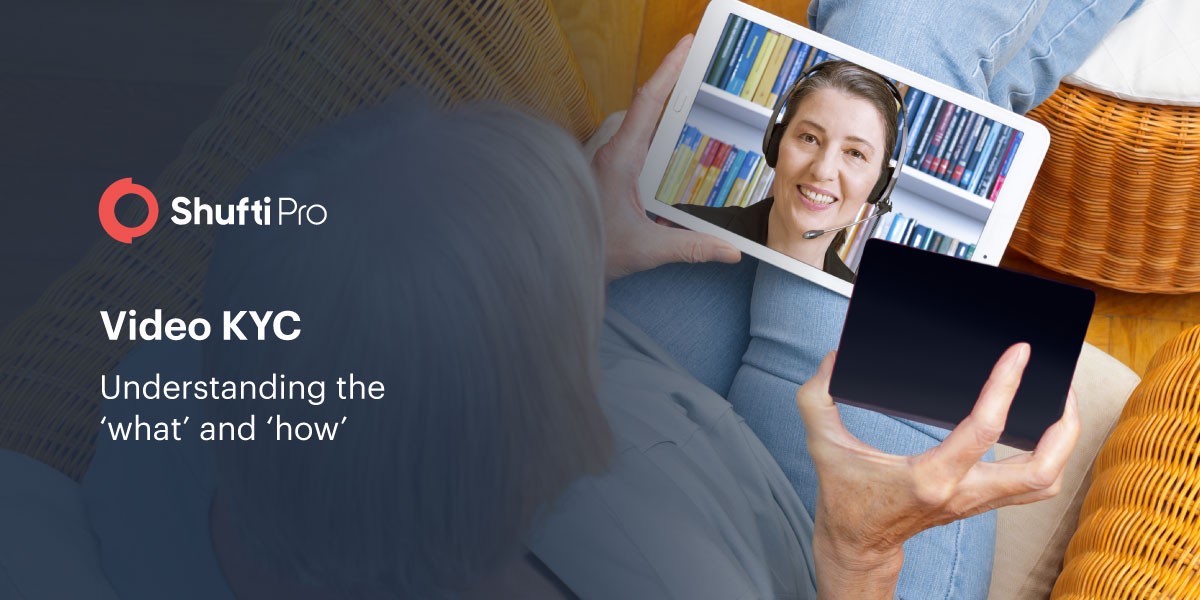 KYC is an integral part of the customer onboarding process and it has evolved with time. Do you know video identification is now the latest way to carry out the KYC process in real-time?
This blog post covers the basic information about Video KYC, including the process and use cases. Here's the summary of the blog:
The year 2020 has brought some major shifts in the business world, digitisation being the significant change. With COVID-19 situation in question, organisations have actively shifted their operations online to capture the consumer market and reap the benefits. Among all the industries, banks and financial institutions are the ones to take a major leap in their customer onboarding process.
While consumers go digital, enterprises face a major challenge to strike the balance between security and customer experience. Which method to adopt to successfully comply with KYC/ AML regulations and provide the user with enhanced experience? Video KYC is one such solution that not only offers real-time customer onboarding but also caters to changing regulatory landscape.
What is Video KYC?
Video KYC or video identification is an online method of face-to-face identity verification in which organisations carry out their customer verification process through video call assisted by KYC agent. During the video call, the customer is required to digitally submit the identity documents for proof.
How Video KYC is different from traditional KYC?
Know your customer (KYC) is generally defined as the process to confirm the identity of the customer and identify any possible associated risk with the customer. To comply with KYC/AML regulations is obligatory for banks, financial institutions and every other business dealing with money. Traditionally organisations have manual customer identification program (CIP) in place to verify customer identity at the time of onboarding. This process could take up to weeks, enforcing customers to abandon the process in the middle.
Video customer identification process is the digital version of the traditional KYC process, just more secure, quick and cost-effective. Video KYC eliminates the paperwork streamlining the whole verification process with real-time results. Customers don't need to physically visit the company and submit their identity documents to open their accounts. From registration to onboarding everything is done remotely.
The growing need for video verification
Video identification is the trending phenomenon nowadays and calling it the force behind the changing identity verification industry won't be an overstatement. Apart from making the verification process time and cost-effective, the growing identity frauds are driving the need for a secure verification process in the form of video verification. Security is one of the key concerns of industries in this digital era and Video KYC solution is quite efficient to combat fraudster's sophisticated tricks.
Video-based customer identification serves as a shield against various identity frauds that include:
Spoof attacks
With the advent in technology, fraudsters are becoming more sophisticated in carrying out frauds to fulfil their malicious intents in the form of spoof attacks. Using AI tools and technologies, imposters are tricking and surpassing verification systems with fake or stolen identities. This type of document and facial spoof attacks are hard to detect and is not recommended to rely on the system's decision only. Video KYC incorporates both human and artificial intelligence to detect spoof attacks in real-time.
Synthetic identities
Synthetic identity theft is one of the most difficult fraud to detect because of its nature. What fraudsters do is they combine real pieces of information, for instance, social security numbers (SSN), with fake information to create real-looking identity. Such identity is hard to detect at initial stages of fraud but with video verification services synthetics identities can be detected easily, hence preventing potential
synthetic identity fraud.
Deep fakes
Deep fakes are generally known as the falsified videos made using deep learning technology. They are made to fool the system and gain unauthorised access to the system. For instance, using deepfakes in face verifications systems, fraudsters can surpass the identity checks. Such videos are really close to real videos and not detected easily driving the need for more secure Video KYC solution.
Read more: Video-KYC – The 'New Normal' for Digital Customer Verification
How video KYC works?
Video KYC is similar to traditional KYC that confirms refers to face-to-face video call as a channel for conducting the KYC verification process. This process requires users to confirm their identities through valid ID document proofs during the video call. Instead of relying on various channels to complete the KYC process, video-CIP allows omnichannel customer engagement where face verification and document verification is conducted while staying on the video call.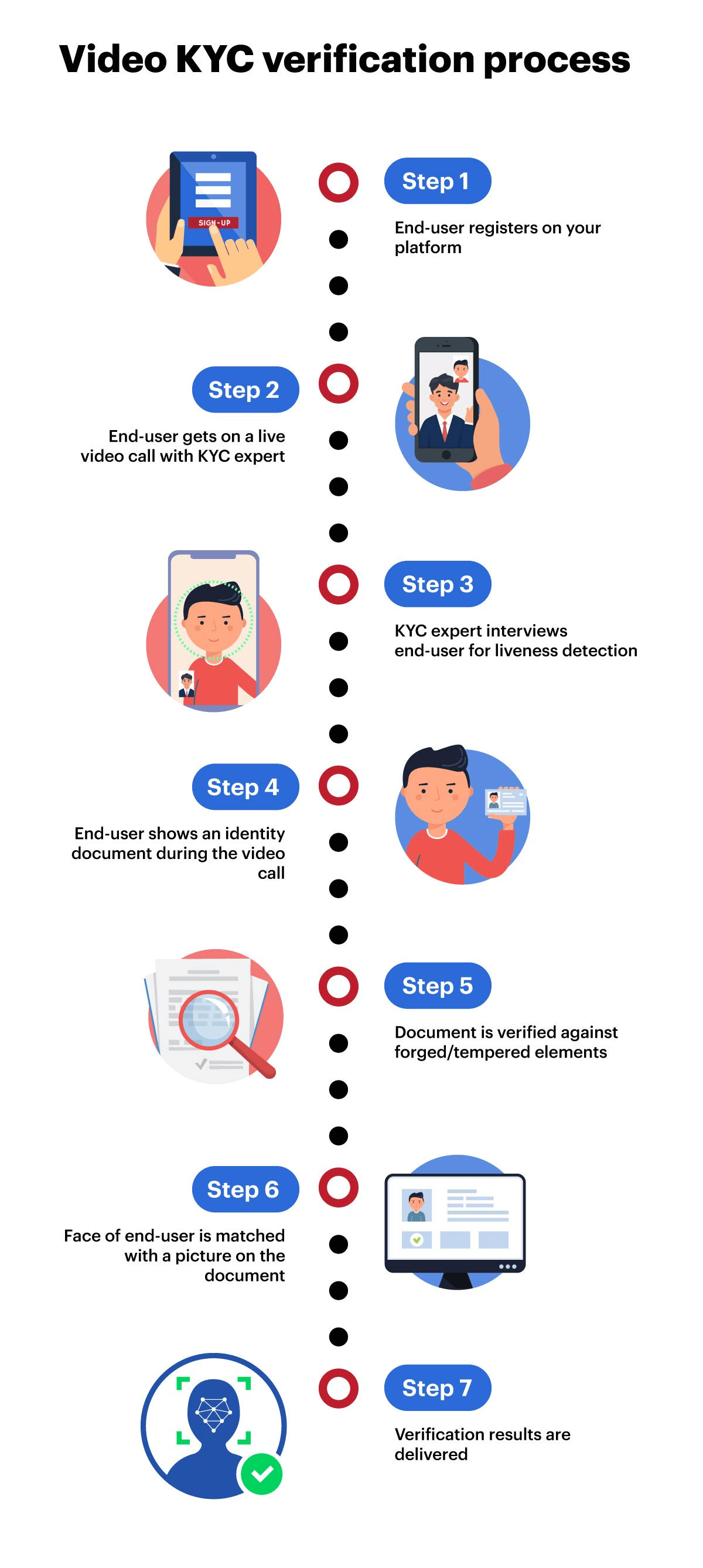 Which industries can benefit from Video KYC?
There has been a significant shift in consumer behaviour due to trending digitisation. Industries are looking for better online solutions to meet changing consumer demands and survive this digital era. Video KYC solution is one of the technologies that will soon be integrated into various sectors, in fact, some industries have already started incorporating video identification for customer onboarding.
Following industries can benefit from AI-powered video KYC solution.
Banks and financial institutions
Banks and financial institutions have always been under the tight scrutiny of regulatory authorities. With stringent KYC and AML regulations in place, customer verification during the onboarding process is mandatory for all financial institutions. Manual verification is no longer an option, digital onboarding is what every bank needs. Video KYC can prove to be an effective way to verify customers in real-time and comply with KYC/AML requirements.
Payment industry
With payment industry collaborating with other industry players, the need to put proper due diligence checks is greater than ever to prevent payment frauds and combat money launderers. Also, after the introduction of AMLD5, payment industry now falls under the obliged entities to mandate the KYC process. The minimum threshold of prepaid cards has lowered from 250 to 150 euros. Payment industry can secure payments from fraudsters and prevent money laundering through video identification.
Insurance providers
Insurance companies are one of the sectors where fraud is done on a large scale. Through fake documentation and stolen identities, fraudsters are exploiting insurance industries to fulfil their malicious intent. Not only business owners but the victims are also deprived of their rights due to such heinous crimes. With video verification in place, insurance providers can ensure that only authorised and real customers are taking their services.
Remote companies
Amid COVID-19 pandemic, remote jobs and work from home are trending resulting in ghost employee frauds and other cybersecurity threats. Fraudsters and cybercriminals are taking advantage of the situation and getting unauthorised access to enterprise' critical information and assets. Using Video KYC solution, companies can ensure that only real employees are being hired. Moreover, with ID verification, only authorised employees can access company profiles.
Checklist for best Video KYC solution
How to ensure your selected Video KYC solution is the best? Before taking the service, it is essential to do your homework regarding the features and functionalities of the solution. Only then you can assure that your selected solution is beneficial for your business. Here's the checklist for best video KYC solution.
1. Global coverage
Due to digitisation, your customers can be from any part of the world. It is vital to opt for a solution that offers global coverage with proper language and document support.
2. Cost-effective
An effective Video identification solution is the one that allows reducing your KYC process costs without affecting the customer experience. For every business, pay as you go pricing feature is the best option.
3. Customised solution
It's an understood fact that every business has different KPIs and business requirements. The video verification solution has different features to offer and not every enterprise needs all those features. The best solution provider is the one that presents a customised solution as per business needs.
4. Enterprise-grade security
Video KYC process involves handling valuable data of customers that needed to be secure according to international standards of data handling. You need a solution provider that offers top-notch encryption standards to prevent any kind of data theft and maintain consumers' privacy.
5. Omnichannel user engagement
Customer satisfaction is the major factor that contributes to the growth of the business. A video KYC solution offering omnichannel for user engagement and verification adds to enhanced user experience because the user doesn't have to switch channels to get the verification done.
It all comes to Shufti Pro Video KYC
Video KYC is the new normal in the verification market. With Shufti Pro's Video KYC solution, you can streamline your onboarding process and reduce turnover time of the KYC process efficiently. Having all the above-mentioned features, our video verification service along with real-time digital document verification service can assure fraud-free customer onboarding. Moreover, with our three different video KYC models, you can select one that fits best as per business needs.
Disclaimer:
No warranty is herein provided that the information contained in this document is accurate, up-to-date, and/or complete. In no circumstance(s), does such information constitute legal or any other advice. Any person who intends to use, rely, pass-on, or re-publish the information contained herein in any way is solely responsible for the same. We suggest to verify the information and/or obtain
expert advice
independently if required.