BEFORE YOU GO...
Check how Shufti Pro can verify your customers within seconds
Request Demo
No thanks
As technology is advancing so do fraudsters, ringing security alarms for financial businesses and customers alike. Selfie-based verification is no longer an option to mitigate financial crimes. Companies are shifting towards a more advanced form of identity verification — Video KYC. It is estimated that the video KYC verification market will reach $500 million by 2026, facilitating the financial sector to unblock its potential. 
What is Video KYC?
Video KYC verifies any customer's identity through a video call instead of calling them in person to get the job done. The client is required to submit their official identity documents which are then verified by a KYC agent. 
Traditionally businesses used to authenticate customers manually which took up to weeks, forcing clients to leave the process in the middle out of frustration. Roughly 61% of clients say that they will switch to another brand after one bad experience. This is where online video verification steps in, more secure and more economical.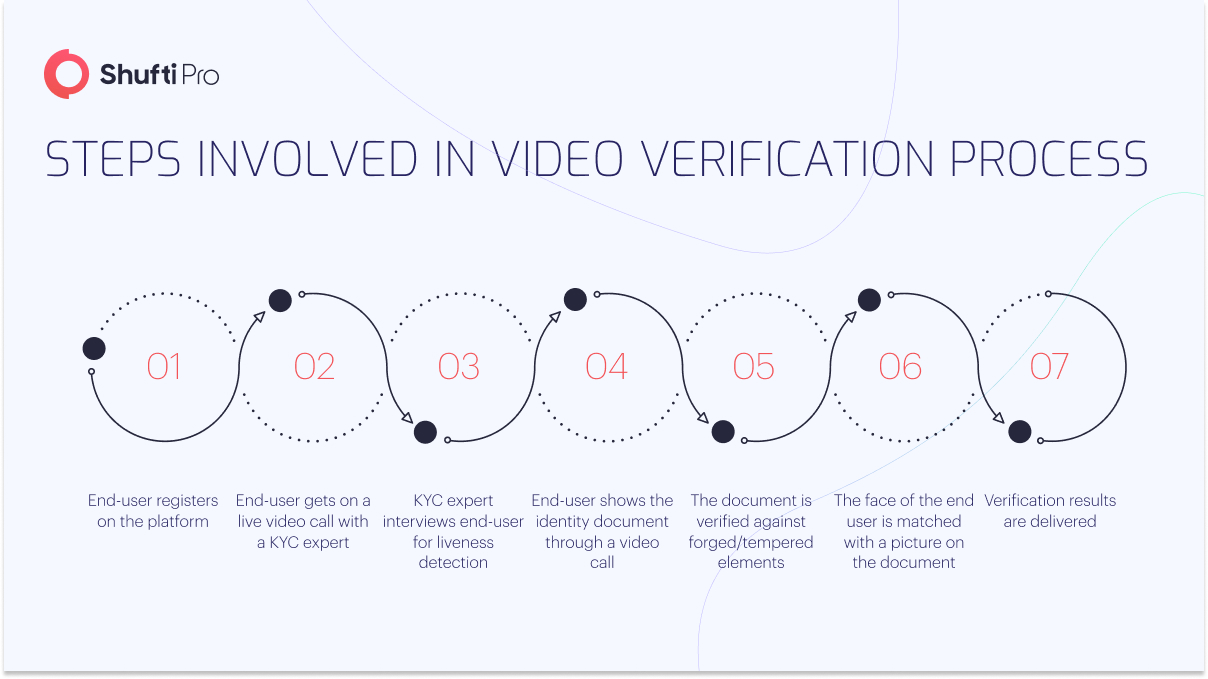 Sectors that Need Video KYC
Financial services sector

Credit institutions

E-money firms

Payment institutions

E-money agents

Insurance providers

Investment management companies 

Cryptocurrency service providers
Different Kinds of Identity Fraud in Businesses 
Banks and other financial firms are witnessing a number of identity frauds which are as under:
Spoof Attacks
Fraudsters are tricking and bypassing verification processes with stolen or fake identities to fulfil their malicious intent. It is astonishing that 23.6% of phishing scams were directed at the financial sector globally in the first quarter of 2022. On top of that, webmail and web-based software systems alone accounted for 20.5% of the spoofing attacks making the two highest-targeted sectors by scammers during the inspected quarter. This entails that more and more businesses would be duped of their money due to the illegal activities carried out through videos. 
Synthetic Identities
These are one of the most difficult kinds of scams to detect. The reason is that scammers smartly merge real pieces of information with fake details to get it to look authentic.  Moreover, the advent of the internet has led to an increasing number of synthetic identity frauds and has just made it difficult to draw a line between conventional crime and cybercrime. What is concerning for businesses is that synthetic identity scams are estimated to cost firms $2.5 billion in the year 2022 and the number is expected to even double to roughly $5 billion by 2024.
Deep Fakes
Digital wallets and e-payments have become a target of scammers to launder money in a sophisticated way. Europol report uncovers that deep fake technology would become a key tool for white-collar crime. This is just threatening and it is high time for businesses to step up their efforts if they want to avoid deep fakes and other kinds of fraud. 
Suggested Read: Increasing Incidents of Fraud Becoming a Threat to UK's National Security: UK Finance
Benefits of Video Verification
Video KYC is more than document and selfie verification, an all-in-one solution to curb fraud, boost customer experience, and automate businesses. 
Video verification is indeed a great investment in this digital era; here is how:
Fraud Detection and Prevention:

Deep fakes and synthetic identities are putting a dent in financial institutions' reputations. This is where video checks prove to be a promising solution to keep fraudsters and cybercriminals at bay. 

Do Away with Papers:

Video KYC is a digital verification procedure that does not require clients to visit the office with a bundle of documents to get themselves authenticated. This reduces the burden for customers and saves employees time to pore over thousands of clients' documents. 

Fast Turnaround Time:

Finance is undoubtedly a competitive sector. If it can't complete its KYC, due to whatever reason, it would lead to business loss. The conventional KYC verification that takes around 10-20 days is now completed with

video verification

in no time and that too with a high level of automation and digitisation.  

Reduced Operating Costs:

Video KYC is a step ahead in making customer verification more secure and efficient. With

video identity verification

, banks can reduce the costs of verifying and processing clients' identities by 90%. Besides this, video KYC is easy to use, requiring little employee training.
Fewer Cases of Customers Not Completing KYC:

Customers used to leave the conventional KYC process due to the inconvenience and cumbersome verification procedures. However,

video KYC for banks

proves to be a ray of hope with fewer clients not completing KYC.

Seamless Customer Onboarding:

Companies are struggling to make their name in this competitive market and offering frictionless client onboarding is a great way to accomplish this goal. When a customer has a great user experience, they will indeed portray a positive brand image, and the company will reach greater heights. 

Highest Regulatory Compliance:

Video call KYC ensures banks and financial firms are compliant with regulations as compared to the standard verification process. Adhering to

KYC/AML regulations

helps deter fraud and protects firms from paying heavy penalties.  
Selecting the Best Video KYC Solution for Business
Before investing in a video verification solution, it is essential to consider that it ensures:
Customer privacy and greater data security

Forgery detection in real-time

Detects and verifies clients accurately and quickly
How Shufti Pro Will Help Navigate Through 2023 and Beyond 
Video verification is the key to success for all sectors that want to enhance their customer base with a secure and fast method. But the thing worth considering here is choosing the right solution that caters to the needs of your business. 
Here Shufti Pro's video KYC solution steps in, trusted globally and onboarding clients with 99% accuracy. Available in 230+ countries and territories and supporting 150+ languages, Shufti Pro's identity verification solution promises a fraud-free world. 
Looking for a tailored video KYC solution for your business?