BEFORE YOU GO...
Check how Shufti Pro can verify your customers within seconds
Request Demo
No thanks
The crypto analytics firm, CipherTrace released its Q3 2019 Cryptocurrency Anti-Money Laundering (AML) Report which reveals that the cryptocurrency has lost a staggering $4.4 billion in thefts and hacks, so far this year. 
Damages from the crimes related to digital currency soared to $4.4billion in just the first nine months of the year which is up more than 150% from $1.7 billion in all of 2018.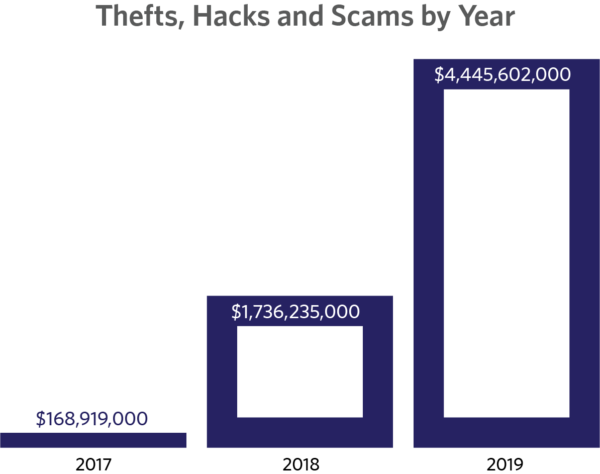 CipherTrace is a verified crypto and blockchain intelligence company and its third quarterly report for 2019 addresses "cryptocurrency regulation, nefarious actors within the ecosystem, impending legislation, international trends, and prevailing sentiments." 
According to CipherTrace, an extensive investigation of the Know Your Customer (KYC) processes of digital currency exchanges and the investigation revealed striking results. About 65% of the world's largest digital asset exchanges 'lack strong KYC policies'.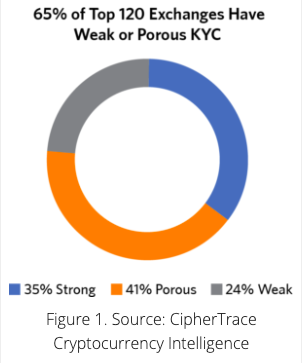 The Financial Action Task Force (FATF) published guidance for regulations regarding cryptocurrency on June 21, 2019. FATF is an intergovernmental association that is responsible for forming standards for legal, regulatory and operational measures in order to mitigate money laundering, terrorism financing, and other illicit activities. The guidance was published under the name of 'Guidance for a Risk-Based Approach to Virtual Assets and Virtual Asset Service Providers.'
The report released by CipherTrace reports that 
"With only seven months left for nations to pass laws and virtual asset service providers (VASPs) to comply with the guidelines, the majority of exchanges are not equipped to handle basic KYC, let alone comply with the stringent new funds 'Travel Rule' included in the updated FATF guidance."
According to the updated FATF guidance in the Travel rule, the virtual service providers (VASPs) are responsible for the secure transactions and keeping track of personally identifiable information (PII) of the senders and recipients of all transactions involving cryptocurrencies 'values at or exceeding USD/EUR 1,000'.  
Cryptocurrency crime surges, losses hit $4.4 billion by end-September: CipherTrace report – Reuters https://t.co/Qv5tOTdQat #bitcoin #ethereum #moneylaundering

— CipherTrace (@ciphertrace) November 27, 2019

In order to satisfy the requirements of the Travel Rule, strict KYC procedures are required. Countries not following the FATF guidelines might be subject to "political ostracization, financial sanctions, and are added to a FATF blacklist, which documents countries that it judges 'to be non-cooperative in the global fight against money laundering and terrorist financing.'"
A number of crypto-asset exchanges have already delisted privacy coins but according to CipherTrace, 32% of the trading platforms are still listing privacy coins. Amongst this 32 %, there are those exchanges as well with 'weak or porous KYC'.