BEFORE YOU GO...
Check how Shufti Pro can verify your customers within seconds
Request Demo
No thanks
Comparitech, a pro-consumer technology website, conducted a study including 50 countries and their use of biometric data. The study ranks China at the top for its extensive and invasive use of biometric data. 
Malaysia and Pakistan came in second and third while the countries rated best at protecting the biometric data were Ireland and Portugal. The biometric data includes fingerprint scans, facial recognition, iris recognition, palm prints, DNA and other methods of identification or access control. 
The Comparitech report, released last week, revolved around the collection, use, and storage of biometric data. The study used a 25-point system to calculate its predominance of biometric usage in areas such as passports, banks, voting systems, identity cards, etc. The study also analyzed whether there were laws in place to protect biometric data of the citizens.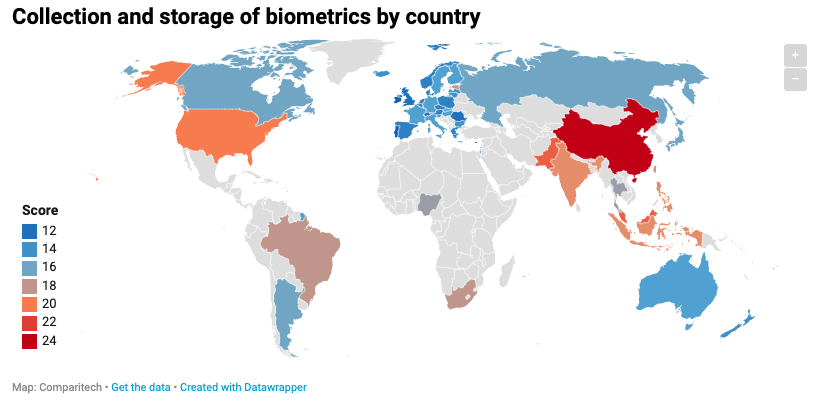 (Source: Comparitech)
According to the method of the study, the higher the score, of a country the more comprehensive and invasive a country's use of biometric data is. China came at the top with 24 points, losing just one point for its absence of a biometric voting system.
Malaysia and Pakistan each scored 21, while the United States came in at 20 points. Contrary to this, Ireland and Portugal had the lowest scores of 11 points which were followed by Britain, Romania, and Cyprus which all scored 12 points each. 
China had maximum points across the categories except for the voting systems mainly because the voting system of China is already heavily controlled. The report focused on China's extensive nationwide biometric database, which according to Comparitech was being extended to include DNA.
According to the study, there is a lack of a specific law in China to protect citizen's biometric data. Biometric usage has expanded exponentially in China which is affecting people's daily lives. Fingerprint scans or facial recognition are employed to pay bills, apply for social security and even for loans. There is also limited protection against abusive use of data or privacy leaks.