BEFORE YOU GO...
Check how Shufti Pro can verify your customers within seconds
Request Demo
No thanks
WhatsApp has recently announced that its app can be locked with a fingerprint, now available on Android. Earlier this year, WhatsApp introduced this feature of biometric security for the iOS version. The popular messaging app announced the new feature in a blog post:
"Today we're introducing biometric authentication, allowing you to unlock the app with your fingerprint, on supported Android phones."
This feature provides an additional level of security as you will need to use your fingerprint every time you access WhatsApp on your device. This security feature is quite similar to how mobile banking applications safeguard customer data using biometric authentication. 
Although the update hasn't been made available in all regions, it will soon be available on all Android devices that have at least 2.19.222 Android version. You will be able to toggle on the additional security from the Privacy settings of the app. There are also options in which the app can remain unlocked for one or 30 minutes after you unlock it. You have the option to prevent the contents of your messages from appearing in the device notifications. Although the feature on the iOS supports both Touch ID and Face ID, it is limited only to fingerprint in the Android version. 
The process to add fingerprint verification to Whatsapp is quite straightforward, particularly for users who already have a fingerprint registered for unlocking their phones. You should have the latest version of WhatsApp installed on your phone. For Android, the current latest version is 2.19.308 on PlayStore. Just go to Settings>Account>Privacy>Fingerprint Lock, and turn on 'Unlock with Fingerprint toggle'.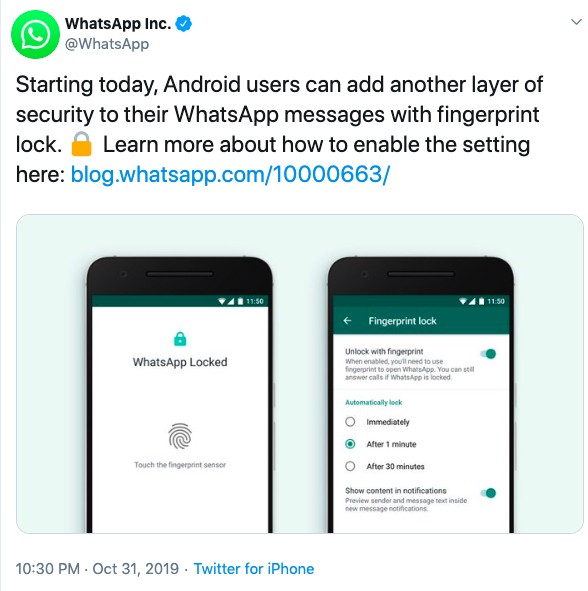 (Source: Twitter)
Once you enable the feature, it prevents other people from accessing WhatsApp and reading your messages. The only way to access the app is to scan a registered finger. Within the app, the description of the feature explains it as, "When enabled, you'll need to use fingerprint to open WhatsApp. You'll still be able to answer calls if WhatsApp is locked."