BEFORE YOU GO...
Check how Shufti Pro can verify your customers within seconds
Request Demo
No thanks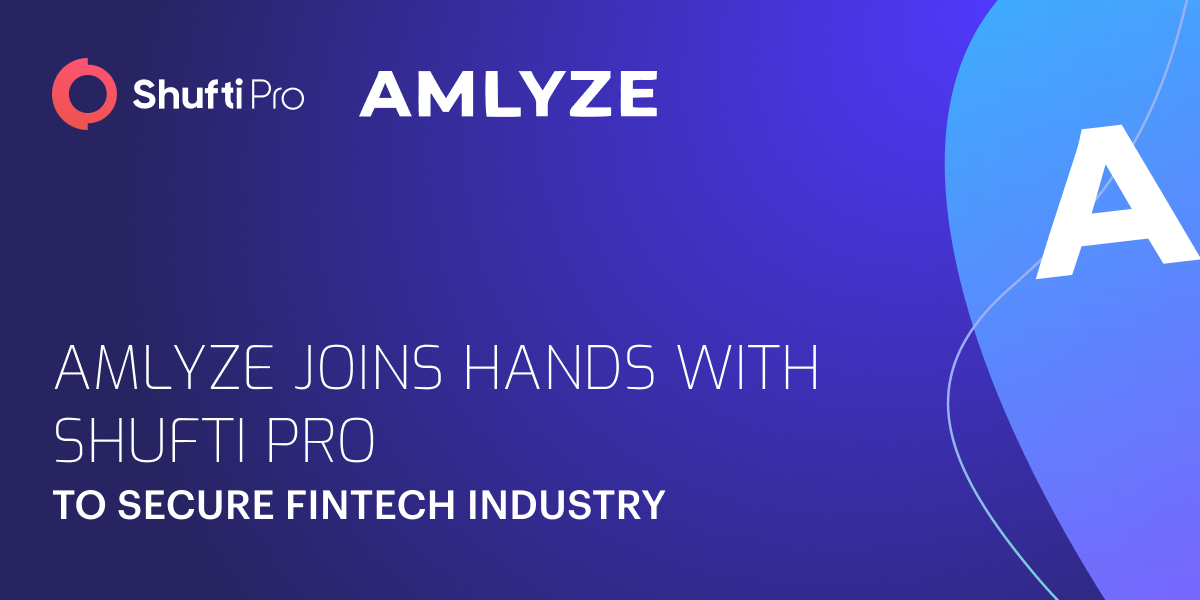 AMLYZE Partners with Shufti Pro to Enhance AML Screening Services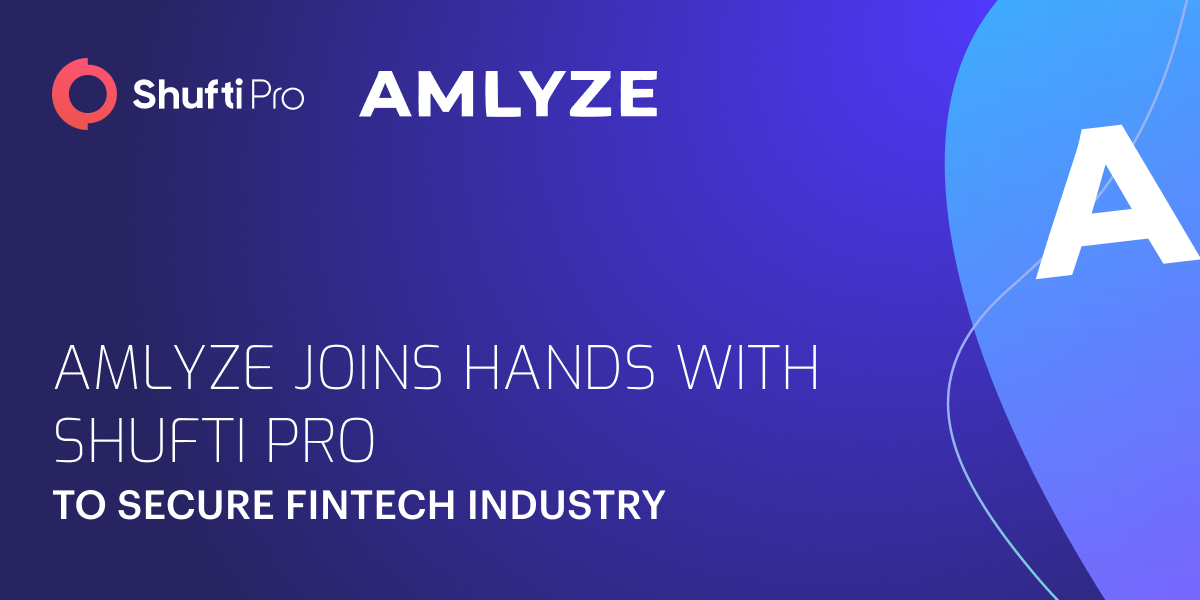 Initially Published on PR Log 
London, UK – October 25, 2023 – Shufti Pro, a leading identity verification service provider, is pleased to announce its strategic partnership with AMLYZE, a leading RegTech company specialising in anti-financial crime solutions for FinTechs, neo-banks, and crypto businesses.
This collaboration brings together the best of both companies' expertise to offer clients an unparalleled suite of Anti-Money Laundering (AML) and Know Your Customer (KYC) screening solutions.
AMLYZE, recognised for its transaction monitoring, client risk scoring, investigations, and sanctions screening services, developed by regulatory insiders in collaboration with IT and AML experts, has joined forces with Shufti Pro to leverage the latter's cutting-edge compliance services along with KYC and KYB (Know Your Business) technologies. As a value-added reseller, AMLYZE will integrate Shufti Pro's identity verification services to further enhance its existing compliance module offerings.
The key benefits of this partnership include:
Seamless identity verification:

clients of AMLYZE can now enjoy a seamless and robust identity verification process powered by Shufti Pro's

state-of-the-art technology

. This will help AMLYZE's customers ensure the authenticity of their customers, reduce fraud risks and enhance compliance efforts.

Comprehensive KYC/KYB solutions:

Shufti Pro will be able to provide an all-encompassing AML screening and compliance solution by incorporating AMLYZE's key modules, helping clients to streamline customer onboarding and risk assessment processes.

Global reach

: Shufti Pro's global coverage allows AMLYZE to offer identity verification and background checks for individuals and businesses around the world, facilitating international expansion and compliance with various regulatory requirements.

Enhanced efficiency

: AMLYZE's clients will benefit from quicker onboarding and a more efficient AML screening process, resulting in improved customer experiences and reduced operational costs.
Jekaterina Govina, Head of Partnerships & Regulatory Affairs and Co-Founder, at AMLYZE, said:
"We are excited to partner with Shufti Pro, one of the leaders in the identity verification and KYC industry. This collaboration allows us to enhance our AML screening services significantly and provide our clients with a holistic approach to compliance. We are sure this will support our planned international expansion and ensure that our customers have access to the most advanced solutions to combat financial crime and ensure the security of their operations."
"Shufti Pro aims to eradicate identity scams from the Fintech industry, and partnership with AMLYZE is a step towards that goal. Our services will drive trust in the industry, ensuring secure customer onboarding whilst enhancing AMLYZE's AML screening processes. Shufti Pro will continue to work further in the future, enabling Fintech businesses to deter fraud through our state-of-the-art IDV solutions," said Victor Fredung, CEO of Shufti Pro.
About AMLYZE:
AMLYZE is a Vilnius-based Software-as-a-Service (SaaS) RegTech offering a suite of anti-financial crime solutions for all types of financial services providers. 
The company's products have been developed by a team of AML experts and ex-regulators who have extensive experience in supervising financial market participants whilst working for central banks and law enforcement agencies. Being regulatory insiders and understanding the pain points of market participants from the inside has enabled the creation of cutting-edge technology solutions that streamline AML/CFT and compliance processes to unprecedented levels of efficiency.
For more information, visit AMLYZE website and LinkedIn page.
Media contacts:
Paulius Čiulada
AMLYZE Head of Communications
Tel: +370 685 67836
E-mail: [email protected]
About Shufti Pro:
Shufti Pro is a leading identity verification service provider offering KYC, KYB, KYI, AML screening, e-IDV, and OCR solutions, accelerating trust worldwide. It has seven international offices and has launched 17+ complimentary IDV products and solutions since its inception in 2017. With the ability to automatically and securely verify 10,000+ ID documents in more than 150+ languages, Shufti Pro proudly serves customers in 240+ countries and territories.
For more information, visit Shufti Pro website, LinkedIn, Facebook, or Twitter page.
Media contacts:
Paul Keene
Snr. Digital Marketing Manager | Shufti Pro
[email protected]
+44 020 3435 6498
Market Pro
Marketing Partner | Shufti Pro
[email protected]