BEFORE YOU GO...
Check how Shufti Pro can verify your customers within seconds
Request Demo
No thanks
Another Feather in the Cap – Shufti Pro Becomes Guild Certified
LONDON, UK (September 24, 2019) Shufti Pro has been awarded the Guild Certificate of Compliance, accrediting that the identity verification service complies with the requirements of the QG-GDPR Management Standard.
The Quality Guild(QG) Management Standards assist organizations in complying with new regulatory requirements. These standards are based on the principles of General Data Protection Regulation (GDPR) (Regulation (EU) 2016/679).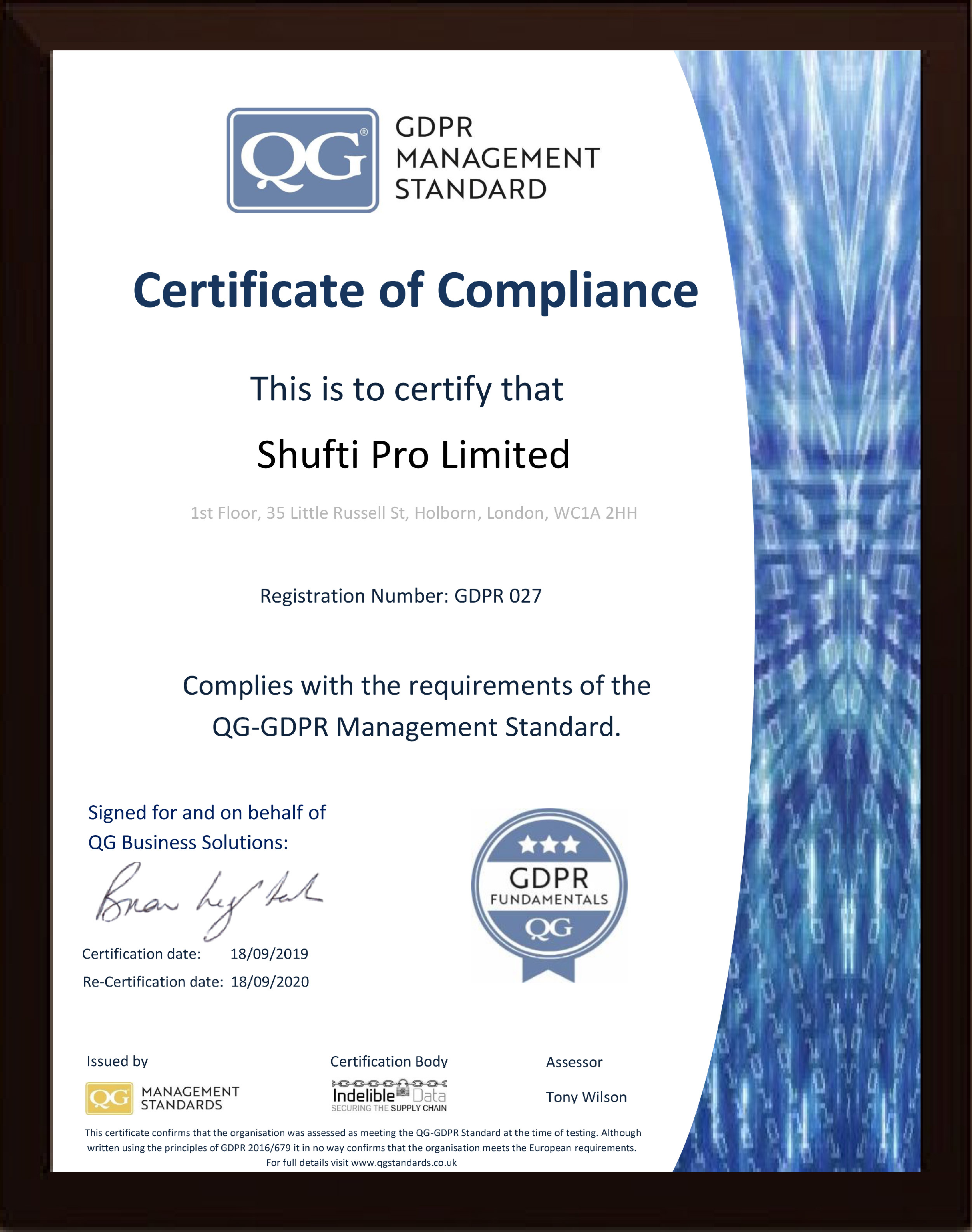 Shufti Pro is always a step ahead in cooperating and adhering to compliance measures. Here are the salient measures that the KYC service provider has taken to deserve the certificate: 
Processing practices in accordance with principles of Article 5 of the GDPR.

Allowance to fulfill Data Subject rights.

Maintenance of vital records as per obligations on a Data Processor. 

Stringent security controls in place for data protection and processing(Art 32).

SSAE compliant and ISO-certified data centers for all data storage.

Performance of necessary privacy and risk assessments.
Shufti Pro has taken the initiative of external accreditation to ensure that it leaves no stone unturned in compliance and provides the safest and fastest identity verification services.  This trustwave certificate is also an acknowledgment of data Integrity, data security, and of a reliable platform, which the company provides.
The ID verification SaaS provider ensures that the data is processed in a secure environment, and is not subjected to any alterations or edits. It deals in ID verification from over 220 countries and territories and takes data security very seriously.
About Shufti Pro
Shufti Pro is a trusted name in ID verification services. It provides its clients with seamless customer experience, fraud prevention, which results in uninterrupted revenue generation. Its state of the art SaaS is a combination of Artificial Intelligence and Human Intelligence. Businesses can now experience streamlined digital verification. It provides services to all countries with Universal Language Support.
35 Little Russell Street, 
London WCIA 2HH
United Kingdom