Press Release
FastBitcoins Joins Hands with Shufti Pro for Screening of their Customers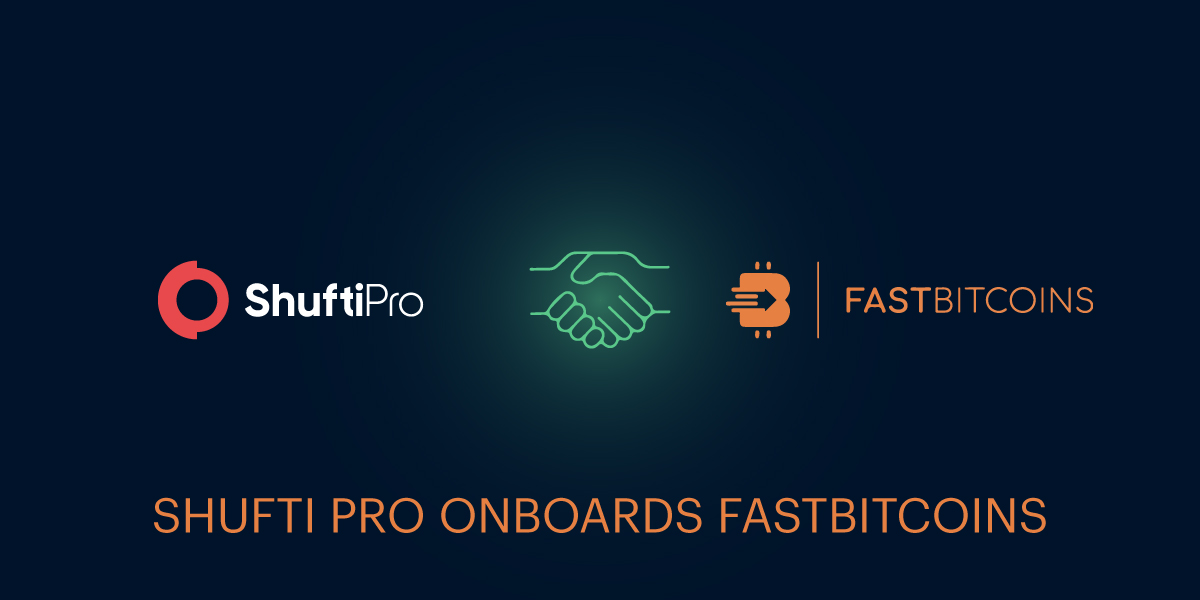 London, UK – (October 2019) Shufti Pro joins forces with FastBitcoins to allow them to provide safe, secure and user-friendly Bitcoin services that enable the Bitcoin economy via their merchant client base. Shufti Pro will provide them a global risk cover through its state of the art AML screening and document verification services.
Shufti Pro is an identity verification and KYC/KYB/AML screening service provider that can verify the identity of people through document verification, face verification, etc. Recently it onboarded a bitcoin business, FastBitcoins and it will verify and perform AML screening on FastBitcoin's customers in real-time through document verification.
The demand for Bitcoin is growing globally as more people come to understand its worth as a store-of-value. As a result of this, governments around the world are increasing regulatory scrutiny in a bid to maintain fraud-free virtual currencies markets. 
By adopting Shufti Pro's screening services, FastBitcoins is providing duty-of-care to the people trusting its services, when they are required to identify those they are doing business with, ensuring their legal commitments are fulfilled in a manner that is simple and secure for their clients. The services of Shufti Pro delivers true value for its customers. 
Danny Brewster, MD at FastBitcoins expressed his confidence in this collaboration and said: "Our success comes down to making sure our customers can buy Bitcoin in the fastest and simplest way possible. Where the requirement to verify customer identity arises, Shufti Pro has ensured we can handle it in a straightforward, user-friendly manner. The main reason we selected Shufti Pro is that they offer a reliable technology at a competitive price for a start-up, we are placing trust in them to keep the data provided by our users safe and secure and it was not a decision that was taken lightly when choosing to work with them." 
Shufti Pro is also excited to onboard FastBitcoins for identity verification and AML screening of their customers. Shufti Pro will provide document verification and AML screening services to FastBitcoins. Mr. Victor Fredung expressed the excitement of his company towards this collaboration and said,
"We're delighted to have FastBitcoins onboard and look forward to maintaining this collaboration for the longterm. Shufti Pro will deliver its unrivaled risk cover to FastBitcoins through document verification and AML screening of its prospective clients. Our services are best suited for them because we give a truly global coverage in our identity verification services delivered with a high-precision rate." 
About FastBitcoins 
FastBitcoins provides a complete solution for business owners looking to make extra income from the Bitcoin revolution. Their point-of-sale technology empowers merchants to expand their product offerings and attract new customers with innovative services based around the world's most recognized digital currency.
Merchants use their simple handheld terminal to let customers buy and sell Bitcoin, make payments in Bitcoin, and purchase prepaid vouchers from over 5,000 international brands, all with no previous experience required.
About Shufti Pro
Shufti Pro is an identity verification service provider that offers KYC and AML solutions to worldwide clients. Using a hybrid approach of AI and HI technology, Shufti Pro delivers results within 30 seconds with accuracy as high as 98.67%. Having verified users in over 232 countries, Shufti Pro is a pioneer in IDV services to cover a large number of countries.
You can visit Shufti Pro here:
Shufti Pro Limited
1st Floor, 35 Little Russell St, Holborn,
 London WC1A 2HH, UK
info@shuftipro.com
Disclaimer:
No warranty is herein provided that the information contained in this document is accurate, up-to-date, and/or complete. In no circumstance(s), does such information constitute legal or any other advice. Any person who intends to use, rely, pass-on, or re-publish the information contained herein in any way is solely responsible for the same. We suggest to verify the information and/or obtain
expert advice
independently if required.