BEFORE YOU GO...
Check how Shufti Pro can verify your customers within seconds
Request Demo
No thanks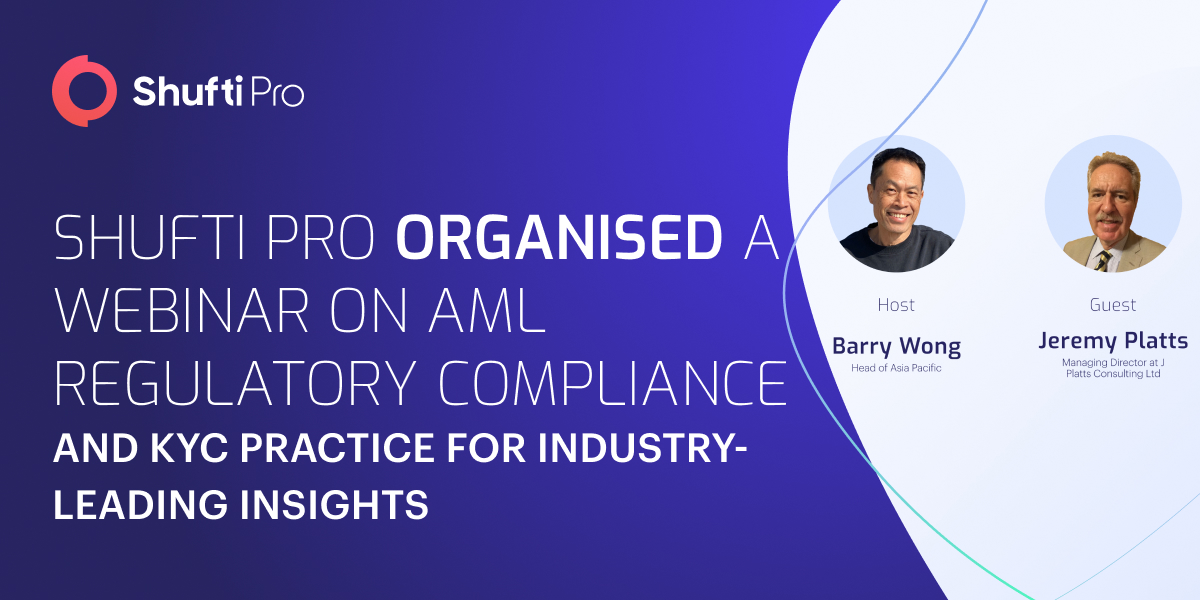 Shufti Pro Hosted a Webinar to Empower Businesses with Expert Insights on AML Compliance and KYC Practices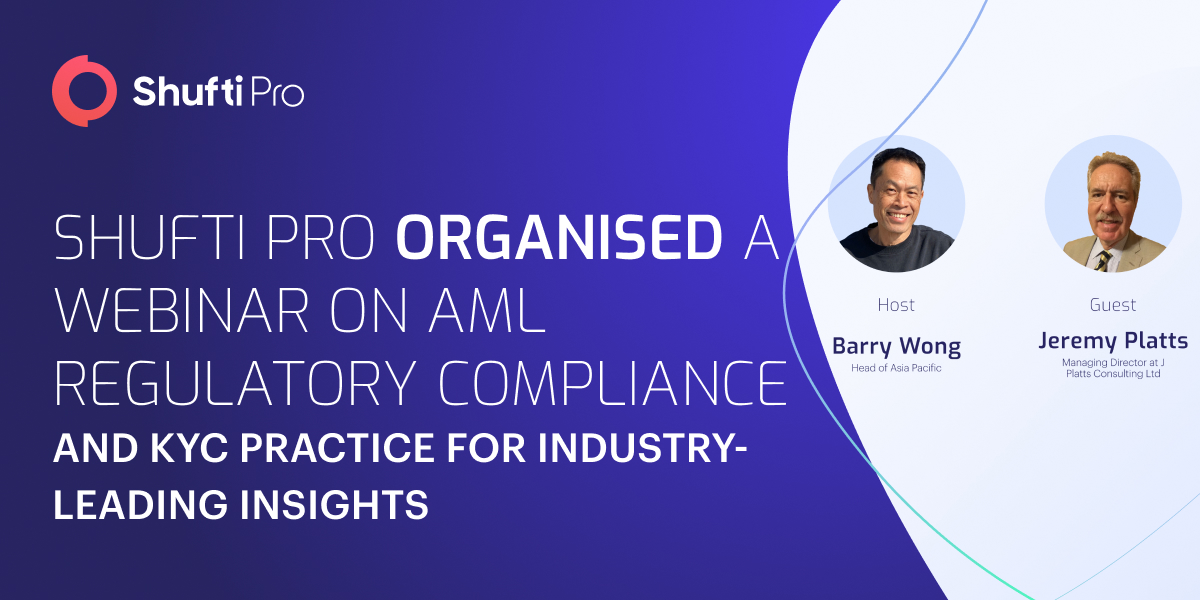 London, UK – April 20, 2023 – Shufti Pro, a globally trusted AI-powered ID verification service provider, recently conducted a webinar on AML compliance and KYC practice for businesses. Barry Wong, Head of Asia Pacific at Shufti Pro, presented the webinar, whilst Jeremy Platts, Managing Director of J Platts Consulting Ltd, was a featured guest speaker. The webinar helped firms comprehend identity theft and terrorist funding and comply with new AML and KYC regulations.
Have you missed the webinar? Watch it here!
Shufti Pro offers AI-powered IDV solutions to businesses in the banking, FinTech, RegTech, and many other compliance sectors. With a global presence and verification accuracy above 99%, the company provides IDV solutions to enterprises of all sizes.
The webinar featured a panel of experts who discussed the importance of AML compliance and KYC verification, as well as the challenges businesses face in meeting regulatory requirements. The panelists shared their thoughts on the latest technologies and best practices for companies to comply with AML regulations and streamline their KYC processes. Throughout the webinar, participants engaged in an interactive Q&A session with the guest speaker, asking insightful questions on various topics related to AML compliance and KYC practices.
Victor Fredung, CEO of Shufti Pro, added, "Due to the significant increase in financial crime, companies face a wider variety of threats than ever. About the webinar, Victor stated, "By maintaining a high level of AML and KYC compliance, we can combat these crimes within organisations by fostering confidence, transparency, honesty, and credibility."
In concurrence with Fredung, Barry Wong, Head of Asia Pacific, added, Identity theft is becoming a problem for organisations, indicating that fraudsters have improved their ways. Companies must follow KYC and AML regulations to identify customers and assess their risk accurately."
Shufti Pro conducted multiple webinars on KYC, KYB, and AML compliance standards, discussing how to implement them in organisations to stay current. The purpose of these webinars is to brief businesses on the latest developments and trends in various fields.
About Shufti Pro
Shufti Pro is a leading identity verification service provider offering KYC, KYB, KYI, AML, biometric verification, and OCR solutions, accelerating trust worldwide. It has six international offices and has launched 17 complimentary IDV products and solutions since its inception in 2017. With the ability to automatically and securely verify over 9000 ID documents in more than 150+ languages, Shufti Pro proudly serves customers in 230+ countries and territories.
For more information, please contact
Paul Keene
Snr. Digital Marketing Manager | Shufti Pro
[email protected]
+44 020 3435 6498
Market Pro
Marketing Partner | Shufti Pro
[email protected]