Press Release
Shufti Pro lends KYC Services to Crypto Future Wealth Platform by Jeffinko.Guru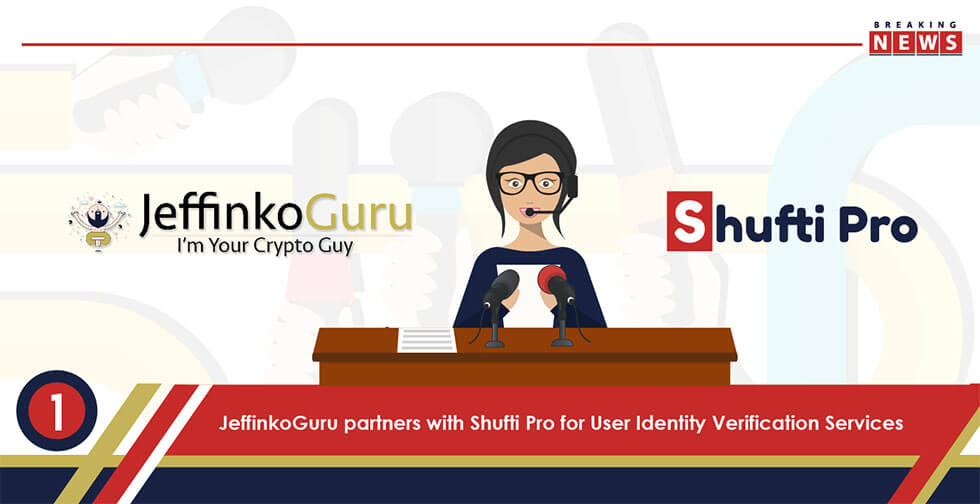 (Bath, United Kingdom – April 7th, 2018)  Shufti Pro, the PCI certified, digital KYC and AML service, partners with leading Crypto Education Academy.
JeffinkoGuru is an online consultancy led by Mr. Jeff Lambert who is a web development, Cryptocurrency and FinTech veteran. Through the process of teaching people around the world about crypto, it was realized that many people do not have the time to perform the necessary research, monitoring, and trading required to manage a crypto portfolio themselves.  Out of this need, rose the Crypto Future Wealth Platform, which provides access to a diversified and actively managed crypto portfolio through the purchase of a single token. The CFWP token. The Token allows for the piece of mind that through the purchase of a single Token, the Token holder is gaining access to a portfolio of many tokens. Tokens which are not just held for possible growth in value but also for use in staking or the operation of master-nodes to create a passive income. The objective of the Crypto Future Wealth Platform is to invest in cryptocurrencies and token based projects with strong fundamentals.
Shufti Pro's trend-setting KYC services enable CFWP's verification procedure with first-to-introduce, "Still Verification Feature". How? Users can easily take a Selfie which is verified against ID cards to secure authentication.  Simple, secure and speedy.
Mr. Jeff Lambert, "From the very beginning of the process to create a token, being compliant was and is extremely important to us.  One of the main components of being compliant is performing KYC procedures on all of our token purchasers and platform users.  We began to look for a solution that could integrate seamlessly into our platform, in a way that did not detract from the user's experience and was easy for us to keep track of the overall process.  Many of the solutions we found were over-priced, contained services on top of KYC which were not needed, or were simply too complex to integrate smoothly and within budget. Shufti Pro from the start had an easy to follow and well-working demo of the product.  The API is thoroughly documented, and it is extremely easy to integrate into an existing system. The actual integration for us is only 18 lines of code. We can fully track the KYC process and remain compliant with records to go back to if a manual check of their documents is needed.  The user never has to leave our platform and is easily guided through the process. We even noticed a system upgrade during our short time Shufti Pro so far that blew us away. Users now have voice guidance, and the process is extremely quick with most users only needing a couple of minutes to complete their KYC.  For us, Shufti Pro wins on all fronts, price, ease of use (for our token holders and us), and active development and communication from the Shufti Pro team. We highly recommend it to anyone needing to perform KYC procedures."
CEO Shufti Pro commented, "We are really excited to have Jeff onboard with Shufti Pro for KYC compliance. It amazing to have someone from a diverse individual as our client. We see this partnership as something big in terms of business and assets. JefffinkoGuru has an impressive portfolio to its name which is a testament to their experience and expertise. I believe the Crypto Future Wealth Platform is going to be a revolutionary addition to the crypto world."
Shufti Pro offers complete services to ensure a user's identity in order to enhance risk management, and fraud prevention tactics. With it's real-time verification techniques, and industry best response back time of sixty (60) second, clients have access to a comprehensive set of solution supported by easy integration that requires no third party software/plugins. Shufti Pro will help Crypto Future Wealth Platform to smooth it's customer onboarding with the best UX/UI interface. By adding a layer of Human Intelligence to the complete verification process; the trend of "False Positives" is eliminated and results are based on accurate and thorough checks.
---
About Shufti Pro:
Shufti Pro is an emerging name in identity management and KYC/AML. It was founded on 31st October, 2016 in Bath, UK. The goal of the company is to enable its clients with seamless customer experience, fraud prevention and undeterred revenue generation. The company offers state of the art SaaS, which engages Artificial Intelligence and Human Intelligence. Businesses can now conduct easy digital verification processes with lesser friction and more advanced technology. Currently offered in 200 countries and supporting over 150 languages, the company is located in United Kingdom with its global office in Sweden. Please visit Shufti Pro here.

Shufti Pro Limited
info@shuftipro.com

Unit C401, Westfield Shopping Centre,
Ariel Way, London, W12 7FD
About Jeffinko.Guru:
Crypto Future Wealth is a leading provider of education to the cryptocurrency industry with a focus on teaching the public how to safely and successfully build wealth through crypto. Founder of the Company and cryptocurrency veteran, Jeff Lambert has been involved with Bitcoin and Ethereum since the very beginning. As an educator, influencer, and serial entrepreneur, his unique insight to the market brings a rare clarity to complex topics.
Disclaimer:
No warranty is herein provided that the information contained in this document is accurate, up-to-date, and/or complete. In no circumstance(s), does such information constitute legal or any other advice. Any person who intends to use, rely, pass-on, or re-publish the information contained herein in any way is solely responsible for the same. We suggest to verify the information and/or obtain
expert advice
independently if required.