Press Release
Shufti Pro partners with Kabayan Remit to help them practice user-friendly KYC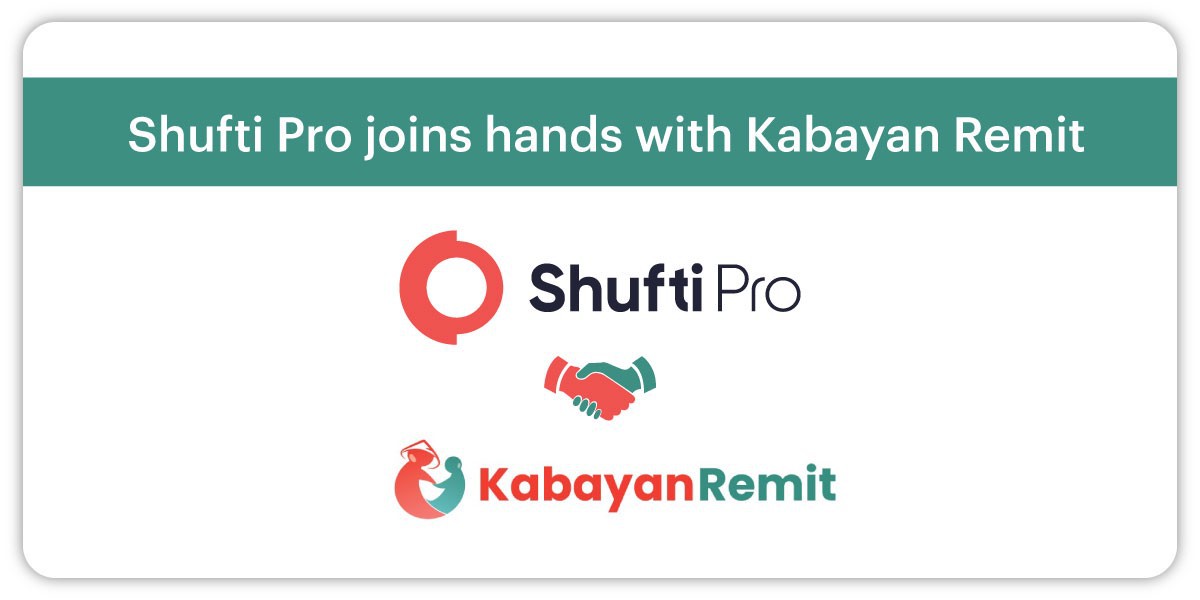 London, (April 2020) Shufti Pro will now provide document verification services to UK-based remittance services provider Kabayan Remit. Shufti Pro's friendly interface and fast verification services provide a frictionless experience to Kabayan Remit customers in UK, Canada, and Europe.
Online payments are on the rise and it's due to the ease they provide to the users. A few clicks and the funds are transferred. But the risk of fraud is also high in these financial services. Credit card fraud, fake identities, account takeover fraud, and money laundering are major fraud risks in the online payment industry. Proactive fraud prevention is inevitable but without sacrificing customer experience. 
Kabayan Remit is an online remittance service provider that aims to provide a user-friendly, convenient and highly secure money transfer experience to their customers. Most of Kabayan Remit's customers are Overseas Filipino Workers (OFWs), who seek security assurance when sending their hard-earned money to their families back in the Philippines. Always keeping in mind the needs of their customers, Kabayan Remit is continuing to develop its platform's interface to provide the best possible customer experience. 
As a Money Service Business, Kabayan Remit is well aware of the risks in online transfers so they take KYC responsibilities seriously. They wanted a solution that would provide a strict screening process that would not affect their user experience, so they chose Shufti Pro as it was the most suitable company that understood their risks and requirements completely and had the ability to provide a risk cover they needed.
Shufti Pro not only provides online services but adds a seamless layer of security to the user experience of its customers. It'll enable Kabayan Remit to verify its customers from the UK, Canada, and Europe within 15-60 seconds. The AML laws in the EU region are quite strict and Shufti Pro's services perform in-depth identity screening with 98.67% accuracy which will help Kabayan Remit to practice AML compliance as well.
Speaking about this partnership, Simon Roberts, CEO of Kabayan Remit said; 
"Kabayan Remit operates in the very competitive money transfer sector providing an online remittance service from the UK, Canada and Europe to the Philippines. The sector is highly regulated with AML compliance a key issue for all Money Service Businesses. Using Shufti-Pro for electronic document verification enables us to develop a competitive advantage by speeding up the onboarding process providing our customers with a smoother, more frictionless journey to sending money to family, friends and loved ones in the Philippines."
Shufti Pro is also excited to onboard an entity with a shared vision of providing an unrivalled customer experience. Victor Fredung CEO of Shufti Pro expressed his confidence towards this collaboration and said; 
"Shufti Pro provides unparalleled customer experience and it's our competitive edge. We are happy to provide the services that go beyond fraud prevention and can help Kabayan Remit in sustaining its seamless customer experience. We're excited about this partnership and look forward to maintaining it for a long time."
About Kabayan Remit
Established in June 2012 in the United Kingdom, Kabayan Capital Limited (trading as Kabayan Remit) is a private online money transfer company, specialising in money remittances from the UK, Canada and Europe to the Philippines. The company was founded on the principle of providing unparalleled money remittance services for Filipinos who work hard overseas to send money to their loved ones back home. Its easy-to-use website and mobile app provide a more affordable and convenient way for customers to send money to the Philippines. http://www.kabayanremit.com 
About Shufti Pro
Shufti Pro is an identity verification SaaS that offers KYC and AML solutions to worldwide clients. Using a hybrid approach of AI and HI technology, Shufti Pro keeps accuracy results as high as 98.67%. Having verified users in over 232 countries, Shufti Pro is a pioneer in IDV services to cover a large number of countries.
Contact sales@shuftipro.com to get on board
Disclaimer:
No warranty is herein provided that the information contained in this document is accurate, up-to-date, and/or complete. In no circumstance(s), does such information constitute legal or any other advice. Any person who intends to use, rely, pass-on, or re-publish the information contained herein in any way is solely responsible for the same. We suggest to verify the information and/or obtain
expert advice
independently if required.