Press Release
Shufti Pro takes TE-FOOD onboard for KYC compliance!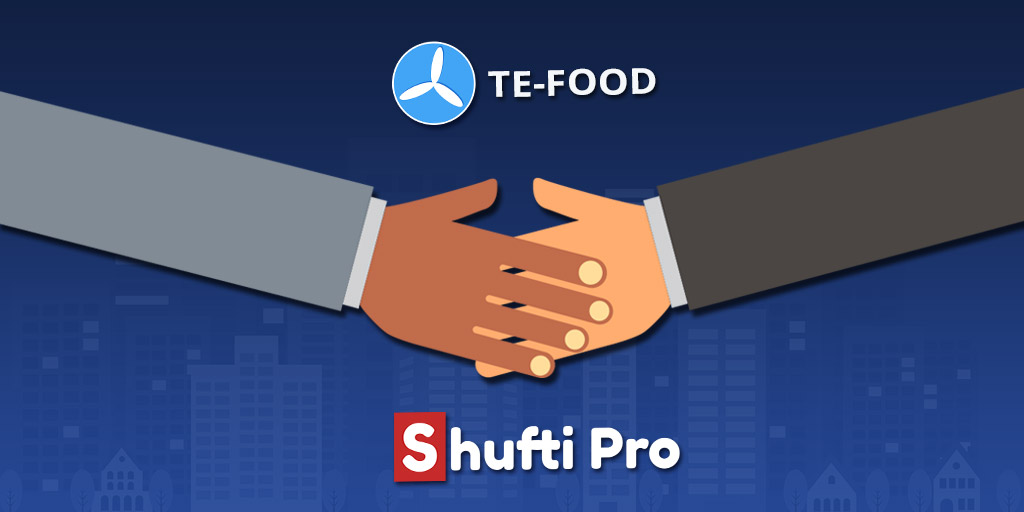 Trusted services chosen for ensuring end-user identity verification via KYC compliance
Bath, United Kingdom – January 26, 2018 – Shufti Pro, the PCI certified Know Your Customer (KYC) operator has announced its partnership with TE-FOOD, food supply chain solution, today.
Shufti Pro, the rapidly emerging, go-to choice for (KYC) compliance is the official information management collaborator of TE-FOOD. With the increase in demand of seamless user verification services, Shufti Pro has come up with groundbreaking features which redefines the arena of ID checks.
TE-Food is a cost effective and modern solution to ensure transparency of management and steps involved in farm-to-table supply chain. It is an internationally recognized establishment with global user base. Shufti Pro will enable TE-FOOD with KYC verification based on personal data, ID image and business organization data, with at the minimum 10,000 verifications foreseen in February, 2018. TE-FOOD has custom categories, which depict the supply chain roles, tools involved and modules of ordering and management.
Árokszállási, CEO, TE-FOOD International said, "We are happy to work with Shufti Pro. As regulatory compliance and security are our number one priorities, we were looking for a partner to support us in these. In Shufti Pro, we found an excellent partner."
Fredung, CEO, Shufti Pro said, "We are delighted to have TE-FOOD on board as our newest client in Europe; the company offers an innovation solution to never been thought about before sector. We appreciate the level of sophistication they bring into play. Shufti Pro believes in transparency; it's a commendable effort in contemporary times. Identity management has its roots in every sector which deals with online human activity."
Shufti Pro offers pioneering services in identity verification. As the first in line to provide video identification built-in feature and 30 seconds processing time, the team aims to digitally revolutionise this sector. The team of developers are constantly on the lookout for improvement and better mechanisms. Shufti Pro allows for customization to its offered services in order to create strategy best suited to business goals. Time efficiency is an important factor which ensures profitability. As KYC provider for TE-Food, Shufti Pro envisions excellence.
---
About Shufti Pro:
Shufti Pro is an emerging name in identity management and KYC/AML. It was founded on 31st October, 2016 in Bath, UK. The goal of the company is to enable its clients with seamless customer experience, fraud prevention and undeterred revenue generation. The company offers state of the art SaaS, which engages Artificial Intelligence and Human Intelligence. Businesses can now conduct easy digital verification processes with lesser friction and more advanced technology. Currently offered in 200 countries and supporting over 150 languages, the company is located in United Kingdom with its global office in Sweden. Please visit Shufti Pro here.
Shufti Pro Limited
info@shuftipro.com
Unit C401, Westfield Shopping Centre,
Ariel Way, London, W12 7FD
---
About TE-FOOD:
TE-FOOD is the world's largest farm-to-table food traceability system. Started in 2016, it serves 6000+ business customers, and handles 400,000 transactions each day. It's the only fresh food ecosystem which integrates farms, supply chain companies, consumers, and governments/authorities to improve food safety, eliminate food frauds, and provide a transparent food supply. TE-FOOD's primary focus is on the emerging countries, which account for 60% of the world's population, but need massive technological disruption because of the level of distrust in their food supply chains.
TE-FOOD International's goal is to make the fresh food supply chain transparent and more effective through a modern, but affordable ecosystem. We have more than 10 years of experience in the development of item traceability solutions in different industries, and 20+ years in software / hardware development.
TE-FOOD International
Germany
info@te-food.com
Disclaimer:
No warranty is herein provided that the information contained in this document is accurate, up-to-date, and/or complete. In no circumstance(s), does such information constitute legal or any other advice. Any person who intends to use, rely, pass-on, or re-publish the information contained herein in any way is solely responsible for the same. We suggest to verify the information and/or obtain
expert advice
independently if required.