Press Release
Shufti Pro's biometric authentication solution to be used for digital board meetings facilitated by Core chain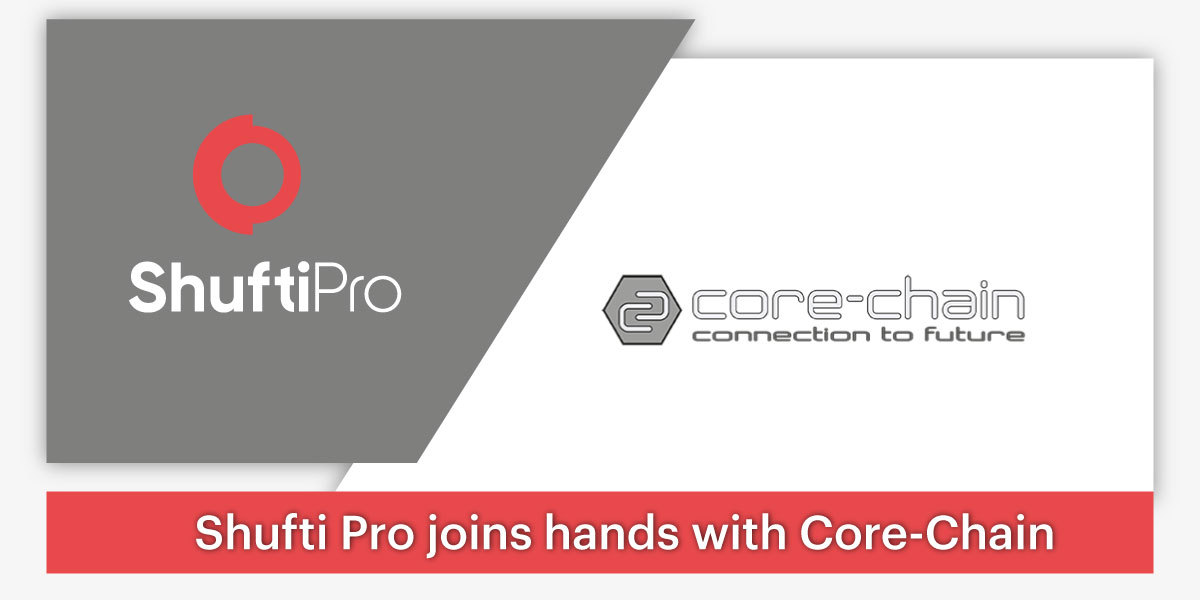 June 2020 — London – Shufti Pro onboards core-chain, a single point of contact for blockchain-enabled solutions, decentralized applications, and digitization. Shufti Pro will help them instantly verify their customers and to practice due diligence through their platform.
 The last few months have brought about a dramatic change to the digitized world! The world becomes more decentralized, particularly in light of COVID-19, core-chain provides the best solutions for digital transformation. But fraud is also rising and prompt action is necessary to achieve predicted excellence and growth of this industry. Core-chain put core business functions on the blockchain – board meeting decisions, digitized securities registers, audit-proof storage of receipts including digital signatures, task management and automated fee settlements of employees and freelance workers – to streamline digital transformation.  Practicing strict customer due diligence is a part of their strategy.
The company wanted to enhance its KYC practices without affecting customer experience or spending a fortune just on customer screening. They wanted a solution that could help them fight fraud, in an efficient manner, and high accuracy without sacrificing the customer experience and disturbing their budget. Shufti Pro proved to be an all in one solution for them. It offers one of the fastest and highly accurate services and that too at competitive prices. It has helped many small and medium businesses as well to practice security while remaining in their budget. Two pricing plans – pay as you go, and monthly commitment – are designed to provide price flexibility to the customers.
Core-chain enables executives and board members to host safe and secure meetings with Digital Voting (DIVO) by using state of the art identity verification and biometric authentication services of Shufti Pro. 
Auditable votings and digital shareholder registry

Facial recognition and biometric identification of shareholders

Dashboard with complete document overview and online minutes of the meeting
Social distancing and the low-touch economy caused by the coronavirus presents immense challenges for corporate executives and board members. The law requires general annual meetings to be held no later than six months after the end of the financial year. Dividends cannot be paid without a valid GA resolution. In times of COVID-19, this was a real challenge. Now with DIVO, there is the first comprehensive solution for secure digital voting.
 "Video conferencing tools commonly used in business today are not secure enough to meet the strict requirements for identification and participation," explains Bora CEO of core-chain. "DIVO ensures there is no unauthorized participation. Now executives and shareholders can vote and participate online in the general assembly and board meetings."
 DIVO uses Biometric Face Recognition and Distributed Ledger Technology to create a secure identity and voting verification. Executives can participate in meetings, record votes, and announce resolutions in real-time. Records of each meeting are encrypted and verified on the blockchain, which addresses potential security issues for audits.
 Expressing the confidence towards this partnership, Bora Obucina, CEO of core-chain said,
"In order to be able to make decisions such as votes and elections in business and politics on a decentralized basis while maintaining compliance, participants must be verified and identified. DIVO is the first platform worldwide that enables digital voting in compliance with the law. Thanks to Shufti Pro's innovative service, we can match and verify identity documents and human faces within seconds. Shufti Pro is one of our core service providers, which we will use in further developments of DIVO as well as in the currently developing digital contractor administration system."
 Shufti Pro is often praised for its swiftness and highly cooperative team. It makes things easier for its customers at every step to give them a unique experience. Hence it's products are always under continuous scrutiny and support teams are available for customers whenever they need them. Talking about this partnership, CEO of Shufti Pro said,
"Shufti Pro provides unparalleled customer experience and it's our competitive edge. We are happy to provide the services that go beyond fraud prevention and can help core-chain in sustaining its seamless customer experience. We're excited about this partnership and looking forward to maintaining it for a long time."
 About Core Chain:
Core-chain is a Liechtenstein-based specialist in putting core business functions on the blockchain. The start-up focuses on applications for general assemblies, the board of directors, executive and team meetings, as well as digital security register and remote staff management. Since May 1st, the international operating audit company BDO is cooperation- and-distribution partner of core-chain and recommends DIVO to its large customer base. You can find further information on DIVO on their landing page www.digital-voting.com.
About Shufti Pro
Shufti Pro is an identity verification SaaS that offers KYC and AML solutions to worldwide clients. Using a hybrid approach of AI and HI technology, Shufti Pro keeps accuracy results as high as 98.67%. Having verified users in over 232 countries and territories, Shufti Pro is a pioneer in IDV services to cover a large number of countries.
 Contact sales@shuftipro.com to get on board.
Disclaimer:
No warranty is herein provided that the information contained in this document is accurate, up-to-date, and/or complete. In no circumstance(s), does such information constitute legal or any other advice. Any person who intends to use, rely, pass-on, or re-publish the information contained herein in any way is solely responsible for the same. We suggest to verify the information and/or obtain
expert advice
independently if required.