Press Release
Shufti Pro's Identity Verification to be Used by Baaz. Inc. for Secure Customer Onboarding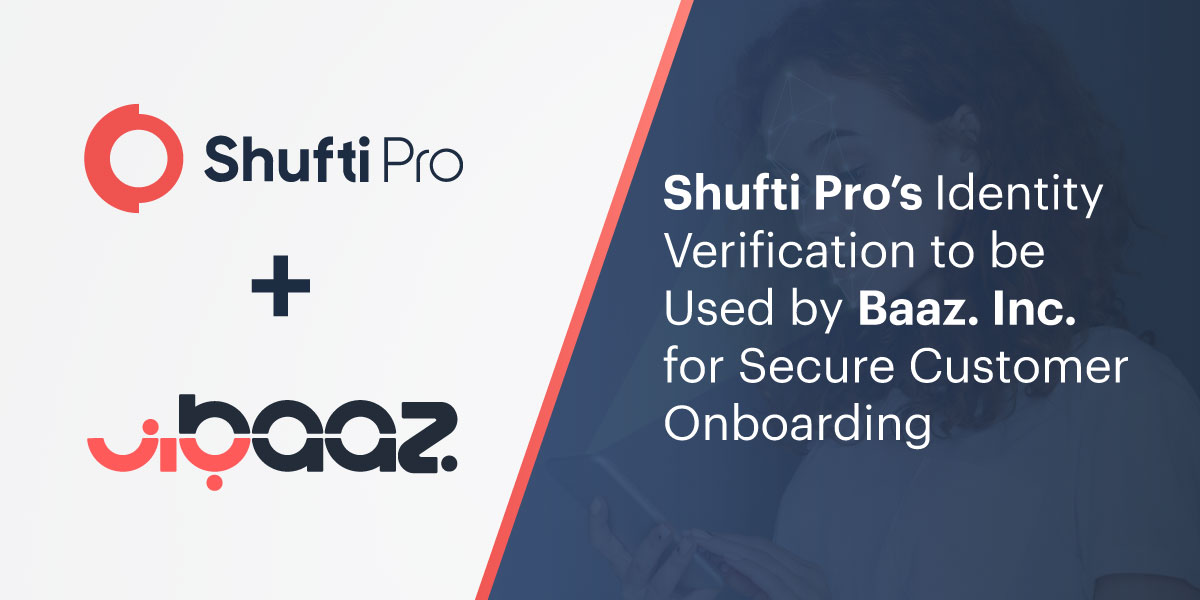 London, (October 2020), Baaz Inc. – a social media platform specially designed to bring the Arab community together- has partnered with Shufti Pro for robust identity verification of its users and to keep all the users safe from cybercrimes. The enterprise will benefit from Shufti Pro's KYC – identity verification solution.
Baaz Inc. is a social media platform created by Arabs for the Arab world with a global appeal. It aspires to create a safe and real-time environment for users. It also aims to reflect the Arabic culture through its fun and energetic platform. With powerful analytics, advanced language processing technology, and trend analysis, Baaz Inc., is dedicated to providing relevant and credible Arabic content to all users across the globe.
Shufti Pro uses a hybrid technology of human and artificial intelligence to assist businesses in verifying all the users during the onboarding process. There are more than 900 AI algorithms that Shufti Pro deploys for effective results. It delivers all that a diverse platform such as Baaz would require. It can verify anyone from all over the world within seconds using advanced AI and human intelligence, which complements the technically advanced and appealing social media platform – Baaz.
The web is floating with millions of users' data, and there's an obvious need to tighten up the security on social media to combat hackers and protect users' security. Placing safety at the heart of its practices, Baaz partnered with Shufti Pro to provide a fast, easy, accurate, and robust identity verification process to its users.
Baaz Inc. will provide its users with the easiest and fastest verification process requiring only basic sign up information including name, ID, date of birth, and country.
Hamda Khochtali, CEO of Baaz Inc. confident about this partnership, said:
"It's no secret that social media platforms have been an integral part of our daily lives. Unfortunately, most of these platforms come with fake accounts that bring inaccurate and false information. At Baaz, we believe it's our responsibility to create a fun yet safe and healthy environment for our Arab world. Baaz will be the very first social media platform that provides users with an identity verification process. Thanks to our partnership with Shufti Pro, we'll be able to offer users an ideal identity verification system, Arabic text extraction, and technology that guarantees privacy through GDPR and CCPA compliance."
Victor Fredung, CEO of Shufti Pro, excited to partner with Baaz Inc., said:
"Shufti Pro is proud to partner with Baaz Inc. and aim to maintain this relationship in the long-run. Baaz is dedicated to providing a social platform to the Arab and we will secure their platform from imposters, account takeover fraud, and identity theft with our state of the art identity verification services. It has always been a remarkable experience to partner with diverse businesses like Baaz and depicts our adaptability for different sectors."
About Baaz Inc.
Baaz Inc. is a social media platform specially created in the Arab world for the Arab world with a global appeal. It provides culturally relevant content and creates a safe and real environment for its users, reflecting the Arabic culture through its fun and energetic platform. It provides users with a safe space for sharing authentic information through its easy verification process that is secure, and in compliance with GDPR and CCPA.
About Shufti Pro
Shufti Pro is an identity verification service providing KYC and AML verification to its clients worldwide. It deploys 900 AI algorithms for all its services and a synergetic relationship between human intelligence and artificial intelligence, Shufti Pro eliminates the chances of errors and provides results within 30 – 60 seconds with 98.67 per cent accuracy. Do you require verification services for your customer base too?
Contact sales@shuftipro.com to get on board!
Disclaimer:
No warranty is herein provided that the information contained in this document is accurate, up-to-date, and/or complete. In no circumstance(s), does such information constitute legal or any other advice. Any person who intends to use, rely, pass-on, or re-publish the information contained herein in any way is solely responsible for the same. We suggest to verify the information and/or obtain
expert advice
independently if required.