BEFORE YOU GO...
Check how Shufti Pro can verify your customers within seconds
Request Demo
No thanks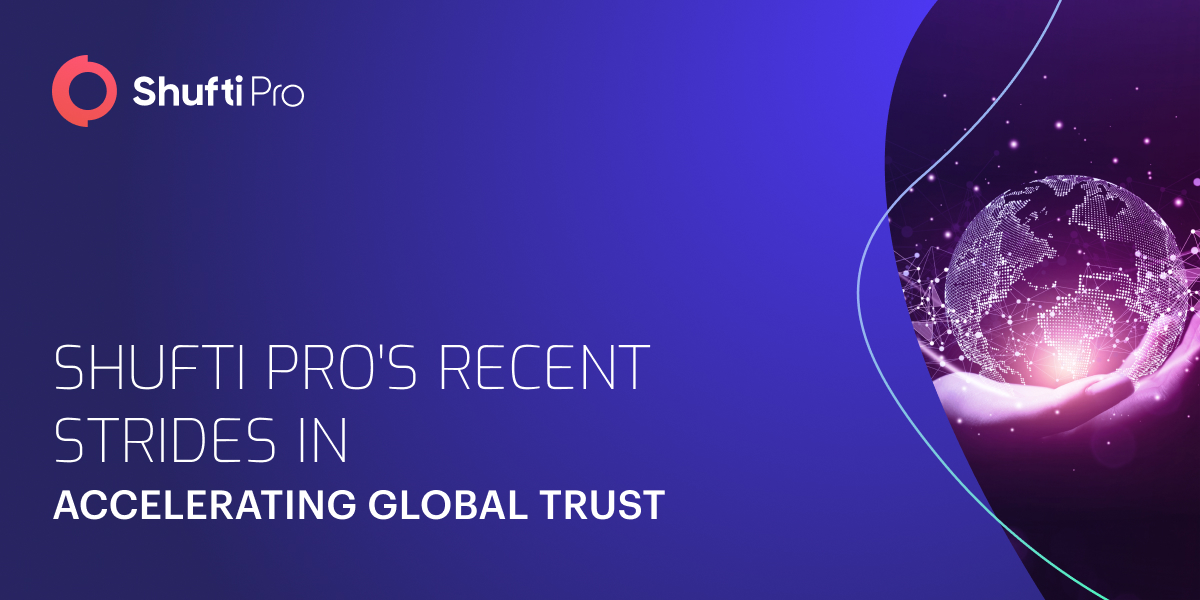 Shufti Pro's Recent Strides in Accelerating Global Trust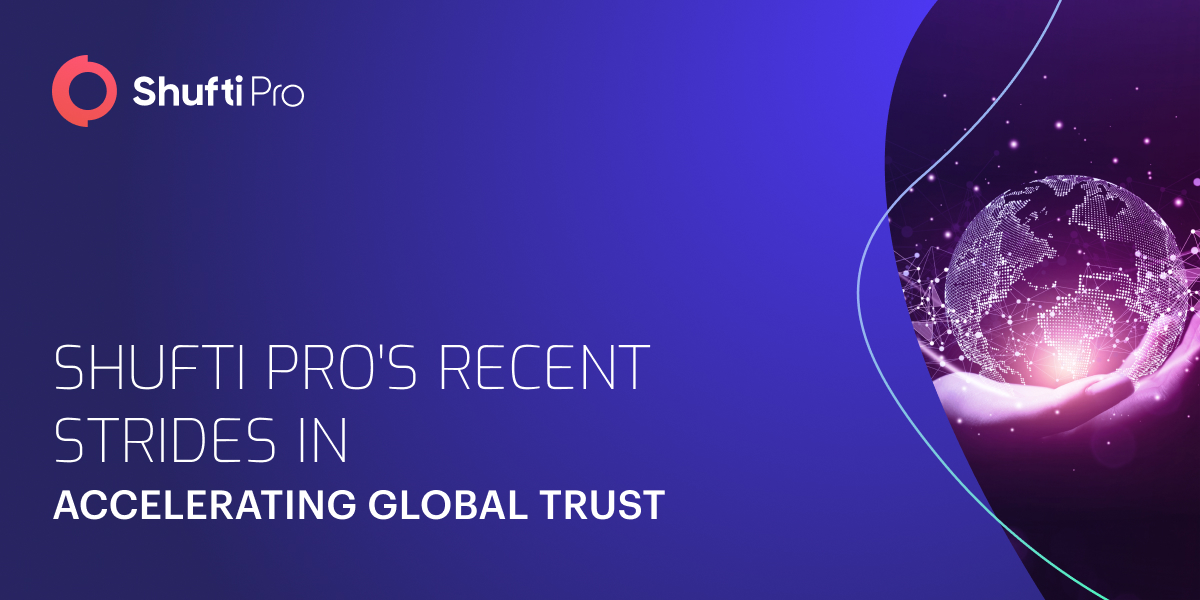 Initially Published on PR Log 
London, UK – September 27, 2023 – Shufti Pro, one of the world's leading identity verification service providers, has reached new milestones, including 1,000+ clients onboarding, expanded operations to 240+ countries, recognised by multiple publications, and enhanced AI model. The company proudly announces the golden performance indicators overview to stakeholders, media, and clients. 
As the digital world continues to expand, fraud continues to grow at an exponential rate, and Shufti Pro has emerged as a full-cycle identity verification solution that synergises human and artificial intelligence to deliver state-of-the-art KYC/AML verification. It includes entity authentication, document liveness and biometric checks, deterring fraud, and ensuring global compliance.  
The company has gained the trust of over 1,000+ global enterprises and SMEs, providing KYB, KYI, KYC, AML, OCR, Risk Assessment and NFC verification. Shufti Pro's latest update includes an enhanced AI accuracy rate of up to 99.7% and a first-time-pass rate of up to 98.44%, completing the user authentication in under 30 seconds. Additionally, it has successfully verified over 20 million identities worldwide.
"Since our launch in 2017, we're constantly striving to provide robust ID verification solutions to enterprises, assisting the digital industry in the fight against online fraud. Shufti Pro's positive performance indicators validate the success and trust that enterprises put in us. As fraudsters evolve and find new scam tactics, Shufti Pro's continuous R&D efforts make it more secure than ever, effectively thwarting identity fraud," said Victor Fredung, CEO of Shufti Pro.
Shufti Pro now uses a three-layered model technology to ensure superior accuracy and eliminate ID spoofing. The model uses the base layer of AI and ML, the second layer consists of the human review whilst the third layer involves QA audit to make sure the verification is accurate to the highest level. 
The updated platform is now capable of identifying all kinds of ID spoofing attempts. Through the use of depth sensing technology in biometric checks, the AI can recognise flat images or video spoofing. Moreover, through enhanced liveness detection, the solution can identify deep fake and masking attempts, making biometric authentication more secure than ever and powering a people-friendly digital future.
Now encompassing over 240+ countries and territories, Shufti Pro allows global businesses to combat ID fraud with unmatched precision. The platform has been recognised by the world-renowned RegTech publication agencies, some of the highlighted awards include:
World Economic Magazine 2022 Awards

Tracxn Emerging Startups 2022

Best client onboarding solution by UF AWARDS 2022

CyberTech100

Happiest Users 2021 by Crozdesk

Great user experience by Compare Camp

Rising Star 2019 by Finances Online

RegTech Insight Awards USA 2022
About Shufti Pro
Shufti Pro is a leading IDV service provider offering KYC, KYB, KYI, AML, biometric verification, and OCR solutions, accelerating trust worldwide. It has six international offices and has launched 17 complimentary IDV products and solutions since its inception in 2017. With the ability to automatically and securely verify over 10,000 ID documents in more than 150+ languages, Shufti Pro proudly serves customers in 240+ countries and territories.
For more information, please contact:
Paul Keene
Snr. Digital Marketing Manager | Shufti Pro
[email protected]
+44 020 3435 6498
Market Pro
Marketing Partner | Shufti Pro
[email protected]