Press Release
World's Fastest Crypto Payment Network temtum Partners with Shufti Pro on New Digital Screening Measures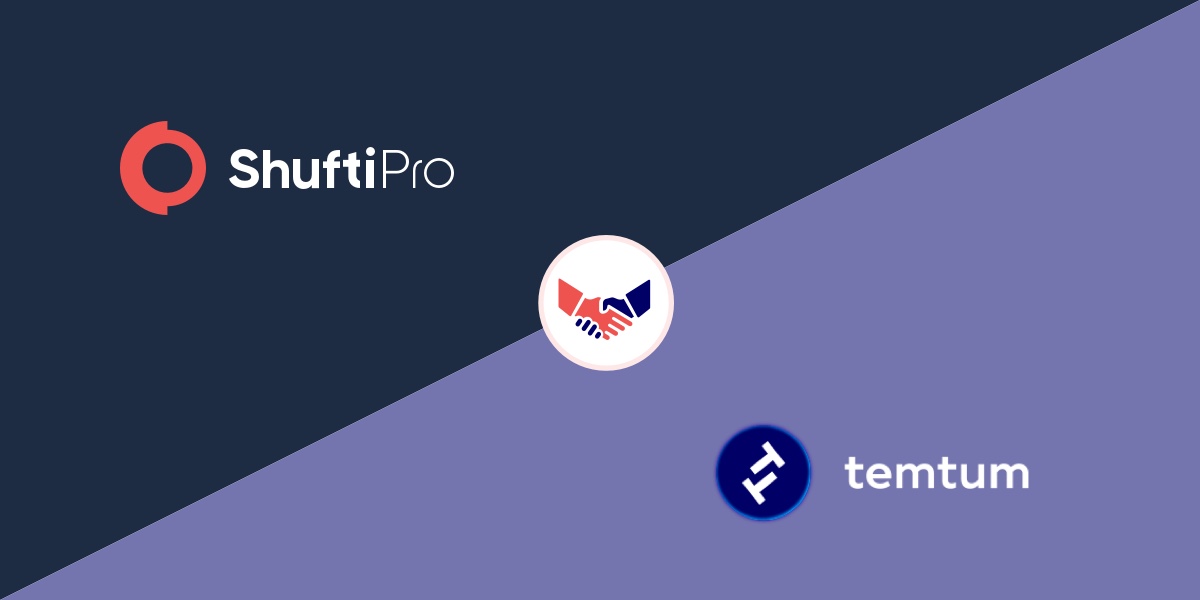 London, UK – (8th April 2020) Temtum, the quantum-secure, efficient, and carbon-neutral cryptocurrency network that is the fastest in the world with 120,000 transactions per second, today announced it has partnered with leading identity verification service Shufti Pro to provide document confirmation and AML/KYC screening services for its customers.
This partnership comes on the heels of the European Union's Fifth Anti-Money Laundering Initiative (5AMLD). 5AMLD expands its anti-money-laundering focus to cryptocurrency service providers, with the goal of improving financial transparency and combating nefarious activities ranging from illegal gambling all the way to terrorist financing. A 2019 study found that 63 percent of cryptocurrency exchanges were lacking in KYC security, revealing the need for an increased, industry-wide focus on KYC/AML practices. With 5AMLD regulations in place, cryptocurrency service providers must do their part to meet KYC/AML standards, and Shufti Pro gives temtum the tools to achieve this.  
"temtum is the world's fastest way to use crypto, and with that speed, we also need to efficiently manage identity verification," said Richard Dennis, Founder and CEO of temtum. "Shufti Pro gives us a first-in-class solution for customer screening and verification, providing safety and peace of mind as you use the fastest crypto network in the world." 
Shufti Pro will digitally verify the identity of temtum's customers while minimizing risk to those same customers through the strongest safeguards in the industry.  Major identity credentials such as Dates of Birth (DoB), addresses, names, document numbers, document issue dates and expiration dates will all be verified by Shufti Pro in real-time. 
"Shufti Pro is very enthusiastic to onboard yet another great customer,"  said CEO Shufti Pro Victor Fredung. "temtum is among the most impressive technologies in our diverse client set, and we look forward to providing our unparalleled authentication services for their truly innovative blockchain network."

Temtum was designed as a new architecture built from the ground up to transform the way that value is exchanged and stored. Temtum can be used on a standalone basis from wallet to wallet, via SMS, or integrated into payment systems worldwide using a simple QR code. Its SMS payments are the first decentralized, network-based text message payments solution and allow anyone to send crypto instantly with a feature phone (flip phone) or a smartphone. Given this revolutionary product, the need for robust fraud prevention was also inevitable, so Shufti Pro proved to be a reliable partner in this regard. 
About temtum
Temtum (TEM) is a fully deployed digital currency that is ultra-fast, quantum-secure, and infinitely scalable. With a patent-pending architecture, temtum solves the fundamental limitations of blockchain networks, including speed, security, scalability, and energy usage. To learn more, please visit https://temtum.com/. 
About Shufti Pro 
Shufti Pro is an identity verification service provider that offers KYC and AML solutions to worldwide clients. Using a hybrid approach of AI and HI technology, Shufti Pro delivers results within 30 seconds with accuracy as high as 98.67%. Having verified users in over 232 countries, Shufti Pro is a pioneer in IDV services to cover a large number of countries.
Contact sales@shuftipro.com to get on board!
Disclaimer:
No warranty is herein provided that the information contained in this document is accurate, up-to-date, and/or complete. In no circumstance(s), does such information constitute legal or any other advice. Any person who intends to use, rely, pass-on, or re-publish the information contained herein in any way is solely responsible for the same. We suggest to verify the information and/or obtain
expert advice
independently if required.