The Financial Action Task Force (FATF) has issued a guidance paper, last week, that outlines a risk-based approach to governments, financial institutions, and other relevant enterprises. The guidance paper guides these entities to use digital identity verification services to comply with Anti-Money Laundering (AML) and Counter Financing Terrorism (CFT) requirements under its standards. 
According to the paper, 
"The rapid pace of innovation in the digital identity (ID) space has reached an inflection point. Digital ID standards, technology, and processes have evolved to a point where digital ID systems are, or could soon be, available at scale." 
The paper also points out the emergent role of digital payments. By 2020, digital payments will be growing at an estimated 12.7% annually and 70% of the world GDP forecast will be digitized. By understanding the role digital ID systems play in this swift expansion is important in achieving AML/CFT compliance and enhancing Customer Due Diligence measures. 
Financial institutions have to recognize and identify the risks that come with incorporating large scale digital ID systems. The associated risks can be privacy, fraud, governance, identity theft, and data security.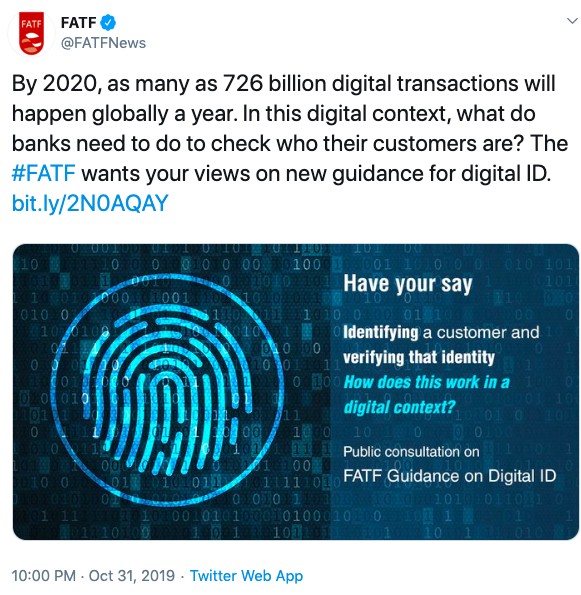 (Source: @FATFNews)
FATF encourages authorities to "adopt policies, regulations, supervision, and examination procedures that encourage regulated entities to develop an efficient, integrated approach to digital ID streaming applicable digital processes across all relevant efforts." 
Currently, the FATF is consulting private sector stakeholders and is also welcoming any feedback or proposals from financial institutes, banks, virtual asset service providers, authorities and regulators until November 29, 2019. 
Another element the paper focuses on is the implementation of "Recommendation 10" which specifies Customer Due Diligence measures. Through the use of digital ID systems, verifying the authenticity of clients at on-boarding, ongoing due diligence and Third-Party Reliance (Recommendation 17) is encouraged. 
Find more relevant resources on FATF: