BEFORE YOU GO...
Check how Shufti Pro can verify your customers within seconds
Request Demo
No thanks
Passwords continue to be a low-hanging fruit for cybercriminals. 
Approximately 15 million records were exposed globally during the third quarter of 2022.
Many argue that this figure makes humans and their credentials a weak cybersecurity link. However, deploying the best authentication technique and empowering individuals to prevent such incidents would be the best shield against cybercriminals. 
A Quick Recapitulation of Notable Scams and Warnings in 2022
Fraudsters are making every effort to bypass security controls and use others' stolen data to accomplish their illicit goals. The financial sector witnessed 23.6% of phishing attacks globally, while web-based software services accounted for 20.5% of attacks in the first quarter of 2022. These two digital sectors were the main target of cybercriminals, putting a dent in their reputations.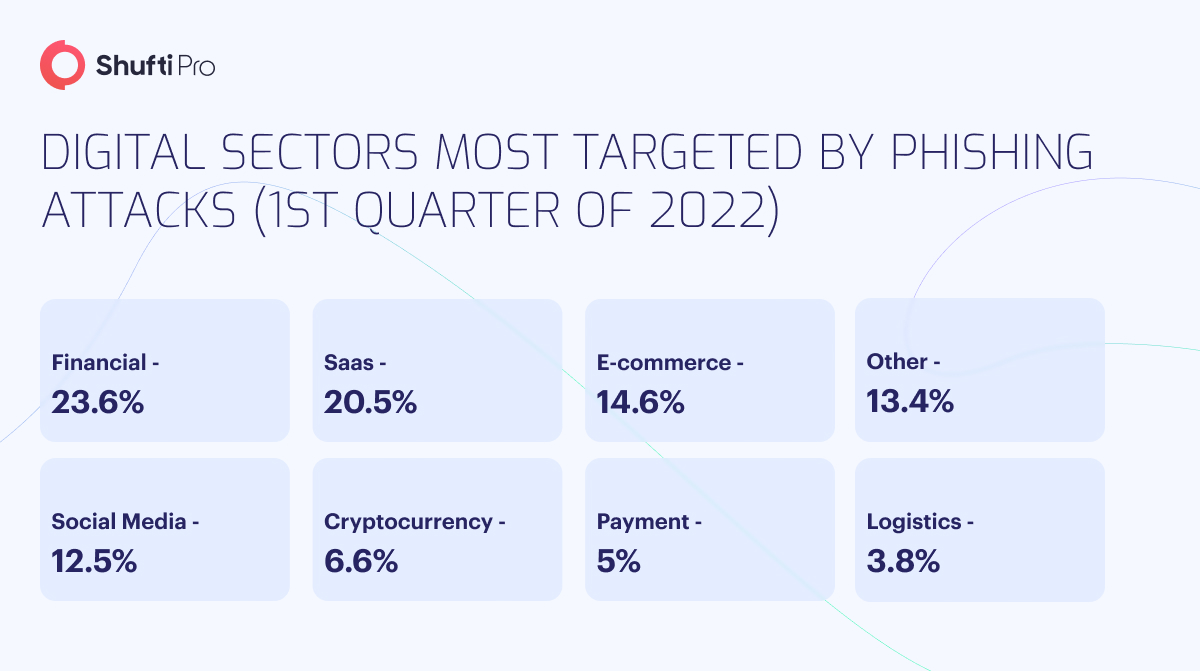 Let's have a quick look at some significant scams and warnings in 2022.   
Over 6000 BVNs Under Scrutiny for Fraudulent Transactions, Reveals CBN
​​The Central Bank of Nigeria (CBN) has disclosed that more than 6000 Bank Verification Numbers (BVNs) are under investigation for fraudulent transactions. The bank also stated that at least 11,871 BVNs were watch-listed as dead individuals in 2022.
The latest figures reveal that the enlisted BVNs in the first half of 2022 were more than 2.72 million, accounting for 54.65 million. Roughly 148.4 million active customer accounts make this in all Nigerian banks.
A total of 26,877 fraud cases were reported by GTB, Access Bank, and Fidelity Bank during the first half of 2022. While comparing with others banks, Access Bank topped the list with attempted frauds and the most losses in the same year.
AMLC Reports Steady Rise in Phishing and Hacking Attacks in the Philippines
The Anti-Money Laundering Council (AMLC) has documented a continuous surge in hacking and phishing attacks in the Philippines, accounting for P16.4 billion in the previous ten years. As per the AMLC, credit card purchases, digital cash card loading, inter-account transfers, and digital cash card withdrawals are among the most widely used transactions.
Furthermore, 99.7% of STRs involved local transactions, while 0.27% included overseas remittances. Ilocos Region, National Capital Region (NCR), Central Visayas, Central Luzon, Calabarzon, Davao Region, and Western Visayas accounted for 50% of all domestic transactions and 44.6% of transaction zones were unidentified. For overseas remittances, the US alone has made 27.2% of transactions.
The FIU has urged all information exchanges between law enforcement organisations, overseeing authorities, and other financial intelligence departments to address the issues and raise awareness about domestic phishing or hacking attacks.
Hackers Leak Stolen Patient Data After Ransomware Attack on Medibank
Medibank has given a red signal to its customers after becoming the victim of a ransomware attack. The bank warned its clients to be super cautious as hackers started revealing confidential medical information such as names and Dates of Birth (DOB) that they had stolen from an Australian health insurance company.
The leaked information shows that there were negotiations between Medibank's Chief Executive Officer and hackers. Although Medibank said that no customers' banking details were compromised, shots to WhatsApp discussions revealed that the hacking group planned to disclose "keys for decrypting credit cards" as well.
The Cybercriminal gang leaked the personal details of 200 Medibank clients. As per Medibank, roughly 9.7 million customers' confidential data and almost 500,000 clients' medical claims information were accessed by those hackers.
Bank of Ireland Warns Customers of Rise in Phone Call and Text Scams
Text and phone call scams are rising and the Bank of Ireland has already warned its customers. The bank has reported 40% more cases of telephonic call and text fraud in the last few months. 
The bank claimed that "callers are receiving texts with the Bank of Ireland logo urging them to await a call. If the client answers the phone, the fraudster will attempt to get their credit card information and swipe a fake notification to update the procedure on their application, which is basically the moment that their money is stolen. Another trick is to send phoney messages with the An Post or HSE texts that link to phishing sites that steal debit or credit card information as well as user login information".
Two-Factor Authentication – A Need of the Hour
Using passwords to keep accounts secure is an outdated approach now as cybercriminals are becoming more sophisticated in hacking techniques. This is where two-factor authentication came as a ray of hop businesses. 
2FA doubles up security by asking the user to enter two or more than two pieces of evidence to prove that they're who they claim to be. Two-factor authentication is a great bet for boosting any business's protection against evolving threats such as phishing attacks, credential stuffing, and account takeovers. Not only it makes firms fraud-free and prevents them from hefty non-compliance fines and builds a positive brand image in the competitive market.  
How Shufti Pro Can Help
In this fraud-pandemic era, businesses are looking for trustworthy verification services to keep fraudsters away. This is where Shufti Pro fits in the puzzle. With simplified two-factor authentication that takes less than a second to complete, Shufti Pro is the globally trusted IDV service provider. It offers verification services to 230+ countries and territories and that too with 99+% accuracy. Moreover, Shufti Pro's 2FA services offer an auto code generator facility to integrate API with digital platforms, boosting customer experience seamlessly.
Are you looking to protect your business from a multitude of threats?