BEFORE YOU GO...
Check how Shufti Pro can verify your customers within seconds
Request Demo
No thanks
The pandemic disrupted operations in the banking sector and the criminal activities significantly  increased in 2020. As per our Global Identity Fraud Report 2020, fraud rate increased by 3.36% and the worst part is, perpetrators are strategically stronger than before. With the help of advanced technology, they are also utilising new and improved versions of fraudulent attempts. The banking sector has always been under threat of criminal proceedings and so, regulatory authorities across the world are imposing more rigid regulations. For banks, customer due diligence (CDD) requirements have increased in 2021. Here's a glimpse of the banking regulatory outlook in 2021 and beyond.
What are the Banking Regulatory Focus Areas in 2021?
The banking regulatory focus areas in 2021 are:
Digital transformation and innovation 

Increased focus on operational resilience 

Regulatory divergence and the associated challenges 

KYC and AML compliance 

Consumer data protection 

Create a more dynamic data environment

Renewing regulations to combat pandemic-driven criminal activities
Regulatory Outlook for the Banking Sector 
Regulatory bodies across the world are working on imposing enhanced regulations in 2021. Money laundering, terror financing, tax evasion, and many other financial criminal activities have significantly increased. Hence, financial watchdogs are in action to enforce stricter regulations and financial institutions will be heavily fined for non-compliance with the laws. Here are the top regulatory updates for the banking sector in 2021 and beyond. 
FATF's Plenary – Strategic Proposals for AML/CFT 
Financial Actions Task Force (FATF) had a plenary meeting between June 21 and 25. The fourth plenary proposed strategic and country-specific initiatives for effective AML compliance. The key features of this meeting are: 
Digital transformation opportunities for AML compliance 

Guidance to prevent financing of weapons of destruction 

12-month review for VASPs

Terrorism based on ethnicity and racism 

Consultation update on UBOs

Money laundering associated with environmental crime 
In the plenary, FATF has also discussed the state of money laundering and terror financing in both Republic of South Africa (RSA) and Japan. The meeting concluded that although South Africa has a robust AML infrastructure, the country must address money laundering concerns on the basis of risk profiles. Similarly, the global watchdog has evaluated other countries and what they must do to enhance the efficiency of AML infrastructure. 
Suggested: FATF's June 2021 Plenary – Strategic and Country-specific Initiatives 
Bank Secrecy Act (BSA) – New Definition of AML Effectiveness
In the United States, banks can expect more clarity on regulatory expectations for AML programs. In December 2020, the Anti-Money Laundering Act of 2020 was added as an alteration to the National Defense Authorisation Act for FY 2021. As per this amendment, risk-based approach to AML and combating terror financing is reinforced. Moreover, it requires FinCEN to establish "The Priorities" for financial institutions. 
On the other hand, The AML Act of 2020 extends FinCEN's Advance Notice of Proposed Rulemaking (ANPRM) proposals on AML effectiveness. However, banks should be prepared for the following challenges: 
Streamlining their AML policies according to The Priorities

Enhancing the outcomes for enforcing laws

Focusing on resources for higher-value AML activities 

Rethinking AML monitoring, information sharing and investigations 
The Priorities – FinCEN's Stance Against FinCrime 
As stated earlier, the BSA guided FinCEN to issue 'The Priorities' to combat criminal activities like money laundering, terror financing and tax evasion. For the first time, FinCEN has issued governmentwide AML/CFT guidelines. Corruption, fraud, cybercrime, human trafficking, proliferation financing, terror financing (domestic and international), and transnational criminal organisation activity are the eight priorities that FinCEN has issued in June 2021. 
The financial watchdog said that all priorities may not be applicable to every financial institution. However, the applicable ones must be implemented as soon as possible. Otherwise, hefty penalties might hit the finance sector.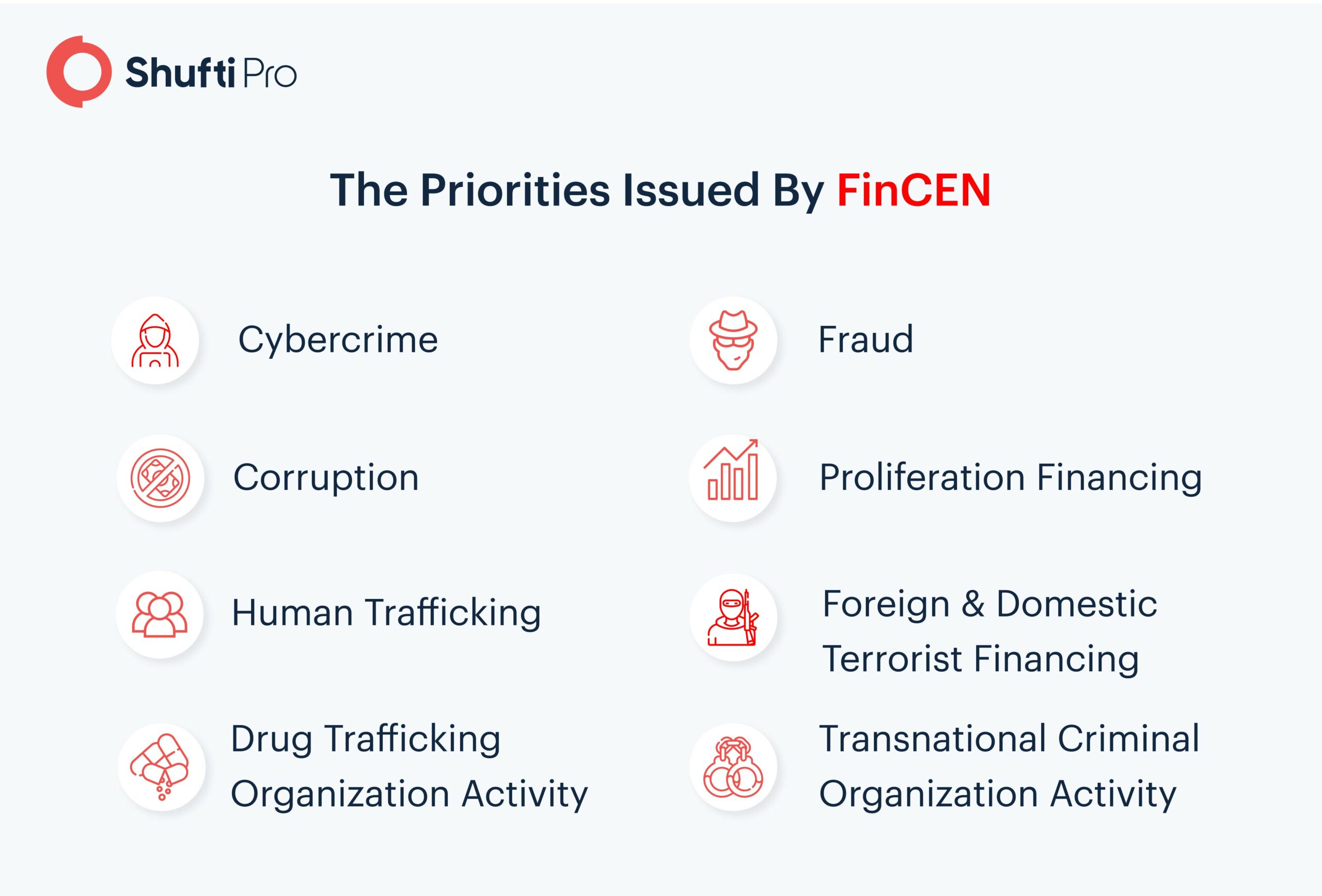 FINTRAC – Amended PCMLTFA for Banks 
FINTRAC, the regulatory body of Canada, has amended the Proceeds of Crime (Money Laundering) and Terrorist Financing Act (PCMLTFA) which was in action as of June 2021. Some updates from FINTRAC are:
Ongoing monitoring requirements 

PEPs and HIOs screening 

Reports for virtual currency transaction 

Reporting of unsuccessful reasonable reasons of verification 

Fie new identity verification methods have been introduced 
AUSTRAC – Tranche 1.5 Reform 
As of June 18, 2021, new anti-money laundering reforms have been enforced in Australia. Also known as Tranche 1.5, these reforms demand higher due diligence standards to be implemented. This allows financial institutions to rely on vendors to meet KYC requirements. 
The reforms include measures to streamline banking relationships, making customer identity verification effortless. As per Tranche 1.5,
Ongoing KYC must be performed every two years 

Control, ownership and management structure of the banks must be evaluated 

Guidelines for reporting entities have been issued too 
Recommended: New AML Reforms 'Tranche 1.5' Take Effect in Australia 
To Sum Up…
Due to the COVID-19 pandemic, threats for the banking sector have significantly increased. To protect financial institutions from financial crimes like money laundering, terror financing, etc. regulatory bodies across the globe have enforced enhanced KYC and AML regulations. FATF's plenary meeting held between June 21 and 25 has resulted in strategic and country-wise initiatives to tackle FinCrime. On the contrary, AUSTRAC, FINTRAC and FinCEN have also imposed more rigid laws for anti-money laundering and counter financing of terrorism. All in all, the banking sector has to abide by stricter regulations and non-compliance will result in hefty penalties. 
Suggested: AML Non-Compliance Penalties Soaring Sky High in the First Half of 2021