BEFORE YOU GO...
Check how Shufti Pro can verify your customers within seconds
Request Demo
No thanks
Technology is a fundamental part of our day-to-day lives, from checking the weather and connecting with friends to maintaining and expanding your business. The functional possibilities brought on by technological advancement are infinite, so why are many still apprehensive of such advanced change? This can be attributed to popular film and televisions depiction of AI, alongside real-world misuse of technology.
Technology has reached the point of being at a complex dichotomy of fascination versus confusion, as individuals attach their fear of the unknown to it – so let's understand the 'what', 'how' and 'why'.
Similarly, face verification sounds like a security and privacy threat to many, but here are 7 interesting facts that confirm that the pros of the latest in security technology – face verification- outweigh its cons. 
1. Missing Person? Let's Find them
Every year, tens of thousands of people go missing. In the US, 460,000 children are reported missing every year, as stated by the Federal Bureau of Investigation. According to the Missing People charity, someone is reported missing every 90 seconds in the UK, equating to 170,000 people – approximately 70,000 being children.
Here's a snapshot of the missing children reported every year, covered by International Centre for Missing & Exploited Children (ICMEC).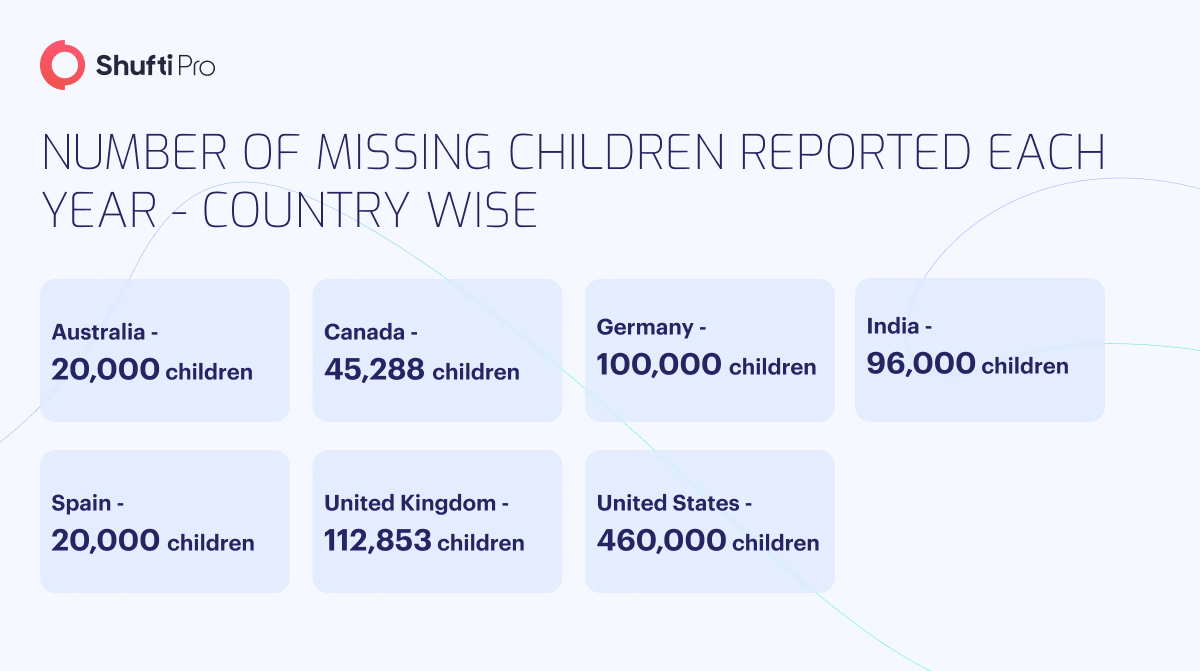 These stats about missing children are horrible as not every kid returns home. So where does face verification fit into all of this? China has recently developed an app to tackle such issues, harnessing the power of facial recognition technology; families can upload images of their missing children and the picture is scanned to detect matches and reunite the family.  
2. Drowsy While Driving? A Solution to Stay Awake
Many underestimate the danger of drowsy driving. 1 in 25 drivers admits to sleeping behind the wheel. Decades ago, the concept was pitched of putting a bell on a driver's collar to make them stay up while driving. Today many businesses are using face verification technology to check tired drivers and ring a bell whenever they feel drowsy. Devices like these measure the angle and position of the driver's face, and how frequently the driver blinks. In case the system finds the driver not paying attention to the road, it cautions them immediately. 
3. Cluttered Phone? Let's Manage Photos
Organising bundles of files on a laptop or mobile is not only boring but a time-consuming task especially when photos accumulate over time. Office party snaps, photos taken during family's day out, selfies and there are a number of ways to categorise pictures, but sorting images one at a time and putting them in respective folders is challenging. With face verification, a user can make managing photos enjoyable. 
Adobe Lightroom, Google Photos, Apple Photos, and other third-party applications have a built-in facial recognition feature. The technology allows users to tag those in photographs by selecting their faces and it will recognise the person every time one gets photos of those people on their device. Not only this, but these apps also create separate folders of photos making life easier.
4. Still Single? Time to Mingle
The dating concept is becoming better in this digital age with a face verification solution. Web-based developers are now taking things to the next level where people can find their perfect match using face recognition algorithms.  Some find it creepy while others say it's better than dealing with digital profiles with false details and pictures captured at the perfect angles. With a face verification solution, users can filter out fake or irrelevant matches and have more customised search results. For example, Hinge & Thursday dating apps use video ID verification to combat scams, duplicate accounts and catfishing.
5. Running a Business? Let's Save Some Capital
Business owners can save capital with face verification technology. From automating attendance tracking to monitoring employees for security and productivity, facial recognition takes the lead in every task used. Many retail stores are using face recognition to understand customer behaviour in-depth. The technology is being used in many shopping malls, theme parks, and theatres to monitor visitors and keep the suspicious ones at bay. 
6. Concerned about Your Health? Read the Symptoms of Illness 
Face verification is a promising solution even when it comes to diagnosing several ailments. The technology reads facial traits that give clues about health conditions. Face verification uses machine learning and artificial intelligence that help detect health issues so that they can be treated in time. Not only this, but face recognition is also helping doctors to diagnose rare genetic disorders.   
7. Worried about Identity Fraud? Let's Uncover the Culprit
Face verification is a great solution to combat ID fraud and other heinous crimes in this modern age. Legal agencies are making use of this technology to identify people by reading their facial traits. Preventing crimes before they actually happen sounds like the concept of a sci-fiction movie. But surprisingly, fraudulent activities can be deterred with face verification technology.
Identifying suspects helps prevent crimes on a larger scale. For example, when security agencies have real-time data, they can easily track and prevent any suspicious person from entering any particular place. Another feature that makes face verification a promising solution is that it ​​provides actionable analytics revealing the location and time when any crime happens, helping to stay ahead of criminals.
How Does Shufti Pro Connect the Dots for Your Business?
Shufti Pro's face verification solution offers a strong line of defence against impersonation and spoof attacks. The AI-powered facial recognition is available in 230+ countries and territories, verifies identity in less than a second, and is trusted globally in mitigating ID theft in the digital age.
Want to know more about Shufti Pro's face verification solution?