BEFORE YOU GO...
Check how Shufti Pro can verify your customers within seconds
Request Demo
No thanks
Online dating apps have altogether transformed the concept of socializing, and people are now interacting with each other through digital platforms. This type of interaction is getting popular, and users are widely accepting the idea of meeting new people. Users have to input all of their personal details, particularly their name, ID number, and email address, while onboarding which ultimately leaves them vulnerable to threats of identity theft. Tinder, Meetup, and Bumble are some of the most popular apps which are preferred by users where they can entertain themselves while making matches.
In 2021, there were 323.9 million users of online dating apps, and this considerable number has encouraged criminals to exploit the system loopholes and get involved in illicit activities. There are multiple types of scams, particularly romance scams, fake accounts, and identity theft which are quite common on online dating platforms. Only the users in the USA lost $547 million to romance scams in 2021, which has raised alarms for the regulatory authorities. The criminals usually use stolen identities to onboard the system while executing their illicit motives. It is in the higher interest of these platforms to implement facial biometric authentication through which they can verify the true identities of their users in real-time.
Online Dating Platforms – A Highly Vulnerable Sector to Identity Theft
Identity theft is one of the crimes which is quite common nowadays and has adopted the form of a global issue. Rapid digitization has urged users to input their personal details on the internet server. Hackers have found it an opportunity to steal their sensitive information, further abusing it for several criminal purposes. Unlike banks and other financial institutions, online dating apps have not incorporated stringent identity verification measures, aiding the bad actors in effectuating heinous crimes. Especially during the pandemic, when people started using online services frequently, there was a huge surge in cybercrime, highlighting the need for Know Your Customer (KYC) solutions.
As per a survey, 42% of online dating users aim for marriage, and over 13% got engaged or married in the past six months, which clearly indicates the importance of these platforms. With every coming year, the number of users of dating apps is increasing, which is raising the need for security measures protecting sophisticated users. Cybercriminals specifically target online dating websites to get unauthorized access to users' sensitive information, and it is the need of the hour to counter all bad actors. One of the optimum solutions against this menace is facial biometric authentication which can verify the users' true identities and identify all those who try to onboard through stolen details.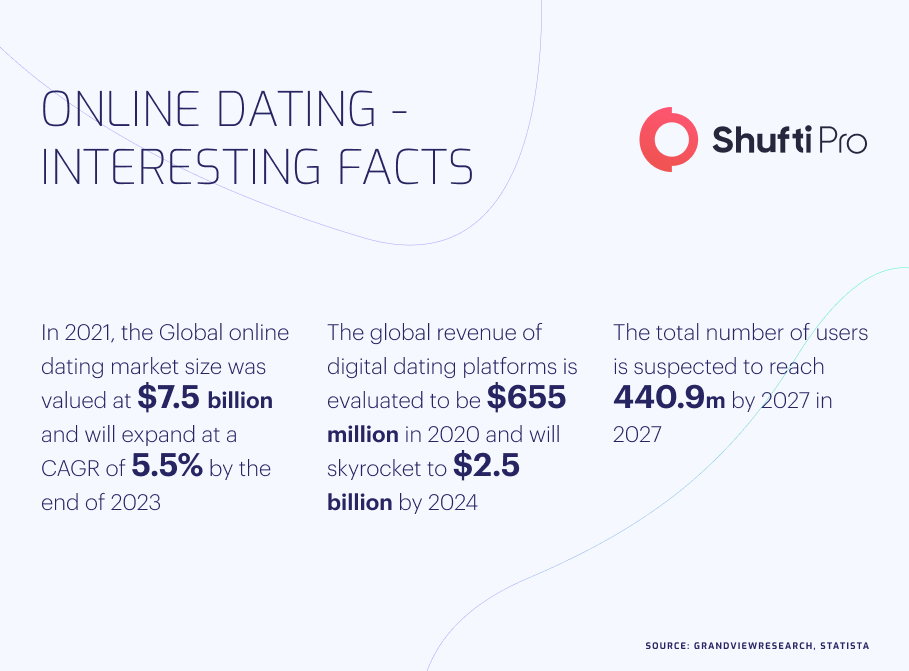 The Role of Law Enforcement Authorities in Securing Digital Dating platforms
It is estimated that there are around 1500 dating apps and more than 60% lack robust security mechanisms. This is the primary reason that cybercrime through these digital platforms is elevating, and almost all the major jurisdictions are experiencing such types of cases. Law enforcement agencies of all countries are actively working to eradicate the chances of identity scams and in the recent past, several cases have been witnessed where Police took firm action against bad actors while registering cases against them.
Criminal Gang Arrested in Malaysia and Hongkong for Romance Scam
Hong Kong and Malaysian law enforcement authorities, along with Interpol, arrested 27 criminals who were involved in various types of scams related to online dating apps. It was found during the investigation that scammers were defrauding common people through fake romance techniques and stealing their identities. The Police have revealed that users have lost millions of dollars through this fraud. All the criminals have been presented before the court, and investigations are still going on to decide their fate.
Fraudsters Scammed £5.3 Million Through Online Dating Apps
In the past six months, UK law enforcement authorities received more than 150 reports from a large number of users complaining about the misuse of online dating apps by criminals. The investigations helped the Police counter an organized gang using multiple advanced techniques to defraud dating app users and steal their identities. In a few months, they successfully made £5.3 million out of users through fraudulent techniques. Police have arrested the whole gang and making further inquiries to charge them.
Regulatory Authorities Monitoring Online Dating Platforms
Globally, crime incidents through online dating apps are picking up the pace, which has encouraged all the responsible states to take a firm stance against criminals. A large number of legislations in several countries have been witnessed recently, which have helped the jurisdictions charge the scammers and bring them under the law.
Let's have a look at the rules and regulations which some countries are following to secure online dating platforms:
USA
Federal Trade Commission (FTC) is the primary authoritative body in the US, working to eradicate the prevailing crimes on online dating platforms. FTC has made it mandatory for all dating apps to conduct a detailed criminal background check of all the users while onboarding and report to the concerned authorities in case of any suspicious activity.
Singapore
Singapore is one of the countries which has adopted a quite rigid approach towards online dating scams. Section 376E of the Penal code put a limitation on all online dating service providers to verify the true identities of users and age while onboarding. In the past few months, the regulatory authorities have conducted an operation and blocked a large number of apps that were not complying with the law.
How Facial Biometric Authentication can Ensure Compliance in Online Dating Apps
It is an established fact that criminals usually exploit loopholes by getting access to online dating platforms using stolen identities. The ideal system to counter scammers should have an effective identity verification system that not only restricts the bad actors but also takes action against them. Facial biometric authentication is one of the optimum solutions for all service providers. It will let the system identify the users in real-time while comparing the biometric details with those on their documents. By incorporating this method, online dating apps can ensure compliance with global monitoring authorities and make the platforms a secure place for sophisticated users.
What Shufti Pro Offers?
Shufti Pro's state-of-the-art facial biometric authentication services are the most viable solution for online dating apps through which they can perform strict scrutiny of their users while onboarding. Shufti Pro's facial verification solutions authenticate the customers' true identities in real time and compare the details with the documents while reporting any suspicious activity. The system is efficient enough to generate results in just seconds with a ~99% accuracy.
Would you like to get more information about facial biometric authentication solutions for online dating platforms?