BEFORE YOU GO...
Check how Shufti Pro can verify your customers within seconds
Request Demo
No thanks
Purchasing real estate is an attractive way for money launderers to legitimise larger amounts of money in single transactions while avoiding KYC/AML checks. The sector accounts for approximately $1.6 trillion worth of money laundering every year. As the prices of real estate get higher, money launderers see it as an opportunity to launder millions in illicit funds through the one-time purchase of a property. 
That's not all, real estate is an industry that offers a stable investment opportunity where properties can be sold for an even higher price tag. To the benefit of money launderers, industries like art, antiquities, and real estate are not as heavily scrutinised as banks and other financial institutions.
Real Estate – A Magnet for Money Launderers
Obscuring the origins of illegally obtained funds is easy in real estate purchases as the criminal entity can simply buy a house and then sell it to obtain legitimate funds. Money launderers deploy various techniques to launder the proceeds of crime through real estate, including purchases at higher prices and the use of shell companies. Criminals buy a property with the name of their family members to steer clear of fraud prevention measures like identity verification or AML screening. 
One such case was reported in February 2021, when a Russian man was found to be the owner of real estate worth more than €50m (around $59m). The investigation was carried out by the OCCRP, a consortium of journalists, and found that Sergey Toni did not have sufficient business earnings to make the real estate purchases. The most likely source of the Russian man's money is his father's income from the Russian Railways, which is one of the biggest transportation networks in the world. In addition to the other red flags, Toni also made use of shell companies to make the purchases.
Many countries including the US do not require companies to provide beneficial ownership information, making it easier for money launderers to hide behind shell companies. A BBC report from 2018 showed that a Ukrainian criminal group employed shell companies to transfer millions of pounds to the UK. The group also reportedly purchased luxurious property including a £12.5m ($17.4m) flat in London. 
The Need for AML Screening in Real Estate
Throughout the world, all entities linked to a real estate business are required by law to ensure compliance with AML requirements. Business and real estate agents are always at a risk of getting fined or imprisoned due to involvement in a money-laundering scheme. One of the major entry points for any kind of money laundering scheme is bypassing the identity verification checks put in place by the real estate company. When a money launderer gets to hide behind shell companies, real estate agents are bound to face regulatory action for allowing illicit financial activities.
Global financial regulators urge real estate agencies to incorporate KYC measures to verify the identities of their customers. During the onboarding stage, businesses are advised to consider money laundering schemes that have targeted their respective industries in recent times. In the case of real estate firms, the most common methods are shell companies and third parties. The first step real estate firms must take is to verify the Ultimate Beneficial Owners (UBOs) of a company to eliminate the use of shell companies by money launderers.
To do so, real estate agents must require the company to disclose its UBOs and verify whether they are present in the beneficial ownership registers of the respective jurisdiction. Next, the real estate business must screen customers against lists of Politically Exposed Persons (PEPs) to determine whether corrupt politicians are involved in the purchase. Even when customers' identities and their connections to political entities are verified, there are some cases where nothing but the origin of the funds is a red flag. For this reason, real estate firms should perform AML screening to know about the past transactions and sources of the money being used to purchase real estate.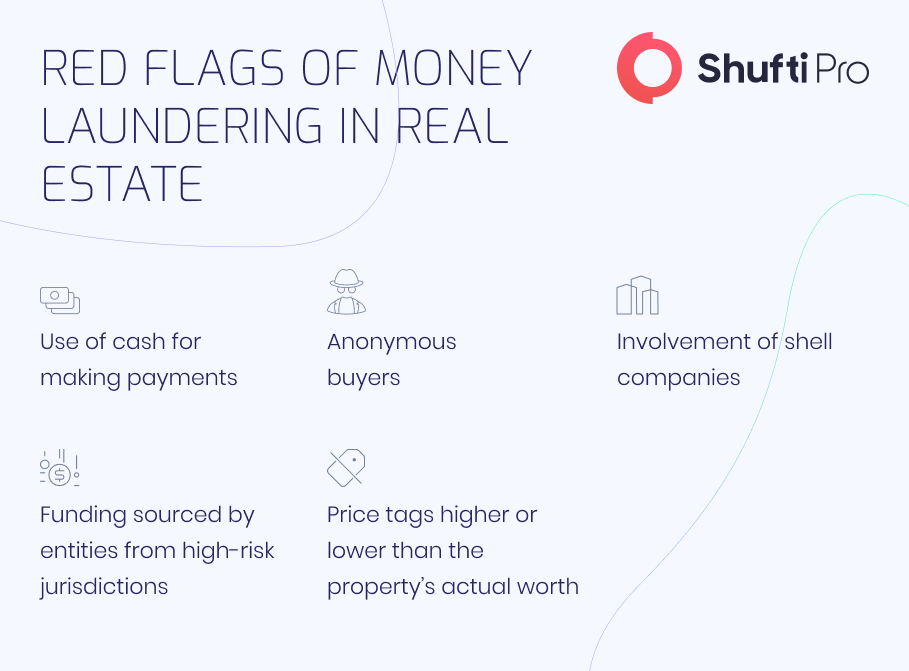 AML Regulations for the Real Estate Sector
Apart from the basic requirements of verifying identities and performing background screening of customers, real estate businesses are advised to adopt a risk-based approach with an effective AML program.  
Canada
Canada's financial regulatory authority, FINTRAC, revealed after an investigation that numerous real-estate companies in the country had violated AML regulations. In 2018, $4 billion were laundered through real estate in British Columbia. It was also found that some real estate agents willingly assisted criminals in their money laundering schemes. 
To overcome this issue, the Canadian government made an amendment to its AML law in 2021. The law made the verification of PEP (Politically Exposed Person) lists and UBOs (Ultimate Beneficial Ownership) information mandatory for all businesses. Real estate businesses that are unable to comply can face fines of up to $1.6 million and/or 5 years imprisonment.
The EU
Similarly, the EU made amendments to include real estate agents in the scope of its 4th AMLD (Anti-Money Laundering Direction), requiring them to perform customer identity verification in order to comply. As per the new rules in the 6AMLD, not only individual entities but businesses can also face sanctions for money laundering.  
The FATF
The Paris-based global financial watchdog FATF (Financial Action Task Force) is known for combating money laundering and terrorist financing and has 37 member countries. The FATF's Recommendation 22 brings real estate firms under the category of Designated Non-Financial Businesses and Professions (DNFBP). DNFBPs that fall within FATF member countries are obliged to perform customer identity verification and AML Screening in order to comply. 
What Shufti Pro Offers
To sum it up, the real estate sector offers lucrative investment opportunities and ever-increasing prices for money launderers to legitimize their dirty money. As criminal entities attempt to capitalise on regulatory loopholes, real estate businesses face the risk of regulatory action. 
Shufti Pro's Anti-Money Laundering (AML) screening allows real estate businesses to stay compliant with regulatory standards as well as prevent money laundering. Powered by thousands of AI algorithms, Shufti Pro's AML screening solution also screens customers against 1700+ global watchlists in less than a second with 98.67% accuracy.
Want to learn more about AML Compliance for your real estate business?