BEFORE YOU GO...
Check how Shufti Pro can verify your customers within seconds
Request Demo
No thanks
Despite the considerable investments made by industry leaders, KYC is still a challenge in the finance sector.According to a report from Global Newswire, the global market size of digital KYC is expected to reach USD 1,015.36 million by the end of 2026 with a compound annual growth rate (CAGR) of 22% between 2019 and 2027. Did you know that banks and other financial institutions experienced record-breaking fines in 2020 for breaching the KYC/AML laws? The aggregated sum of these fines was EUR 12.09 billion. Apart from the hefty penalties, damaged business reputation, loss of customers and inability to comply with the regulations are some additional consequences of not implementing KYC for customers.
A lot has changed due to the coronavirus pandemic, so the finance sector must be prepared to face the evolving KYC in 2021 and beyond. 
What is KYC?
KYC or Know Your Customer is an identity verification system that verifies the identities of customers for legitimate customer onboarding and fraud prevention. With technological advancements, the AI-based KYC system incorporates certain checks that verify the government-issued ID documents and check for the live presence of the end-user through face verification.
Given the significant rise in criminal activities over the past few years, regulatory authorities and FATF have enforced certain rules and regulations on the finance sector to combat fraudsters. One such law is to perform customer due diligence or Know Your Customer (KYC) checks that can not only help the finance sector in effectively dealing with fraudsters but also seamlessly onboard customers in no time.
KYC Today
As of this day, KYC is a fundamental requirement for all financial institutions. Many things have changed when it comes to KYC today. From customer expectations to the rigid regulations, there's a lot to discuss.
Changing Landscape of Regulations
KYC regulations across the world have changed in 2021. Regulatory authorities across the world have amended their laws to make them more rigid. These laws have resulted in an active line of defence against financial crime. FATF has changed some guidelines, whereas the UK is now pursuing the Sanctions and Money Laundering Act of 2018. The European Region is now triggered by 6AMLD. On the other hand, FINTRAC and AUSTRAC have also passed new KYC regulations. Moreover southeast asian regions are also acquiring KYC and AML regulations to combat fraudlent activities
Changing Customer Expectations
Apart from the regulatory changes, customers' demands have changed over time. They seek higher levels of convenience and tedious processes do not attract them at all. Digitally equipped customers seek simple yet interactive processes and so, the need for digital KYC increases. According to predictions, there must be a seamless identity verification process that is updated on a regular basis to cater to the rapidly changing customer expectations. 
KYC Beyond 2021
In the remaining time frame of 2021 and the years ahead, there are many changes that can be expected in KYC. Here are some of the KYC trends that we are expecting beyond 2021:
Focus on Operational Areas for Greater Efficiency
The budgetary pressure on business in the finance sector has increased and the COVID-19 pandemic has played a pivotal role in this. Now, the corporate world needs operational efficiency to reduce costs as much as possible. Otherwise, acclimating to the changes may not be as easy as it must be. Optimising the KYC process in a consumer-centric way is what the finance sector needs in the years ahead.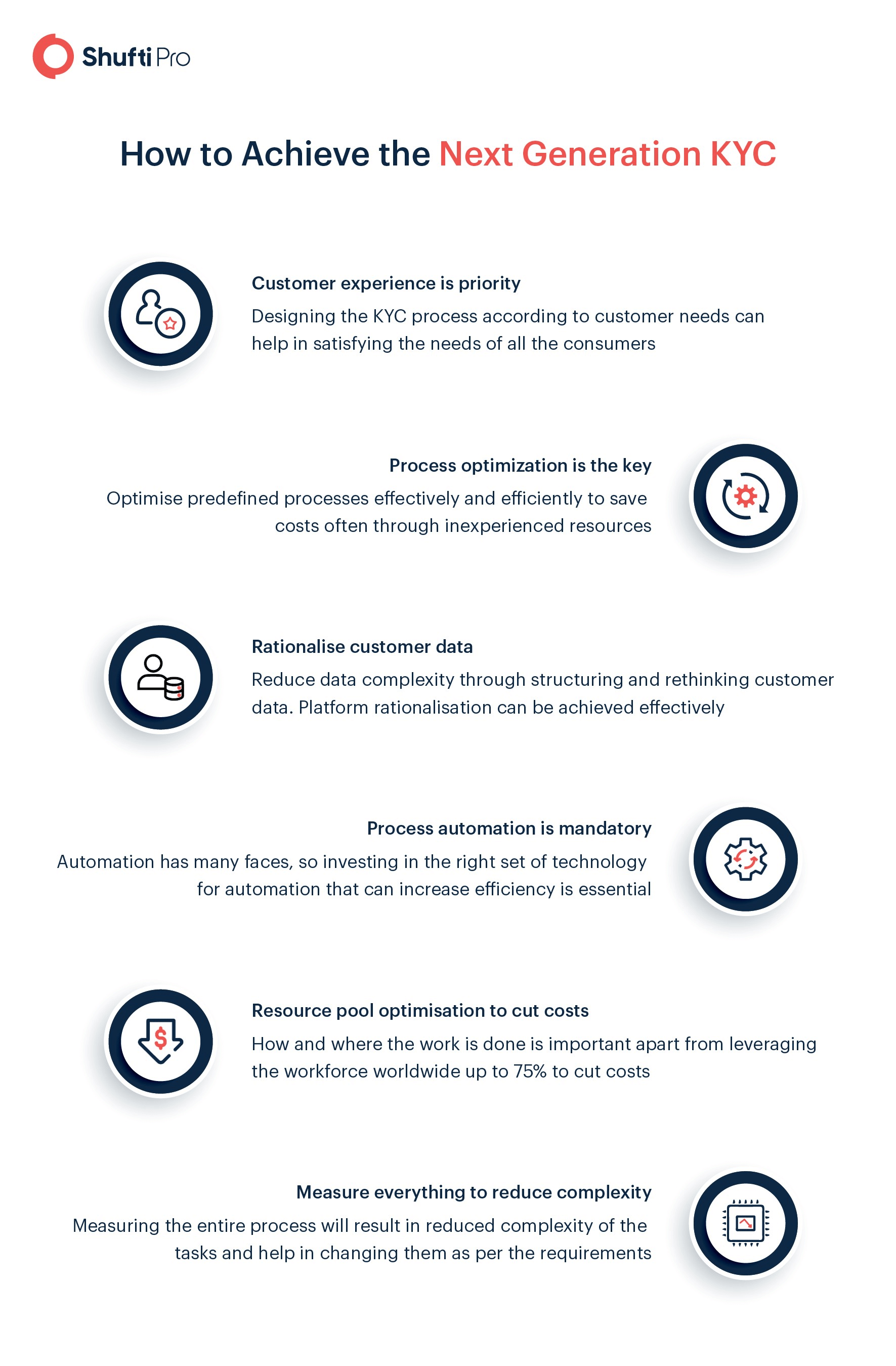 Perpetual KYC will be the New Normal
Gone are the days when the financial institutions reviewed their customers on a high-risk rating basis. Now, corporate entities have a better way to perform identity verification checks and keep their customers' profile updated whenever needed. The future of KYC is perpetual because the regulatory landscape will become more and more rigid in the coming years. Financial institutions need real-world data and update customer profiles regularly on the basis of their preferences. Only then, companies can provide a seamless KYC experience to the customers.  
More Rigid Regulations to Comply With
As mentioned earlier, the KYC regulations will become more and more rigid for all businesses, especially in the finance sector. Advancing technology is helping businesses in taking preventive measures against fraudsters, whereas criminals are figuring out better ways of fulfilling their illicit desires. Henceforth, the regulatory environment comes into action and law enforcement agencies make sure banks and other financial institutions take all necessary steps to fight fraudulent activities. In the coming years, the finance sector has to deal with more stringent regulations which means, enhanced AI-driven KYC will become inevitable. 
Strengthening Compliance Activities through Data Sharing
Communication is the key to achieve effective compliance with KYC laws across the world. As financial institutions dig deeper into their compliance concerns, unnoticed issues will emerge and they will look up to their partners to weed out those obstacles. Organisations have to consider working closely with compliance teams, share more customer data and solicit more advice to adapt to the changing ecosystem for KYC. 
Bring More Automation to Refresh Onboarding Processes
The traditional KYC process will experience magnificent automation since data collection in real-time is dependent on advanced technology. For instance, collection of business information, structure, UBOs and shareholder information is no longer required manually from the clients. Similarly, the automated KYC process no longer needs human intervention. The traditional KYC process will take a new road to automation known as continuous KYC. This will regularly monitor customers rather than completing the process manually.
It All Boils Down To…
KYC has experienced many changes, and currently, automated or AI-powered Know Your Customer identity verification system is in action. Considering the significant rise in criminal activities, the need for automated KYC increased. Now, the regulations are becoming stringent and the increasing customer expectations are hard to meet. Moreover, the digital world needs a Know Your Customer solution that can verify customers, onboard them in no time and ensure effective compliance with the laws. Therefore, there is a high probability that perpetual KYC will take over the world in the years ahead. The need for manually updating consumer profiles will no longer be an issue. 
Ongoing or perpetual KYC is a great way of maintaining updated consumer profiles and preventing fraud.
Get in touch with our experts to know more about KYC.