BEFORE YOU GO...
Check how Shufti Pro can verify your customers within seconds
Request Demo
No thanks
With the increased risk of financial crime, banks and other financial institutions within a state's jurisdiction have to comply with all global and local regulations. On 8th July 2021, the Central Bank of Nigeria (CBN) published "Supervisory Framework for Payment Services Banks (PSBs)", which focuses on the use of technology for service providing, risk management, corporate governance, and customers funds' security of PSBs. In the first eight months of 2020, Nigerian financial businesses lost N5.2 billion to frauds. The law will help minimize the frauds lose for PSBs.
What is the Objective of New Nigerian Laws and Regulations for PSBs?
The objective of this law is to ensure transparency in operations, streamline workflows and set up a workable mechanism for PSBs. The law gives new direction regarding methods of performing Know Your Customer (KYC) and Anti Money Laundering (AML).
This article will cover a round-up of Nigeria's new regulatory regime and how it will affect the current financial landscape.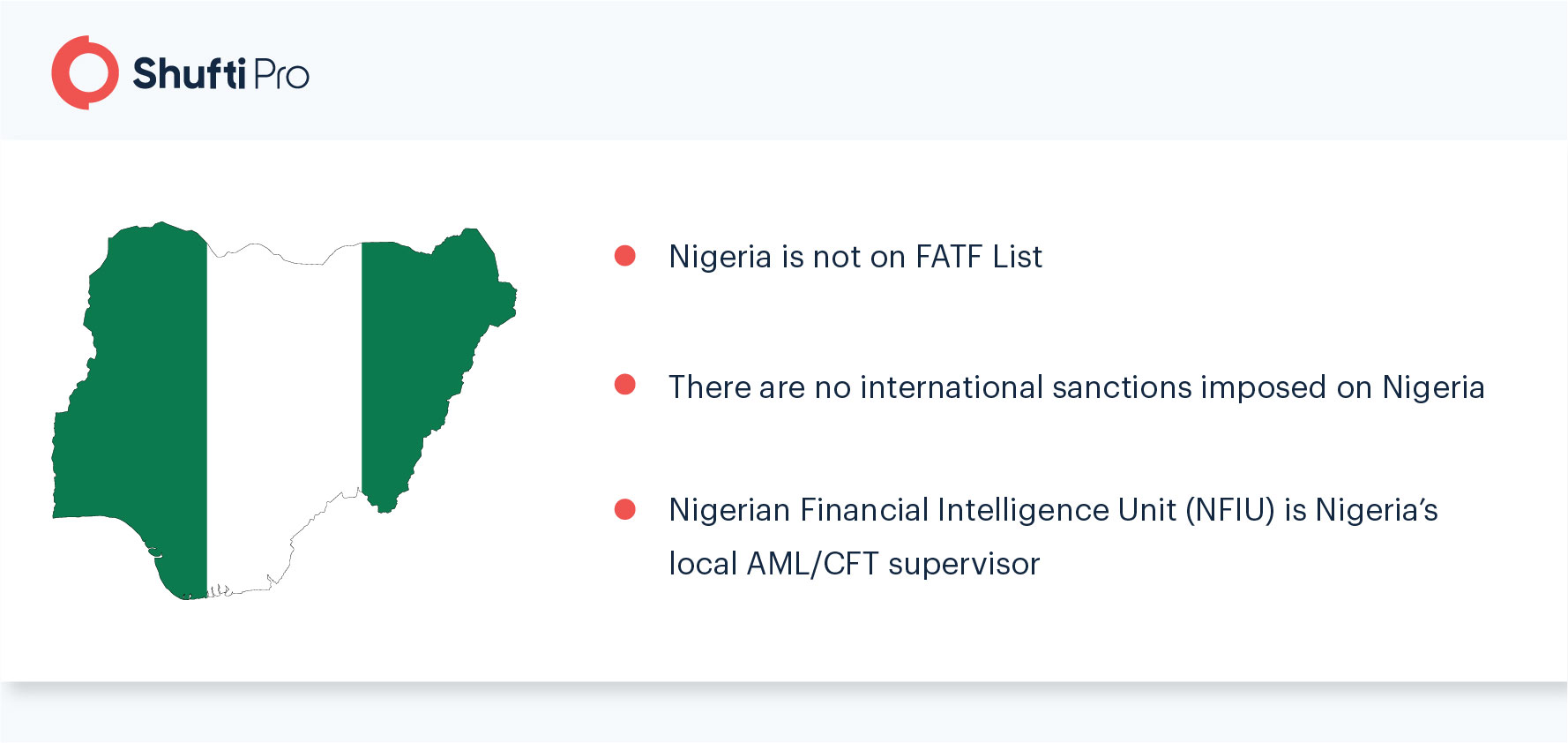 CBN Regulations – Revised Definitions 
It covers tangible/intangible, moveable/immovable, all kinds of assets for instance bank & traveller's cheques, shares, security bonds, money orders, drafts or bank credits. 
Transactions that are processed by a person through electronic means using a PSB with the intention of giving money to a person in another financial institution. The initiator and the beneficiary can be the same person. 
A natural person who ultimately controls or owns a customer  who is proceeding in a transaction and who practises control of a legal person or arrangement.
Any coordination between PSB and businesses who want to carry out transactions on a daily, frequent or habitual basis.
Likelihood of money laundering and/or terrorist financing.
A person who is not a resident of Nigeria 

Any business or individual identified as high risk by the law enforcement authorities of Nigeria
Politically Exposed Persons
Individuals who were or are currently assigned with prominent government functions of Nigeria or foreign countries and persons associated with them, including  
Head of Government or State 

Governors of State

Chairman of Local Government

Senior politicians and government officials 

Judicial and military officers

Senior managers of state-owned companies 

Relatives of above-mentioned persons
When individuals (having no stake in banks) enter into the banking system by opening or registering bank accounts. At this point, the banks give them knowledge of the financial service they can avail after the process is complete.
Permitted and Prohibited Activities for PSBs
Permitted Tasks
Take deposits from individuals and small businesses (which should be covered by deposit insurance scheme afterwards)

Carry out payments services including inbound international personal remittances through multiple channels

Can sell inbound international personal remittances to legal foreign exchanges in compliance with the current

Foreign Exchange Regulations of CBN

Issuance of debit or prepaid cards on their names and also operate digital wallets

Can contribute to the financial advisory services and perform all the permissible activities freely
Prohibited Tasks
Accepting deposits in the form of international currency

Approving loans, advances or issuing (direct or indirect) guarantees besides their employees intact with the employee loan policies

Perform any transaction against the above guidelines

Updated KYC and AML Guidelines 
The guidelines for Know Your Customer and AML are modified and encouraged the use of innovative solutions. Low risk customers will be verified by standard due diligence and high risk with the enhanced due diligence. Customer due diligence is performed when the transaction amount is less than USD 1,000. Any suspicious transaction must be reported to the Nigeria Financial Intelligence Unit.
Time of Verification
PSBs are required to verify the identity of customers before opening a business account or during a one-off transaction. Also, customers should be verified when they are initiating a series of linked transactions.
Three Tiered KYC
Previously, PSBs were required to perform conventional KYC on all customers, In this law, CBN recommends a three tiered KYC on customers.
Tier One:

The PSB has to obtain the customer's passport size photograph, name, date of birth, gender, residential address, nationality and telephone number. Under tier one, limited ATM transactions are allowed with no international transfer. The maximum single deposit limit is N50,000 and a total balance of N300,000 at any point.
Tier Two:

 The basic information retrieval and

verification process

are the same as tier one. Additionally, it should be verified with the official databases like Independent National Electoral Commission, National Identity Management Commission and others. These accounts can be connected to mobile phones and require no minimum amount at the time of opening. It has the maximum single deposit limit of N200,000 and a total balance of N500,000.
Tier Three:

This takes tier two one step further where PSBs have to take, verify and maintain all the documents provided by the customers. After getting verified from tier three KYC, customers can deposit a maximum of N500,000 at a time with no account balance limit. 
Suggested Read: Third-party Due Diligence – Red Flags, Regulations and 5 Ways to Enhance It
How Can Shufti Pro Help Nigerian PSBs?
Shufti Pro provides state of the art KYC and AML solutions backed by thousands of AI models. Individual's identity is verified through government-issued ID documents. Through AI-driven optical character recognition (OCR), the authenticity of the document is ensured. Furthermore, in less than 30 seconds, banks and other financial institutions can onboard legitimate customers. 
The good news is Shufti Pro's identity verification system complies with the three tier system defined by CBN's new regulatory regime.  
Are you a PSB operating in Nigeria? Find out how to comply with the new regulations through our KYC/AML solution.