BEFORE YOU GO...
Check how Shufti Pro can verify your customers within seconds
Request Demo
No thanks
"Sorry, the earth is closed today." 
Tony Stark's sarcastic dialogue became the worst possible reality due to the coronavirus pandemic. Being locked in the house for months has slowed down everything and business operations have been adversely affected. Where companies are figuring out ways to get back in business, there are many challenges that they have to face first. The travel and tourism sector has been affected the most because countries were not allowing interstate travel. However, the vaccine passports are depicting a different story now. Many countries have opened gates for travellers and to make travel safer, a COVID vaccine passport is a requirement. 
The new normal is bringing many new demands for travellers and started with the COVID test verification restriction. Vaccine passports are not new for frequent travellers but the COVID passports are different from the usual vaccine cards. Let's discuss the vaccine passport, countries that are allowing travel and much more about COVID passports in this blog. 
What is COVID Passport?
Also known as vaccine passports, these passports are expected to be the revival of life with new normal. These passports are proof that the tourist or passenger has tested negative for coronavirus. Verifying these passports can help in streamlining business operations in the travel and tourism sector.
65% of the people in the United States believe that COVID passports will reduce the spread of the virus. 
What are Different Countries Planning for Vaccine Passports?
Different countries across the globe have opened travel and tourism if the passengers have vaccine passports. Here are the major countries that have announced plans for vaccine passports already.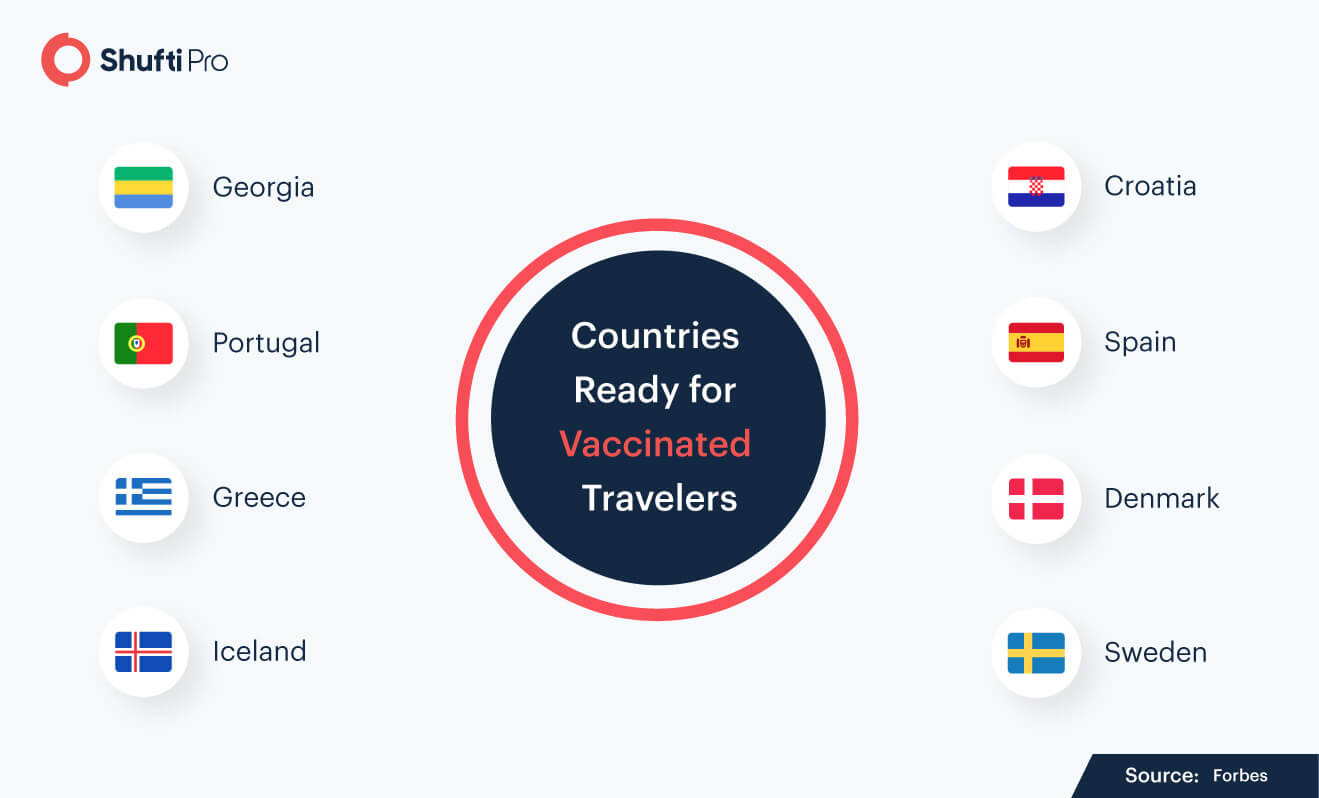 EU COVID Passports
EU COVID passport or EU Pass is one way of getting travel moving across borders. However, it is a challenge to get everything organised in a short span of time. The EU regulatory authorities have marked this as a "matter of urgency." The original plan is for the vaccine passport to be in place by summer but it is a tough deadline to meet. This passport will allow vaccinated people for cross-border travel in all the EU member states. The QR code in the passport is the key to verifying authenticity. Higher authorities believe that nobody can tamper with the QR codes, so they are a safer and more secure way of verifying the legitimacy of vaccine passports. 
UK's Vaccine Passports
UK's Health Secretary Matt Hancock has said, 
"If another country says you can't come in unless you have the jab, then we want Brits to be able to demonstrate that." 
The United Kingdom has banned foreign travellers but authorities are considering the use of vaccine passports for convenient entry in public facilities. According to Prime Minister Borris Johnson, a vaccine passport may be required for allowing people to visit pubs and other public venues like malls. 
Denmark's Vaccine Passports
Denmark has introduced its vaccine passport by the name "Coronapas." Although it is currently used domestically, authorities are considering its use for international travel. This pass is set to play a pivotal role in easing the COVID restrictions in the region. Most of these restrictions are expected to end by May 21, 2021, when all the high-risk groups and people above 50 have been vaccinated. 
Upsides of Vaccine Passport
Here is a list of some of the major perks of vaccine passports that all the public spaces can enjoy:
Governments, citizens and travellers can easily open up to tourism

Increases safety among tourists and citizens 

Conveniently resume other activities like opening educational institutes, workplaces and other public spaces
Downsides of Vaccine Passport  
Everything comes at a price and vaccine passports have some downsides as well. Let's take a look at the most crucial ones:
Verification of these passports is mandatory to ensure the legitimacy

Fraudulent activities will increase since imposters can tamper with the passports  
The latest news by NBC Chicago reveals that blank cards sold on well-known online platforms are now being used to create counterfeit vaccination cards.
Currently, the process for vaccine passport verification hasn't been standardised which is creating gaps in KYC systems
Digital COVID Pass – The Standardised Verification Solution 
To ensure that imposters do not use any fraudulent attempts to surpass COVID test verification, there is a need for verifying the legitimacy of the PCR tests. However, traditional verification methods cannot suffice for this purpose. Digital COVID Pass from Shufti Pro is what public spaces need right now. 
Digital COVID Pass is an AI-powered PCR test verification system that can ensure the authenticity of vaccine passports in seconds. Here is how the process works:
The end-user submits the COVID test to the facility for verification

Shufti Pro extracts data from the report 

The extracted data is cross-checked with the data from authorised laboratories

A definitive 'yes' or 'no' response is delivered 

If 'yes' the customer or passenger is onboarded and vice versa
The system verifies the following information in vaccine passports:
Format of the test 

Test timing 

Lab authentication 

QR code manipulation
All these checks ensure that COVID negative individuals are onboarded and imposters are not using fraudulent attempts to dodge the checks. Furthermore, Digital COVID Pass does not need any installation or API integration. A simple scan of the COVID test is enough to validate the authenticity of the vaccine passport. 
Key Takeaways
All in all, the COVID test verification rule has brought significant conveniences to life. The travel and tourism sector has experienced the most challenges but the vaccine passport initiative is all set to change the game. Many countries have introduced plans for reviving travel and tourism with vaccine passport verification. However, tons of benefits come with many consequences as well. Imposters are using fake COVID tests and passports for dodging the validation checks. With Shufti Pro's Digital COVID Pass, all the authorities can ensure legitimate passenger onboarding. The product verifies PCR test through data extraction from the code embedded in it. If someone has messed with the information on the report, the QR code checks can validate it. 
You can find out more about Digital COVID Pass from our experts.