BEFORE YOU GO...
Check how Shufti Pro can verify your customers within seconds
Request Demo
No thanks
Following the rollout of viable vaccines to combat COVID-19, the prospects of normalcy are on the horizon. To accelerate the renewal of industries, worldwide governments have also approved the idea of launching COVID certificates to establish proof of vaccination. By verifying the vaccination certificates of individuals, countries are hoping to recommence travel, large-scale public events, and office-based work. However, Covid certificates are fraught with a wide range of complexities, many of which link back to privacy and verifiability concerns. This blog discusses both of these challenges in detail and proposes an effective solution, the COVID Certificate Verification tool, for combating the underlying concerns.
Is there a Difference Between a COVID Passport and COVID Certificate?
A COVID passport, also known as an immunity passport, immunity certificate, vaccine passport, health pass, or COVID certificate, is a digital document issued to a vaccinated individual for any COVID-19 vaccine they may have received. The COVID certificate attests that its bearer has a degree of immunity to the deadly Covid-19 virus, enabling them to move freely in public spaces.
An Aerial View  of COVID Certificates
Over 2.5 million deaths have been linked to coronavirus since last year. Thus, it is of no surprise that countries are striving hard towards initiating nationwide vaccination programs and other strategic plans to halt the climbing numbers. For instance, individuals in the UK are using the NHS Covid Pass app to ascertain their vaccination status, the EU launched its digital COVID certificate to facilitate travel in Europe during the pandemic, and France has set a health pass initiative that will allow people to access restaurants, bars, planes and trains. Simultaneously, China has also launched a digital health certificate that shows the holder's vaccine status and test results, and the US has made Covid vaccination passports mandatory for international travel. 
The pace at which countries are resolving this issue is commendable. However, these initiatives have also caused an uproar among citizens regarding safety and privacy concerns that are left unaddressed. The downside? People are losing trust in these strategies and shifting towards illegal means for bypassing Covid certificate verification checks. 
Suggested Read: COVID-19 & Telehealth Fraud: Why ID Verification Is Necessary
Privacy, Safety, and Fraud Concerns 
While a majority of people view the introduction of covid certificates as a ticket to freedom, digital rights advocates are concerned about the potential data privacy and security issues associated with them. Addressing these concerns, the EU has promised that no amount of data will be retained or stored when verified by another country. However, there still lies the possibility of Personally Identifiable Information (PII) present in these certificates being repurposed in the future, along with the threat of this data being breached.
Additionally, anti-vax groups have opted out of the COVID certificate verification idea altogether by illegally acquiring necessary documents for bypassing verification systems. For instance, Australia's Express Plus Medicare app that allows citizens to download vaccine certifications remotely was recently identified for having serious security flaws, leading to the creation of numerous fake COVID certificates worth $270. Another study conducted by Check Point Research has just pointed out the amount of digital covid certificates being sold on the dark web  and how criminals are making use of the Telegram app for its distribution.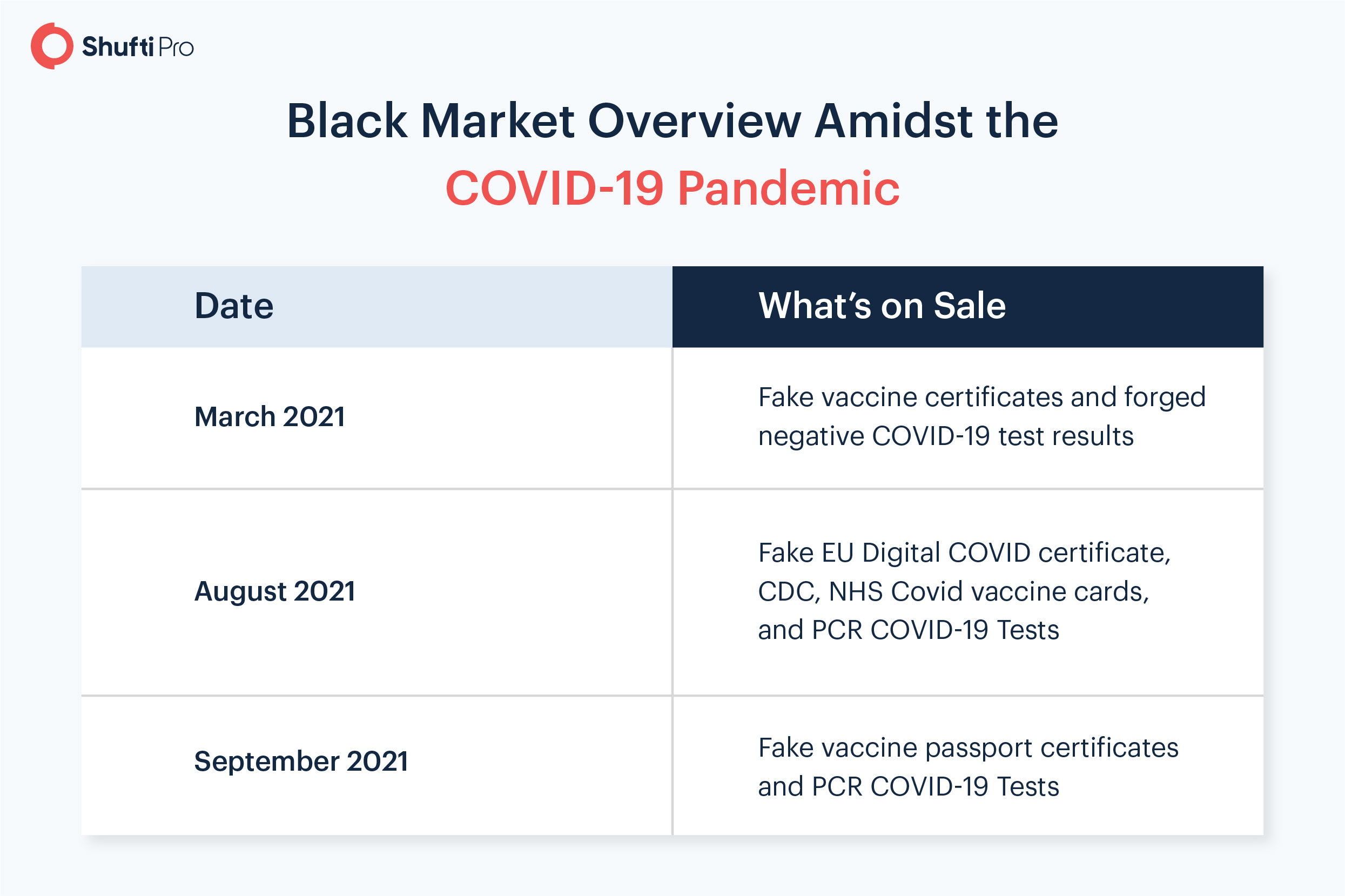 How Can Security and Verifiability be Ensured?
To encourage the adoption of digital covid certificates, two key questions need to be addressed: How can data security and accurate verification of the covid certificates be ensured? And with fake covid certificates becoming a full-blown industry in 29 countries, including the UAE, India, Brazil, and Thailand, how can companies ensure that a particular certificate is valid and has been issued by an authorized verifier? 
Any solution adopted will not just need to have the capability of differentiating between fake and legitimate covid vaccination certificates, but must also comply with the privacy regulations and national privacy standards set by supervisory organizations such as the World Health Organization.
Bridging the Gap Between Digital Identity and COVID Certificate Verification 
An automated COVID Certificate Authentication Solution serves as a viable tool for mitigating the risk of fraudulent documents submitted in the name of covid certificates. This solution leverages AI technology to detect suspicious patterns, such as forged identity details and missing QR codes, both of which are authenticated during the covid certificate vaccination process. 
This also leads to the timely detection of covid-related scams that have mounted to losses worth $382 million in the USA, $851 million in Australia, and £34.5 million in the UK.  
Going Global
Lastly, digital covid certificates that have been launched across countless countries need to be verified in multiple jurisdictions as travel begins to open up. Given the differences in legislative frameworks, languages, and document types, verification is no easy feat when it comes to practicality. 
Shufti Pro's COVID Certificate Verification solution achieves all that while simultaneously verifying the identity of each individual. Being a GDPR-compliant provider, the data verified during the ​​COVID Certificate Verification process is standardised as per state-of-the-art data protection protocols. Additionally, the solution offers global coverage and currently offers verification services to 230+ countries and territories, in 150+ languages, across 3000+ document types. This essentially allows businesses to stay in compliance with data protection regulations, international KYC/AML standards while mitigating potential covid certificate verification frauds.  
You can find out more about our IDV and COVID certificate verification service by talking to our experts.