BEFORE YOU GO...
Check how Shufti Pro can verify your customers within seconds
Request Demo
No thanks
The online gaming sector is on the roll and is projected to surpass $172.23 billion by 2030. Irrespective of how it is operated, offline or online, the casino and gambling sector is becoming a hub for fraudulent activities; this alone has become a premise for regulators to further impose stringent laws.
A Quick Rundown: Heavy Fines in the Gambling Industry 2022 
Gambling regulators in different countries issued a huge number of fines, alerts, and even gaming licence suspensions to casino and gambling operators in 2022.  
The gambling sector was issued fines 38 times in the past year, totalling $264,578,390 approximately. This is a record increase of 443% when compared to 2021's total of $48,642,992.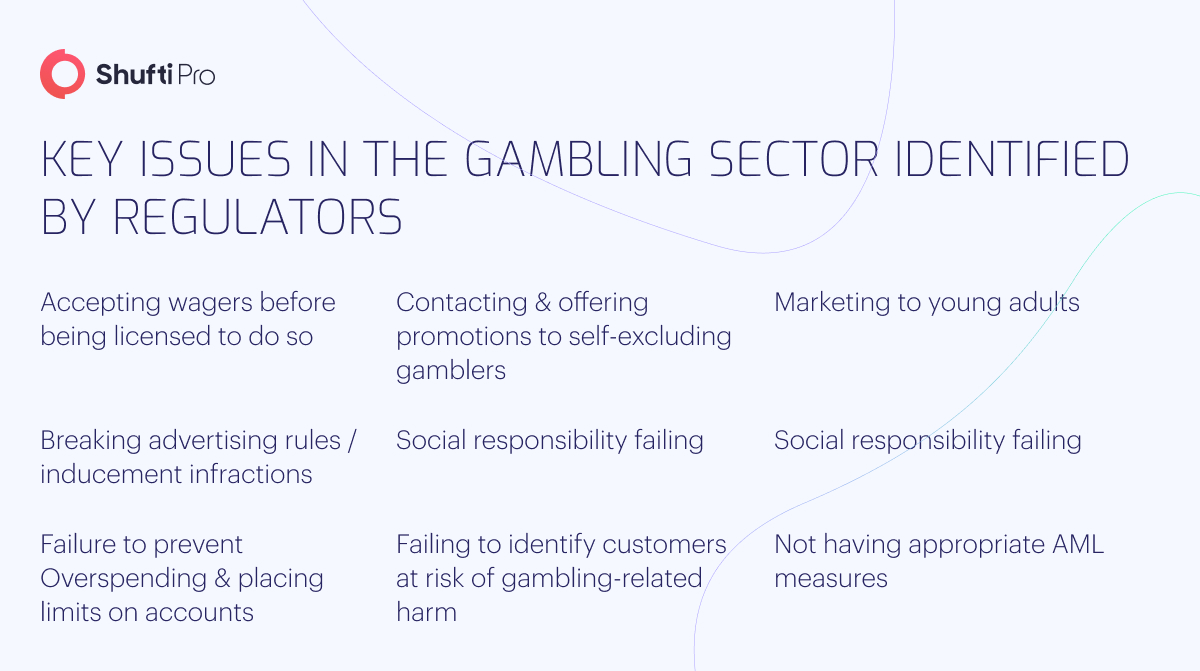 1. Star Entertainment Group Hit with Record Fine of $100M for Money Laundering
The largest financial penalty was issued to Star Entertainment Group. Australia's gambling giant was charged with $100M for failing to curb money laundering at its casinos that are operating in Sydney. Not only this but the group's permit to operate the casinos is also revoked.
The Star was accused of using a "cavalier" approach to governance and periodically taking intended actions to hide its channels. This led to the infiltration of white-collar crime such as money laundering in their Sydney casino.
The regulator forwent revoking Star's licence completely to safeguard a number of jobs, yet, the financial penalty announced currently is the maximum allowed. The casinos will keep running under a supervisor selected by the regulator in conformity with the words of suspension.
According to Chief of the NSW Independent Casino Commission Philip Crawford, "the Star won't be able to manage the casino independently unless it can earn its licence back". 
The Star responded to the report saying that it has taken powerful and urgent remedial measures and would take "whatever necessary" to get its licence back and run the casino.
2. Entain to Pay £17M for Regulatory Failure
Entain has been charged with £17 million for failing to abide by Anti Money Laundering (AML) rules and not fulfilling its social responsibility.
Entain Group has to pay £14M for non-compliance at its online enterprise LC International Limited, which operates 13 websites including coral.co.uk, ladbrokes.com, and foxybingo.com.
The gambling business will also pay £3 million for not satisfying AML rules at its Ladbrokes Betting & Gaming Limited operation, running 2,746 gambling sites across Britain.
The total amount of £17 million would be used for socially responsible purposes as a part of the legal settlement.
More licence conditions would be added to ensure a business board member supervises the progress plan, and a third party would audit to check its gambling compliance.
Chief Executive of the Gambling Commission Andrew Rhodes, said: "There were completely unacceptable anti-money laundering and safer gambling failures. Operators are reminded they must never place commercial considerations over compliance. This is the second time this operator has fallen foul of rules in place to make gambling safer and crime-free".
Suggested Read: Global Gambling Compliance: Regulations, Age Checks & Financial Safety
Regulatory Efforts to Stop Crime in the Gaming Sector
As technology is advancing, hackers are also becoming more sophisticated in exploiting the gaming sector. This calls for strict regulations in casinos, gaming and other sectors— not only to curb fraud but also to protect businesses from heavy fines and build a positive reputation in the market. 
European Commission Lists Online Gambling a High-Risk Sector for Money Laundering 
The European Commission has highlighted online gambling as a high-risk industry for money laundering. The commission has carried out various supra-national risk assessments to check financial fraud across various sectors. 
The authority noted that it is a digital currency that has made online gambling more prone to money laundering. The European Commission also said that operators are self-regulating in different markets with great success rates but the authority has failed multiple times when questioned about the transparency of the industry. 
Cambodia And China Strengthen Ties to Combat Illegal Online Gambling And Scams
Cambodia's PM Hun Sen and China's Premier Li Keqiang are all ready to strengthen their ties in combatting illicit online gambling, telecommunications fraud, and other kinds of fraudulent activities.
Cambodia's authorities, who are tasked with implementing laws and releasing foreigners fooled working in unlawful gambling operations, say that nations whose citizens are defrauded must carry out additional efforts.
Although Cambodia is improving, still more needs to be done like conducting in-depth inquiries and stepping up its AML initiatives to ensure online gaming safety.
MGA to Introduce Detailed Player Protection Guidelines for Responsible Gambling
Malta Gaming Authority (MGA) is geared up to introduce gaming KYC guidelines after being placed on the Financial Action Task Force's (FATF) grey list.
A closed consultation was launched by the MGA in October 2022. It will cover "licensees' obligations regarding their responsible gaming policies and procedures and the introduction of five markers of harm that must be considered by licensees when determining effective measures and processes to detect and address problem gambling".
What Shufti Pro Brings to the Table
Regardless of what jurisdiction a casino or gambling business operates in, gaming verification is a must. This is where Shufti Pro fits in the Puzzle. Offering AML screening services across the globe, screening against 1700+ watchlists and that too within seconds to keep cybercriminals at bay. Moreover, its interactive user interface, fully automated monitoring, and enhanced data security are what make Shufti Pro stand out from all other IDV service providers in the market.

Still, confused about how an AML verification service safeguards businesses and customers?