BEFORE YOU GO...
Check how Shufti Pro can verify your customers within seconds
Request Demo
No thanks
As a result of rapid digitization and the emergence of decentralized services, the financial markets are greatly evolving.Digital Ledger Technology (DLT) and Decentralized Finance (DeFi) are gaining popularity among stakeholders due to the unlimited opportunities and benefits they provide to users. This is the main tailwind allowing the  crypto industry to pick up pace, opening new doors for innovation and investments. DeFi platforms are constantly making headlines globally due to their convenient investment options, which have also attracted criminals to get involved in various financial scams.
The global blockchain market was valued at $4.67 billion in 2021, and is expected to grow to $163 billion by 2029. By looking at these statistics, it becomes clear that DeFi platforms are going to continue to gain traction in the coming years, and all financial authorities across the globe will  need to regulate this growing industry. Know Your Customer (KYC) could be the most viable option for the DeFi sector, as it will help companies verify their users' true identities while restricting bad actors during onboarding.
Threats Faced by Decentralized Finance (DeFi) Platforms
All DeFi platforms operate on the principles of decentralization, which means that there is no central authority like other financial organizations such as banks and insurance companies. This is the prime reason that the DeFi system is highly exposed to threats of monetary crimes, particularly money laundering and terrorist financing. Bad actors on-board DeFi platforms, using fake and stolen identities, successfully investing their illegal wealth without the need to provide any information or document on source of funds. It is also very gruesome for law enforcement authorities to track down DeFi criminals, as the blockchain does not have a central monitoring authority.
In the first half of 2022 alone, decentralized finance users grew by 300,000, and the number is increasing every passing day. Between January and March 2022, criminals stole $1.3 billion in cryptocurrencies, which is a 72% increase as compared to the previous year. In the last decade,the use of decentralized finance platforms has picked up pace, and the majority of jurisdictions lack a comprehensive regulatory framework to monitor this budding sector. This is the primary reason that fraudulent activities are increasing and criminals are getting away with crime without being detected. In such a situation, it is quite a reasonable approach to implement KYC measures, which will help to authenticate user identities and keep detailed transaction records.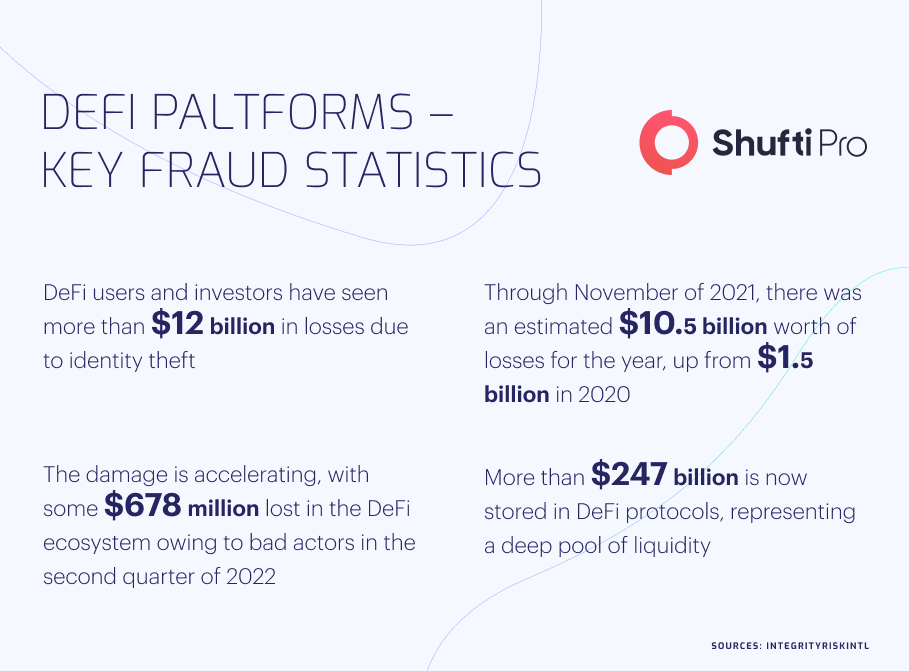 The Role of Law Enforcement Agencies in Countering Cyber Criminals
In the wake of rising crime rates  on Defi platforms, all major jurisdictions are enforcing stringent measures to counter criminals. In the recent past, several cases have surfaced where bad actors successfully stole billions of dollars through cryptocurrency and other decentralized finance platforms. Law enforcement agencies are working tirelessly to arrest the scammers and bring them under the law.
Here are the two specific examples of Decentralized Finance (DeFi) fraud.
Criminal Gang Arrested for $3.6 Billion Money Laundering Using Bitcoin
FBI has arrested a criminal gang that was trying to launder $3.6 billion using several cryptocurrency coins, especially Bitcoin. It has further been found in the investigation that scammers have been carrying out fraudulent activities since 2016, and during that time, they successfully sent $71 million to other countries. All the criminal gang members have been presented before the court, and judges have ordered the Police to fully trace all financial transactions related to the case.
Police Seized record £180m of Cryptocurrency in London
London Police recently conducted a raid and seized £180 million of cryptocurrency, while arresting two criminals. Police authorities have stated in a press conference that these particular scammers were involved in stealing cryptocurrency through various exchanges and further laundering this money to other countries. Law enforcement agencies have collected all the evidence related to the case and presented them before the court, where their penalty is yet to be decided.
Global Regulations Monitoring the DeFi Platforms
The global regulatory authorities, including the Financial Action Task Force (FATF), European Union (EU), and Interpol, have taken a firm stance against cyber criminals taking advantage of loopholes in decentralized finance. FATF has warned all its member-states to implement stringent compliance measures on all decentralized finance platforms, curbing money laundering and terrorist financing.
Let's have a look at some of the prominent laws enforced in various countries across the globe:
United States
The US government has expressed grave concerns about prevailing crime in cryptocurrency and other DeFi platforms, terming the industry highly vulnerable to financial crimes. In the first half of 2022, a draft of a 'DeFi Protocols' bill by US legislators was leaked, which has addresses the risks posed by cryptocurrency. It has been mandatory for all of the key stakeholders to implement Know Your Customer (KYC) measures to verify the true identities of all the users and keep a record of their activities.
United Kingdom
Although the UK government has not legislated any new laws to regulate DeFi platforms, it has amended the existing cybercrime law to counter financial crimes prevailing in the sector. Any fraudulent activity related to cryptocurrency has been termed as a criminal offense, which will be punishable by up to 10 years under the law.
Australia
The Australian government has taken a strict stance against cyber criminals, making it mandatory for platforms to obtain a license before starting their operations. Australian Taxation Office (ATO) is the primary authoritative body that overlooks all of the decentralized financial activities in the country. It has also instructed crypto exchanges to make a record of the identities of all their users and submit it to the authorities.
Ensuring KYC Compliance and Securing DeFi Platforms
There is no denying the fact that Decentralized Finance (DeFi) platforms are the digital future of the world, and it is quite essential for the authorities to regulate this important sector. Implementing the Customer Due Diligence (CDD) approach could be a viable solution to counter bad actors in the DeFi sector. It will not only help the authorities verify users' true identities, but also keep a detailed record of all their financial activities.
Moreover, Know Your Customer (KYC) screening measures should also become a part of the whole system to verify all users while onboarding through their documents in real time. An efficient KYC system biometrically authenticates a customer's identity and compares them with the one on their identity documents. This way, only users with the right information are allowed to onboard, and criminals are largely eliminated from the system.
Shufti Pro's KYC Solutions
Shufti Pro's state-of-the-art KYC screening solutions are the ideal option for DeFi platforms to comply with global regulations. Powered by an AI algorithm that is getting smarter with time, Shufti Pro's KYC solution verifies users' true identities in real time and compares unique features with those on their documents. It is efficient enough to generate results in seconds with a ~99% accuracy rate.
Would you like to know more about KYC solutions for DeFi platforms?