BEFORE YOU GO...
Check how Shufti Pro can verify your customers within seconds
Request Demo
No thanks
Gone are the days when online gaming was only restricted to LAN parties. With the development of smartphones and high-speed internet, online gaming has experienced a major revolution. It attracts millions of new players every year contributing around 11% of the internet traffic. With this size, the financial impact of online gaming is staggering. A report by Javelin predicted that online wagers including online casinos, sports betting, and other such platforms will reach around $1 trillion annually by 2023.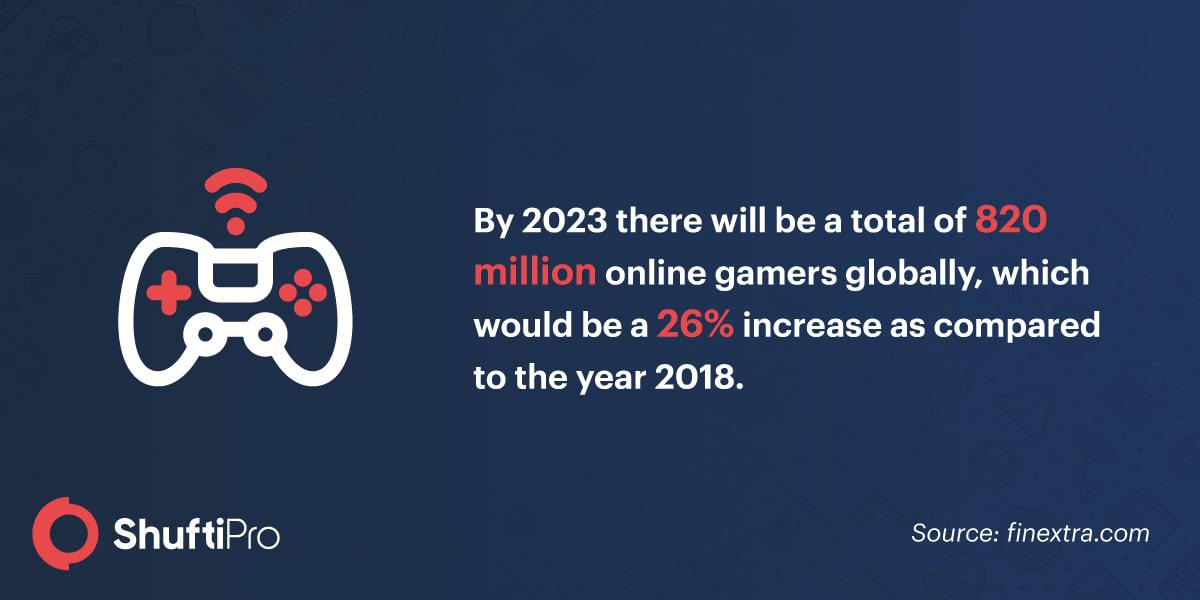 With its growing popularity, an increasing number of gamers are spending real money on in-game purchases, which from the maker's viewpoint are a primary source of revenue for them. But such spendings also exposes them to fraud, especially ID fraud.
Regulatory authorities around the globe are trying to address this issue by making gaming operators follow strict verification regulations, and with that, the spotlight has now turned to digital ID verification.
We will talk about how ID verification is essential for the gaming industry in later stages, but first, let's have a look at the challenges and fraud risks the gaming operators have to face while delivering a seamless experience to their users. 
With growth comes challenges & risks
The revenues of the global online gambling market are expected to cross $74 billion by 2023, but this massive flow of money is attracting criminal factions with an intent to exploit the industry's smooth operations. 
To continue providing seamless gaming to their users, operators have to confront certain challenges. They have to ensure quality customer experience, combat an increasing ratio of online frauds and fulfil the ever-growing regulatory requirements imposed by authorities. 
Moreover, gaming operators have to ensure that they are allowing verified, age-appropriate users, to indulge in online gaming and protect minors from gaining access to age-restricted content. 
Lack of appropriate checks for verifying the age of users can cause serious problems for them in the future. The number of children in the UK with gambling issues has massively increased over the past few years, totalling 50,000.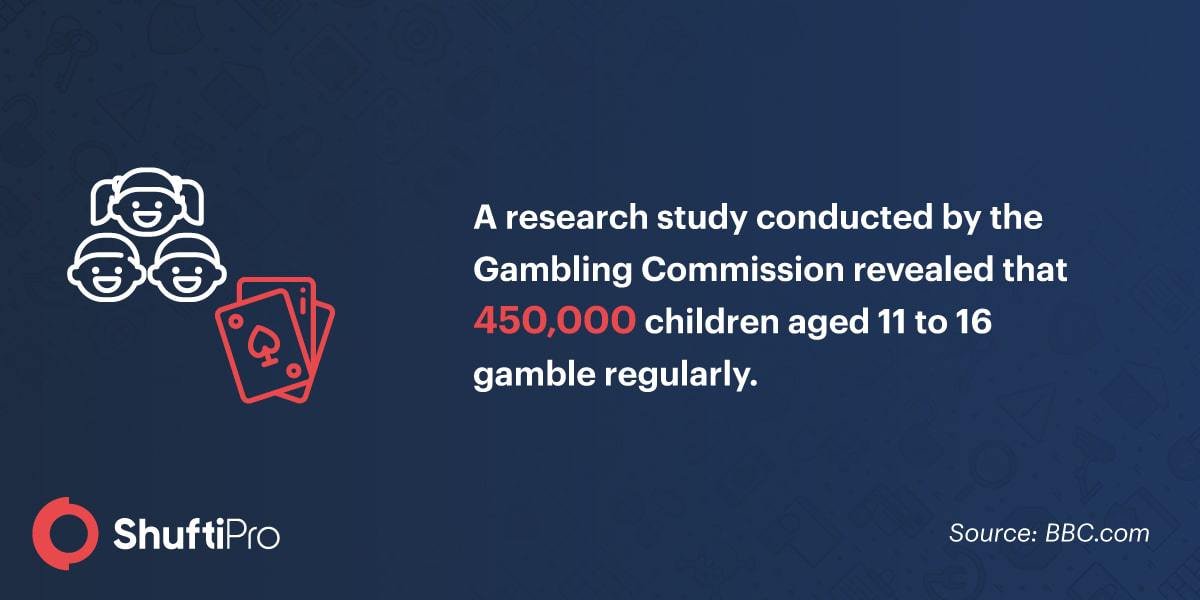 To address these issues, regulatory bodies have directed operators to have a reliable identity verification process in place which guarantees that criminals are not accessing their platform to perform fraud transactions and minors are not accessing the inappropriate content on their platforms. 
This makes gaming operators both legally and ethically responsible for making sure they are onboarding legitimate and age-appropriate players on their platforms. 
Identity fraud – A greater threat than ever before
Identity theft fraud is considered to be one of the major threats to the online gaming industry. To carry it out cybercriminals use stolen identities to claim bonuses, open new accounts and place fraudulent bets. It doesn't just stop here.
Getting infected by identity thieves is harmful to a gaming company's reputation. Such platforms will quickly find their user base shrinking as players get tired with being targets of scam campaigns and feel insecure while joining such platforms. 
The digitised global space that online gaming operates in experience a high volume of cross-border traffic. With 2.2 billion gamers online, around 60% of the traffic is cross border, which makes it a challenge for operators to regulate the online gaming industry and to put a halt to cybercrimes. This further makes it difficult for them to meet geographic compliance requirements and other legal restrictions.
Some common online gaming frauds
Credit card fraud
Credit card fraud is common across all online businesses including online gaming. The criminals try to place their bets by using fraudulent or stolen credentials to charge up their accounts. Once the credit card company or the bank finds out about the illegal transaction the business has to face chargebacks and fines. 
Money laundering
Like any other business, online gaming is not safe from money launderers as well. Since gambling platforms deal with huge sums of money, it makes it easier for criminals to use these platforms to hide their illegal gains.
Account takeover fraud
In account takeover, fraud criminals try to hide behind real accounts to perform illegal activities like posting spam and scamming players online. Fraudsters attempt to hack accounts of real users and later use them to send spam messages to random players with fake offers.
Can online ID verification be an effective solution?
With the increasing scrutiny by regulators gaming platforms have to endure hefty fines in case of non-compliance. For instance, the Gambling Commission in the United Kingdom imposed a penalty worth $10 million on a gambling company for not having adequate KYC procedures for player verifications.
The regulatory authorities around the globe have issued certain requirements for gaming operators to implement identity verification procedures to verify each and every user they onboard. Such measures also help in fulfilling the age verification regulations for online gaming platforms. 
Having a sound identity verification system, gaming operators can not only secure their platforms from identity theft scams but also prevent chargebacks and fines that originate due to credit card frauds. Having an online identity verification system in place can allow gaming companies to create a better authentication system for their users' security. These companies can avail ID verification services in several ways including;
Face verification

Document verification

Age verification

AML (Anti-money laundering) screening checks
Players demand fast yet secure gaming experience
There are plenty of online gaming platforms present out there in the world. This has increased the competition between platforms and with that, players now demand a fast and secure gaming experience without any kind of delay. Performing identity verification is the key to security, but it increases the onboarding time and hence increases the chance of gaming platforms losing potential customers. But there is a solution to this problem as well.
With the advancement in technology, companies like Shufti Pro, have developed enhanced identity verification systems powered by artificial intelligence and machine learning to deliver secure KYC services to businesses. The online gaming platforms can avail their ID verification service that is easy to integrate for any organisation and performs verifications within seconds. 
Quick & easy verifications with Shufti Pro
Shufti Pro is one of the leading ID verification software that provides its services to businesses from a number of different industries, and online gaming is one of them. You can perform real-time verifications with Shufti Pro through its document verification, facial recognition and AML screening checks. Shufti Pro's ID verification system is designed on a combination of Artificial Intelligence (AI) and Human Intelligence (HI). With its universal language support and can verify users from over 230 countries. such as (but not limited to: Venezuela, Uzbekistan, Turks and Caicos, Turkmenistan, Trinidad and Tobago, Sudan, Singapore, Puerto Rico, Mongolia, Kuwait, Kiribati, Ecuador, Dominican Republic, Burundi, Belize,  Afganistan , Nepal, Guatemala, Fiji, Comoros, Cape Verde, Aruba and others. 
Read More: An inside look at the need for AML in the e-gaming industry
The online gaming industry can obtain various benefits from an automated ID verification system like Shufti Pro. It can help such platforms to reduce identity theft cases and enable them to decrease the number of chargebacks and penalties, which will ultimately increase their profits. 
Furthermore, through Shufti Pro's document and face verification features gaming operators can verify the age of their users and can eliminate underage gambling. By increasing the security checks and robust verification systems, gaming businesses can increase the levels of trust among their customers and provide them with worry-free gaming experience.
Find more relevant resources: