BEFORE YOU GO...
Check how Shufti Pro can verify your customers within seconds
Request Demo
No thanks
As the world becomes more digital, scammers are honing their craft and employing trickier techniques to gain access to personal information. KYC & AML non-compliance penalties have resulted in a total of £184,500,056 in fines to date. 
As a result, Know Your Customer (KYC) is swiftly turning into a crucial aspect of conducting business. Along with facilitating customer identification, it also monitors transactions for any questionable activity, combats money laundering, and prevents the financing of terrorists. While some businesses are actively adopting the latest regulations and fintech trends, others are still stuck in the past.
What is KYC?
A KYC verification procedure enables companies to evaluate a customer's profile and keep an eye out for suspicious behaviour. This safeguards corporations from financial crime, such as Money Laundering (ML) and Terrorism Financing (TF). Using a KYC process during user onboarding lowers identity theft risks and increases business security.
Insights into KYC Verification 2023
KYC verification is currently a prerequisite for all financial organisations. When it comes to KYC, a lot has changed over time. From strict laws to changing customer demands, there is a lot to talk about. Let's dive into the most recent KYC trends to stay ahead of the curve in 2023.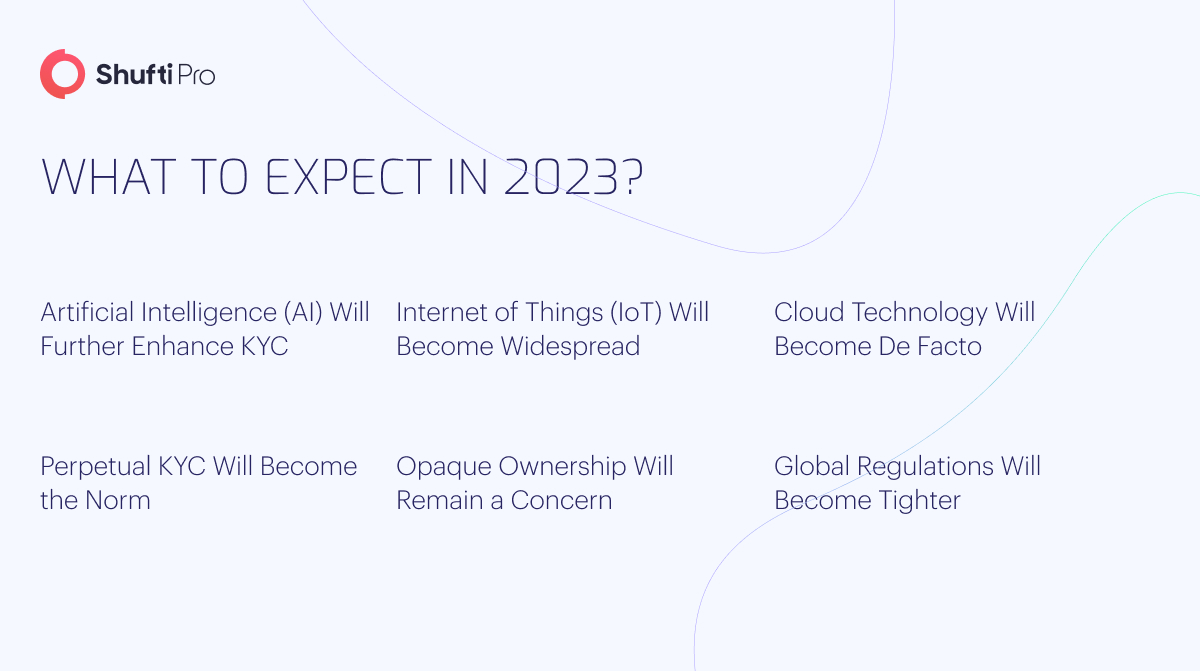 1. Artificial Intelligence (AI) Will Enhance KYC
Every sector is making use of AI to personalise services for customers and expedite business workflows. FinTech and RegTech are commonly adopting blockchain, robotic process automation, and artificial intelligence for KYC and Customer Due Diligence (CDD).
Forward-thinking businesses are examining consumer behaviour, defining their risk profiles, analysing transactions, and spotting negative media and reputational threats using AI. Artificial intelligence has the power to revolutionise the way businesses run by lowering manual input and increasing rates of false positives.
Anti-bias evaluation, around-the-clock work, and consistent output are areas where AI excels over humans. Given that humans can make up to 50 mistakes during one work shift, AI is quickly becoming a worthy replacement.
2. Internet of Things (IoT) Will Become Widespread
Another breakthrough is the Internet of Things (IoT) — and the endless list of gadgets, machinery, sensors, and other devices that constitute a digitally linked world. It is predicted that there will be 15.9 billion connected devices by 2030. These things have the capacity to track and record data and can produce a more realistic picture of a customer when combined with already existing knowledge.
IoT devices will continue to grow, and when combined with AI, the data they collect can provide a wealth of information on customer behaviour, identity, transactions, continual risk assessment and categorization.
3. Cloud Technology Will Become De Facto
The widespread use of cloud technology by businesses and organisations is one of the major trends right now. Sixty-nine percent of businesses already have at least 60% of their infrastructure and apps in the cloud. Cloud settings enable enterprises to become more adaptive and flexible.
Traditional KYC solutions are not satisfying the demands of the modern world. Using cloud-based Software-as-a-Service (SaaS) apps, banking institutions can detach themselves from on-premise hardware and move KYC processes to the cloud.
4. Perpetual KYC Will Become the Norm
Regulated businesses must understand the potential risk that particular clients pose. Numerous financial firms have received fines for failing to perform periodic high-risk customer assessments. Clients with high risk are normally examined annually. On the other hand, those with medium risk are assessed every 3 years, and those with low risk are evaluated every five years.
Regulators are putting more pressure on financial firms; thus, businesses are switching from conventional periodic checks to dynamic or constant KYC. The complexity of remediation and the outdated project-based remediation strategy are reduced by automating changes in customer profiles, including risk level and scoring. 
Perpetual KYC also reduces risk by shortening the window of opportunity for fraudsters to launder their illegal property. More financial organisations will implement continuous KYC and abandon fixed one, three, and five annual review cycles.
Suggested Read: Periodic to Perpetual KYC — The Changing Landscape in Banks
5. Opaque Ownership Will Remain a Concern
The practice of opaque ownerships and business registrations with scant information about beneficial owners is a bad trend that, regrettably, will continue. This lack of knowledge undermines the efforts of KYC experts who are attempting to discover about a company or person. Sadly, this will remain a problem until governments create obligatory public registries that reveal details like the beneficial ownership of businesses. Otherwise, efforts to discover such information will continue to be difficult.
6. Global Regulations Will Become Tighter
With rising cybercrime, international laws have been evolving to ensure that businesses remain compliant with KYC and AML regulations. These efforts have undoubtedly been successful, as evidenced by regulations like the EU's Fourth and Fifth Anti-Money Laundering Directive and the European Commission's levying of fines on nations that continue to fail in implementing money laundering laws.
Regulators lag behind how quickly technology and crime are advancing. Several nations missed the compliance deadline despite the sixth Anti-Money Laundering Directive being in effect. Global regulations will eventually become more stringent, but for the time being, anticipate delays from individual countries.
Key Takeaways
With a dramatic rise in criminal activity, the demand for automated KYC has increased. As laws tighten and customer demands rise, it is getting harder to keep up. Thus, the digital world requires a KYC verification system that can authenticate customers, quickly enrol them, and assure ongoing compliance with the law. As a result, there is a good chance that everlasting KYC will rule the globe in the years to come.
One thing is for sure: criminals will continue to come up with inventive techniques to steal individual identities, commit fraud, and mistreat businesses. To confront this, Shufti Pro offers real-time identity verification anytime, anywhere, in seconds.
Want to learn more about Shufti Pro's KYC Verification services to curb identity fraud?