BEFORE YOU GO...
Check how Shufti Pro can verify your customers within seconds
Request Demo
No thanks
Businesses across the globe are still vulnerable to threats like money laundering, terrorist financing, and identity theft. As our digital capabilities grow across industries, so do the tools to infiltrate and cause financial and reputational damage. What measures can be taken to create a safe business environment? If your business has KYC checks in place, what else could be lacking? This is where document verification plays a vital role in helping companies combat criminals while helping them meet global KYC & AML regulations. However, let's get an idea of what it is before diving into the main topic. 
The Simple Idea of Document Verification
The main purpose of document verification is to check whether the documents uploaded by the user – such as ID, passport, driving licence, bank statement, and many more – are authentic or not. It also protects your business from potential fraud by detecting and flagging forged, fake or stolen documents before a business relationship can commence with a customer. It can be used in a plethora of industries to onboard new customers or workforce digitally. 
Aims and Techniques of Cybercriminals Used to Manipulate Documents
Document fraud has become the third-largest criminal industry, costing the global economy billions of dollars annually. Fraud and document forgery is a particularly lucrative sub-genre of crime and has dire consequences for those who fall victim to it. In the era of digital onboarding, document fraud is surging at an alarming pace. Though every government body is going above and beyond to combat this issue, criminals continue to devise new means to bypass current business security measures.
Analysing retrospectively, between 2018 to 2020, it is estimated that USD $42 billion was lost by victims of financial crime. Customer fraud was on the top of this list, amassing to 35% of all reported fraudulent acts. Customer fraud is mainly conducted in the fintech markets but it is affecting more and more sectors sectors as digitisation continues. 
What Risks do Companies Face Without Document Verification?
Without a competitive KYC system and appropriate strategies to tackle fraudulent activities, companies are vulnerable to threats like:
Administrative Penalties
Failure to verify the identities and eligibility of people (clients or workforce) can lead to fines, convictions, or withdrawal of accreditation.
Financial And Material Losses
Lapsed contracts, commitment of costs or delivery of materials or services without the room of recovering the loss of profit in terms of turnover. 
Loss of Reputation and Brand Image
Beyond the financial and administrative risks, fraud can also tarnish a company's image and impact the morale of its employees.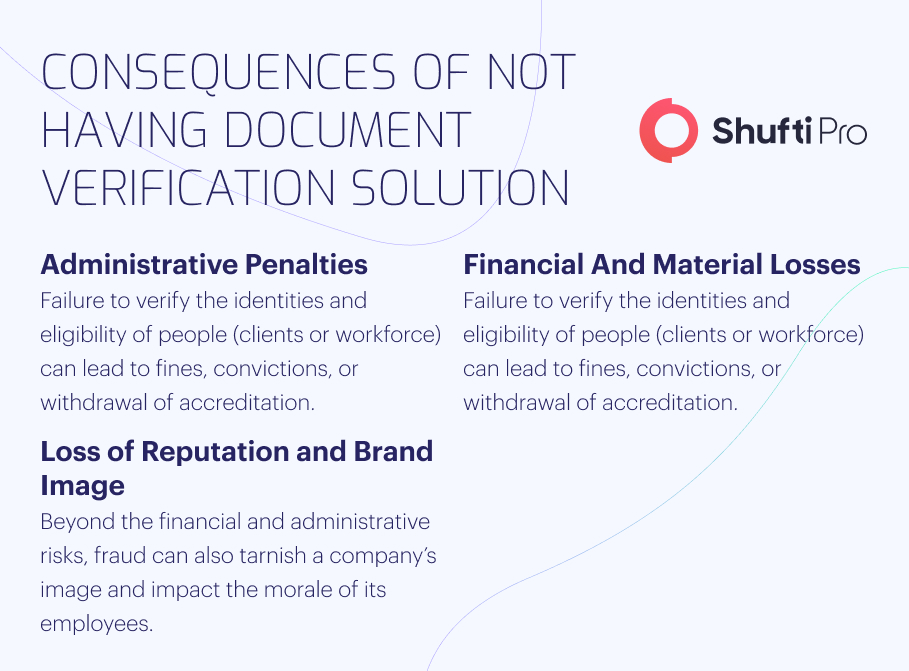 What Documents are Commonly Forged?
A forged document is either a real document that contains altered information or it can be a non-existent, or fabricated document. Types of documents that get commonly forged are ID cards, driving licences, and passports. 
How do Cybercriminals Fake These Documents?
Criminals fake documents if they come across loopholes in a country's laws where they won't be penalised for their acts. Low document security levels also give them room to fulfil their unethical aims. Moreover, the lack of privacy awareness among citizens also contributes to the skyrocketing rate of identity theft across the globe.
Why Do Businesses Need to Verify Documents?
While onboarding customers, document verification helps to verify new customers rapidly and securely by checking the authenticity of ID documents. It is particularly imperative for organisations that deal with high-value transactions, such as banks, financial organisations, and crypto-oriented companies. Businesses like these are required to know with absolute certainty who they are giving access to or whom they are even dealing with. 
Digital verification of documents is reliable, fast, and secure. It builds trust between your business clientele. It streamlines every aspect of customers' journey to remove friction. Document verification helps businesses deliver a better service.
Industries that need to practise document verification
As discussed above, criminal activities are increasing rapidly, many sectors are required to check documents while onboarding new customers. Following is the list:
Fintech Markets

Healthcare

Aviation 

Telecommunication

Travel

IT Firms

Logistics

Retail 
Uses of Document Verification
There are several use cases in terms of verifying documents. From account opening to age verification, vendor verification to KYC/AML compliance, and address verification to driver registration, it can be used in plethoric ways to combat criminals. 
Shufti Pro's One of A Kind Feature – Document Verification
As 2023 is here, companies must be proactive in terms of strengthening their security systems to combat fraudulent activities while meeting global KYC/AML regulations. And if you're out of ideas and have no strategy to tackle such financial and reputational attacks, there is nothing to worry about. Shufti Pro, being one of the leading IDV solution providers, offers an amazing feature, document verification, that will help businesses eliminate everything they fear. 
Our one-of-a-kind feature, document verification, has helped us to serve a gamut of companies irrespective of the industries they operate in. With an accuracy of 99% and global support in 230+ countries and territories, we are a perfect match for businesses aiming to secure their operations and embrace digitisation.