BEFORE YOU GO...
Check how Shufti Pro can verify your customers within seconds
Request Demo
No thanks
Forging someone's documents is something bad enough but selling them on the dark web is just rubbing salt in the wound. 
To one's astonishment, falsified records in physical format sell at a greater price on the dark web than their scanned versions. An original Maltese passport was sold for $6,500 in June 2022 whereas a passport from other countries averaged 3,800. For scanned versions, the cost of a Minnesota driver's licence is expected to reach $150. 
This is where document verification services come as a ray of hope, not only protecting businesses from identity and data theft but are more than this. Before exploring their many benefits for enterprises, let's first understand what document fraud is all about. 
What is Document Forgery?
'Document forgery' or 'document fraud' is the practice of altering, creating, or using genuine or false documents with the intention to cheat or bypass security systems. The penalties for document fraud vary depending on the situation, intent, and type of document forged. Falsifying official documents such as ID cards, driver's licences, and passports with the goal of selling them is considered a major forgery offence in many legislations. 
Different Types of Document Fraud
Interpol categorises fraud into the following types. This include:
Counterfeit Documents:

Reproducing a genuine document without authorisation from the relevant authority.
Forged Documents:

Altering an official document deliberately with the intent to delete, add, or modify details

to make it look genuine. Forged documents include page substitution, data alteration, photo substitution, and attacks on entry/exit stamps or visas.

Pseudo Documents:

Replicating documents from genuine documents like passports, and national identity cards, not recognised by countries or international organisations.
Regarding genuine documents, there are different types of document fraud:
Official documents that are obtained through corruption, bribery, theft etc. and are usually called Fraudulently Obtained Genuine (FOG)

Genuine documents misused by an imposter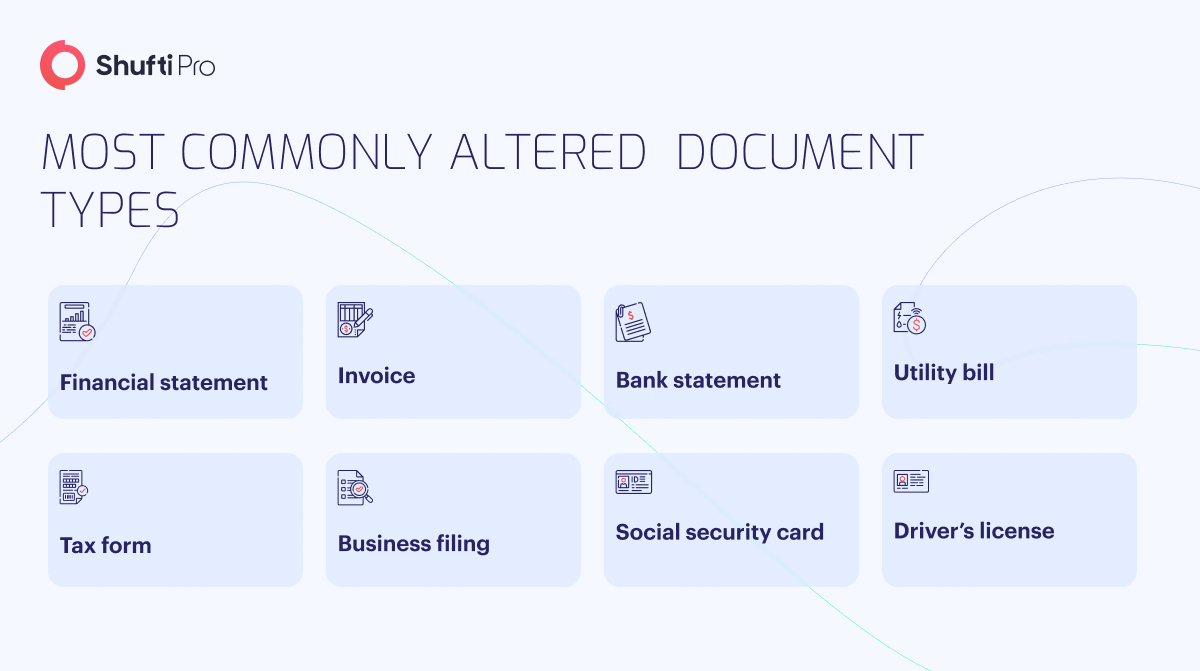 The Growing Need for Document Authentication
Identity and data theft cases are rising, charging businesses with heavy fines. Almost 2.4 million cases including identity theft and other kinds of fraud were reported until June 2022. Thus, document verification has become an integral tool for any firm to authenticate that the customers are who they confess to be. It not only verifies customers during onboarding but helps businesses in many other ways.
How to Verify Documents?
Document verification checks feature like watermarks, fonts, stamps,  holograms, or other security markers to check if they are genuine or fake. 
Here is how document verification services get the job done:
Step 1: Document Collection and Data Capture
The user is asked to upload a picture of their identity documents. The algorithms scan the document thoroughly including the encrypted data and recognise it. 
Documents are pre-processed to make them ready for the second step. This includes checking documents' borders, de-skewing images and enhancing their brightness and colour to ensure adequate data extraction.
Step 2: Data Extraction
The required details are retrieved from the documents and all the irrelevant information is discarded. The intelligent engine extracts all the information using Optical Character Recognition (OCR) technology. 
Step 3: Document Verification
The retrieved data is then cross-matched with the database to check its authenticity. The validation checks that are carried out include: 
Face and orientation recognition

Edge detection as well as cropping

Front-to-back correlation

Cross-matching with other global IDs

Colour space examination

Headshot integrity

Matching the selfie to the image on the ID card
Step 4: Results Generated
After verifying the documents, the results are provided to the end user and stored in the back office for future use.  
Benefits of Automated Document Verification Services
Fraud is increasing day by day and businesses are looking for ways that not only curb these heinous crimes but also help them make their name in the competitive market. Thus, AI-based document verification is their go-to option giving faster ROI, onboarding clients rapidly,  preventing fraud, preventing them from non-compliance fines, and building a positive brand image. 
Faster Return on Investment:

Enterprises that use automated document processing can reduce their ownership costs and increase Return On Investment (ROI) compared to conventional technologies.

Rapid and Secure Client Onboarding:

Digital document verification services onboard clients faster than manual procedures as the clients do not have to wait in long queues to get their verification. They just provide their details and the AI-based document verification swiftly checks their authenticity in real time. 
Are you looking for a globally trusted verification service provider? Well, Shufti Pro is a great bet as it offers a 25% higher client onboarding rate with minimum false positives. 
Compliance with KYC/AML Regulations:

Document verification services make businesses abide by

Know Your Customer

and

Anti Money Laundering

(KYC/AML) regulations, preventing them from hefty non-compliance fines. 
Better Customer Experience:

Companies are in the race to get ahead of their competitors and they can make a difference by offering greater customer experience. Client satisfaction is what makes the image of any business or destroys its reputation. This is where automated document verification services prove to be fruitful. When any business is KYC/AML compliant, customers feel secure. They automatically portray a positive brand image; this is how it helps the business generate greater revenue and make its mark in the competitive world market.  
How Shufti Pro Steps in
Verifying customers in real-time is a necessity to satisfy KYC/AML compliance. This is where Shufti Pro fits in the puzzle, onboarding legitimate customers globally and that too in less than a second with an accuracy rate of 99+%. With Shufti Pro's identity document verification services, businesses can quickly reduce client abandonment rates and boost conversions. 
Are you looking for a customised document verification process for your business?