BEFORE YOU GO...
Check how Shufti Pro can verify your customers within seconds
Request Demo
No thanks
The year 2021 was all about determining and reducing the growing number of biometric identity fraud, while experiencing more strict ID verification and Anti-Money Laundering (AML) regulations across the world. However, the Shufti Pro's analyst forecasted a significant spike in the biometric identity fraud, synthetic identity theft, and phishing attacks in its Global Identity Fraud Report 2020. Unfortunately, all the predictions made by experts became true, and businesses around the globe reported a rise in these scams while experiencing financial losses.
According to CNBC reports, financial institutions, particularly banks, lose approximately $6 billion each year due to synthetic identity fraud. In addition to this, this type of scam is also considered the fastest-growing fraud in the world. However, the previous year, Shufti Pro encountered around a 16% increase in biometric fraud attempts. Yet it was quite challenging to counter sophisticated criminals who were also utilizing biometric technology for their personal gains.
The Transformation of ID Verification (The Industrial Outlook)
Over the recent years, almost every industry across the world has acknowledged the significance of identity verification to counter identity theft, account takeover fraud, phishing attacks, etc. along with rigid regulations with the constantly evolving KYC/AML regime. Although the financial sector has been complying with the customer due diligence and enhanced due diligence for a long time, laws for the finance industry have also become more strict, thanks to the skyrocketing criminal activities. On another hand, the cryptocurrency industry is also now the primary target of regulatory authorities as well as cybercriminals. Financial watchdogs are now paying more attention to legislate more strict compliance, as scams through virtual assets have increased.
Financial Industry
The financial industry, as usual, was the prime target of the fraudster in 2021 too. According to a UK Finance report, the criminals stole around EUR 753.9 million through online scam schemes from the finance sector alone in the first half of 2021. In addition to this, technology-powered fraud prevention solutions successfully prevented the theft of EUR 736 million. However, to secure digital financial transactions, almost every regulatory authority has legislated and enforced more strict KYC, AML, and CFT compliance to fight crimes like money laundering, terrorist financing, proliferation financing, tax evasion, and identity theft. Hence, FATF, AUSTRAC, and FinCEN were among, who came up with amendments to secure the digital landscape.
Cryptocurrency Industry
Recent years have been significant for the cryptocurrency sector, as the covid pandemic has driven the need for digital transactions along with innovative means of payment gateway. Thus, cryptocurrency and digital assets started to become mainstream. El Salvador became the first country to make bitcoin legal tender, China came up with its own digital yuan and various other countries also noted the potential of cryptocurrency. Despite this, the crime rate also increased, the digital currency began to launder and never-ending scam schemes emerged. Thus, this was an eye-opener for the regulatory authorities, so to reduce the anonymity in crypto transactions and to increase transparency, financial watchdogs came up with strict regulations, aiming to curb money laundering and terrorist financing activities through cryptocurrencies. However, FATF's recommendations were a major breakthrough point to regulate this industry.
Non-Profit Sector 
Like other financial operations, crowdfunding, fundraising, and charity activities are no more safe from fraudsters. Crimes like money laundering, terrorist financing, and tax evasion are becoming the most occurring scams that are badly impacting non-profit organizations. In November and December 2021, many countries around the world stepped forward and adopted identity verification solutions along with anti-money laundering screening of donors, through which they can be screened against global financial databases, PEP lists, and sanctions lists before getting them onboard or enabling them to carry out transactions. By this, non-profit organizations can ensure that illicit money belonging to penetrators stays away from charities and fundraising activities.
Fintech Sector 
As the world is expiring digitization, Financial Technology (FinTech) gained global attraction. However, the shortcomings in the present regulatory framework and know your customer protocols, a war between cybercriminals and fintech businesses started. Encountering money launderers and other criminals became a challenge. The digital companies that embraced online identity verification solutions ensured that legit clients were onboarded and protected themself from hefty regulatory fines and sanctions. But, the businesses that failed to incorporate ID verification systems, resulted in becoming victims.  
Online Dating Industry 
As there are no rigid regulations for the online dating sector thus, romance scams, money muling, and catfishing scams remained among the most occurring fraud in 2021. Scammers take full advantage of victims' vulnerabilities and target individuals looking out for the perfect match through online dating sites. However, due to the increase in criminal activities, regulatory authorities have drawn their attention to the online dating industry, yet many loopholes are to be addressed. The sector needs digital identity verification systems that can allow companies to onboard legit customers seamlessly.
Suggested read: DateID increases its customer acquisition by 300% with Shufti Pro's IDV
Fraud Analysis 
Since the Shufti Pro establishment, the company has witnessed the transformation of frauds. The significant increase of fraudulent activities using government-issued ID documents has affected almost all industries across the globe. However, the rising scams and unstable situation in every region of the world demand more rigid and seamless customer identity verification systems.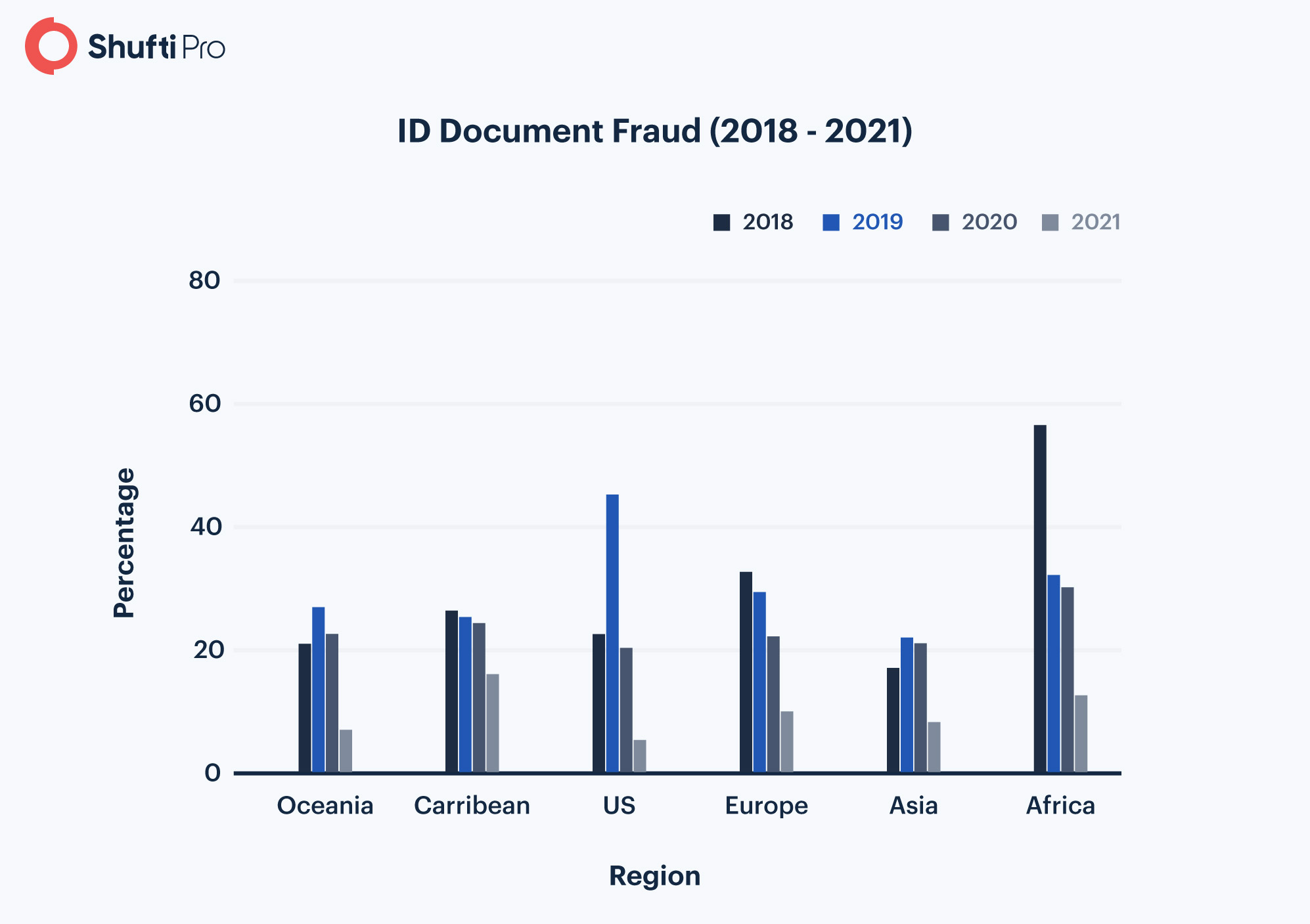 Despite the legislation of more strict regulation, cybercriminals managed to achieve their personal goal, as they became sophisticated by using the same technology that is utilized to develop identity verification systems. So, when the companies were finding it hard to counter ID document fraud, penetrators were focusing on manipulating the biometric identity verification checks. Thus, the business sector experienced an increase in digital replay attacks, spoof attacks, deep fakes, and multiple other fraudulent activities.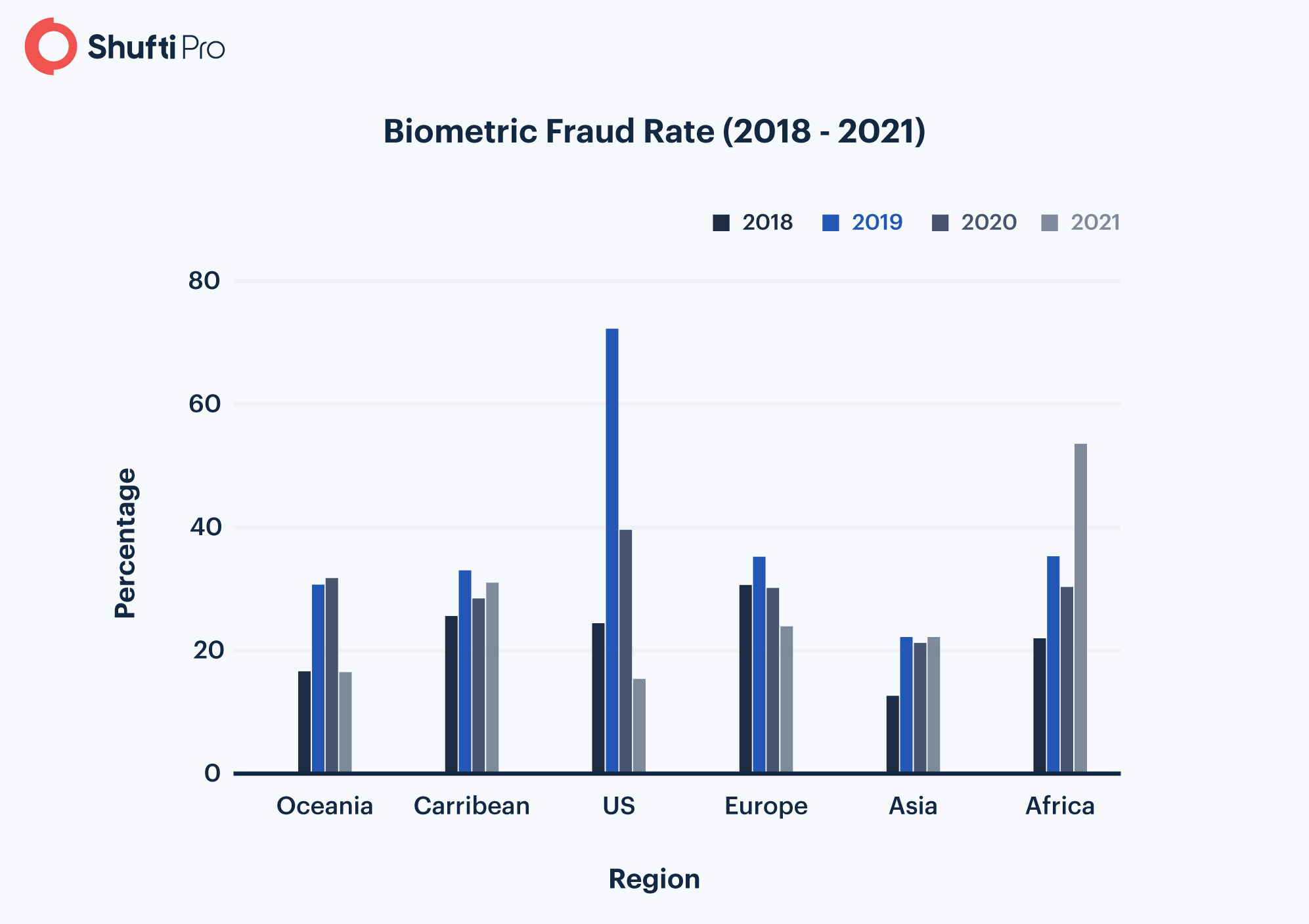 New Manipulation Techniques Encountered in 2021
In  2021, the identity document verification systems encountered various new manipulation methods that were highlighted by shufti pro's experts. Firstly, passports have been widely used for fake identity verification and fraud attempts were conducted by exploiting MRZ codes. As passports are considered as one of the most legit proofs of identity and are a necessity for travel abroad, the fraudster is directed towards them. Thus instead of manipulating ID cards, passport exploitation becomes normal.
MRZ Code Manipulation 
However, it's quite hard to change the MRZ code of any ID document, yet it is not impossible. By using emerging technologies like AI and ML, the shufti pro automated system encountered multiple attempts of MRZ manipulation where fraudsters were using forged ID documents to trick out identity verification systems. Thanks to Shufti Pro's hybrid identity verification solution, the experts were able to identify these attempts in time and prevented illicit customer onboarding.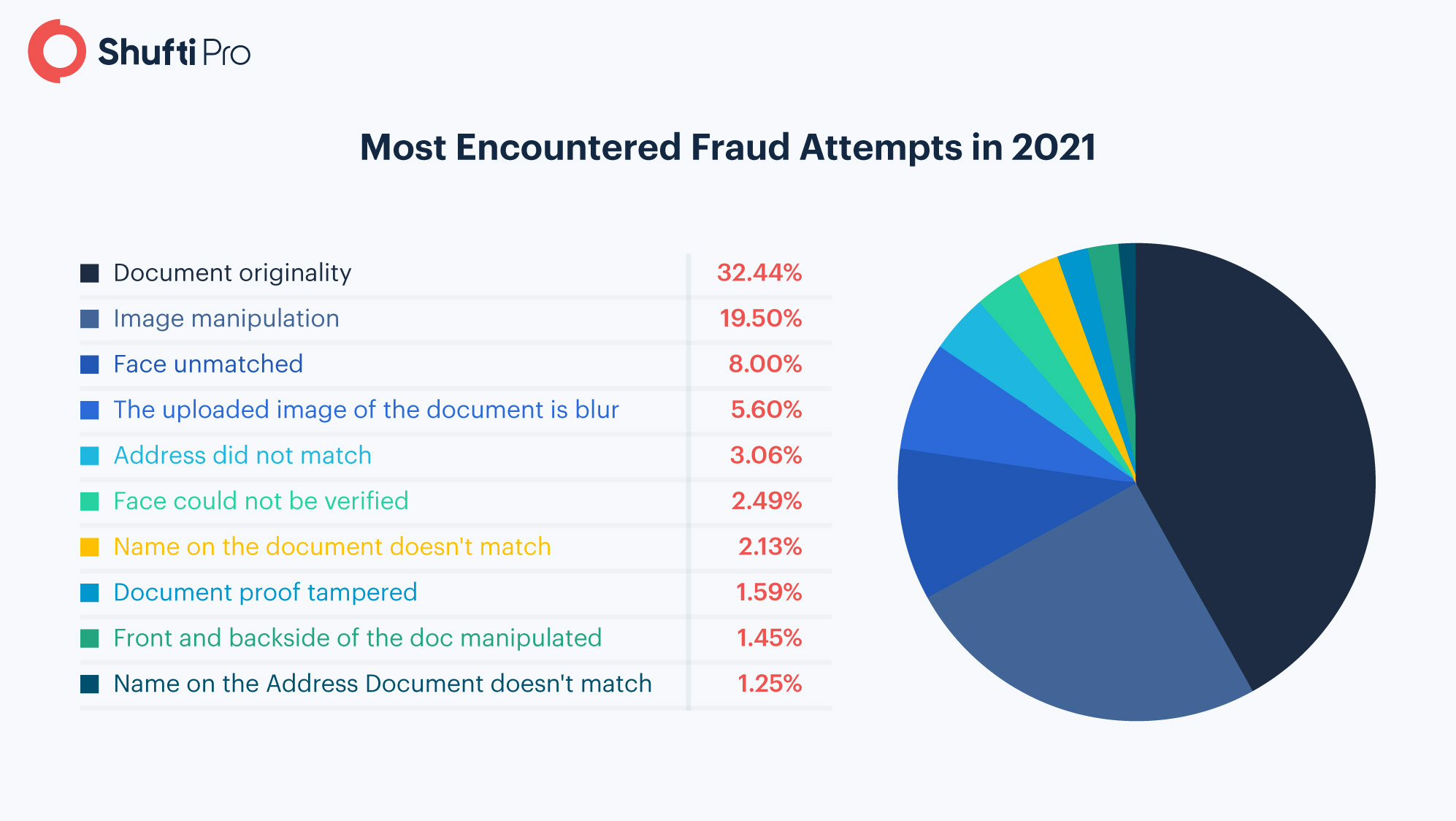 New ID Documents Fraud 
Due to the ease of creating new identity documents instead of tampering with the victim's original document, fraudsters go for making new documents from scratch. However, most of the identity document verification requests Shufti pro's server receives fail as they can not pass the ID document verification checks. While downloading free templates from online sources and then altering the few fields like name or date of birth to create a whole new identity document. Hence, for an AI-backed identity document authentication solution, it is not an issue to detect and terminate such fraudulent attempts.
Final Thoughts 
Unlike 2020, the year 2021 was another disastrous year for businesses across the globe. The identity theft and financial crime cases are increasing significantly and in 2022 the rate of these crimes will eventually be increased. Just like the financial industry, the cryptocurrencies sector has also become a prime target of criminals. Thus, a more strict AML/KYC regulatory framework along with a robust identity verification solution to secure the business operations.
Want to know more about ID verification solutions?