BEFORE YOU GO...
Check how Shufti Pro can verify your customers within seconds
Request Demo
No thanks
Nothing is more constant than change, and this is never more evident than in the Know Your Patient (KYP) compliance procedure, which requires identifying patients whilst onboarding and on a regular basis thereafter.
Regional and international KYP legislations are constantly changing. They protect healthcare institutions from fraud, theft, terrorist financing, money laundering, and illicit activities. Healthcare sectors must modify their KYP verification and due diligence procedures to stay up with evolving legislative requirements.
The expansion of healthcare transformation and unprecedented growth have brought in data breaches and scams. A research by the American Hospital Association alleges that Medicare handles $5 million worth of claims per day. Despite having the set regulations to lessen them, they won't stop anytime soon. 
Identity theft is a type of healthcare crime, in addition to data breaches and financial crimes. In 2022, 27,821 reports of medical identity theft were filed with the FTC. Data on 11 million HCA patients from over 24 states have been compromised in a data incident in July 2023. The patient data and visit records were included in the dataset's 27 million rows.
What is Know Your Patient (KYP)?
Know Your Patient (KYP), which medicare sectors employ to confirm their patients' identities and stop medical fraud, is the subset of  Know Your Customer (KYC). Scams have increased dramatically in the healthcare sector, necessitating cutting-edge technology and comprehensive compliance solutions. Know Your Patient management is useful in this circumstance. The healthcare sector has implemented KYP processes to deal with the tremendous rise in insurance and prescription fraud, as well as to confirm patients' identities and onboard them. 
Are KYP Checks a Standard Regulation?
Hospitals, laboratories, pharmacies, and other healthcare providers must screen their patients against KYP checks to prevent the threat of cyberattacks and possible information theft. Identity theft and fraud are more likely due to such assaults and data breaches. To prevent identity, data fraud, financial losses, and expensive fines, the healthcare sector must adhere to industry laws. In June 2023, 78 people were accused of committing $2.5 billion in healthcare fraud by the US National Enforcement Action. 
4 Important KYP Compliance Trends
The upheaval also offers a special chance. Innovative healthcare that foresees KYP developments and acts proactively to address them may benefit from it. The following four key trends should be taken into account whilst developing KYP strategies, these aren't only the strategies but the future of KYP:
Continuing Compliance with Environmental, Social, and Governance (ESG) Principles
Environmental, social, and corporate governance (ESG) considerations have recently been included in the KYP due diligence process. As a result of terrorist organisations, using illicit mining and human trafficking to generate income and fund their operations, the Financial Action Task Force (FATF), an authorised AML organisation, is increasingly focusing on ESG violations.
Expect constant scrutiny of a company's actions related to worker wellbeing, societal issues like diversity, equity, and inclusion, as well as environmental challenges like climate change and biodiversity. Working with organisations with a low ESG score might damage the sector's effect on KYP.
Advancements in ML and AI
Tools for client screening are already being used by the healthcare sector in AML initiatives. These instruments are usually based on statistical methodologies for transaction monitoring and are driven by statistical indications whilst identifying the industry's red flags. False positives are common with these systems, accounting for 42% of AML warnings and costing the sector more than $3 billion annually to deal with. In 2024, a significant trend in healthcare will be the adoption rate of artificial intelligence (AI) and machine learning (ML). The technologies envision the potential to gain insights by analysing significant volumes of patient data. 
In addition to automating boring, manual activities, advanced ML/AI algorithms can analyse vast volumes of data quickly, more precisely identify fraud, and analyse false alarms. The most recent trends and behaviours in money-laundering activities are also better captured by ML/AI. However, there are requirements. Institutions are considering a more major application of model risk and benchmarking strategies to make sure that AI techniques operate inside a contained and understandable framework.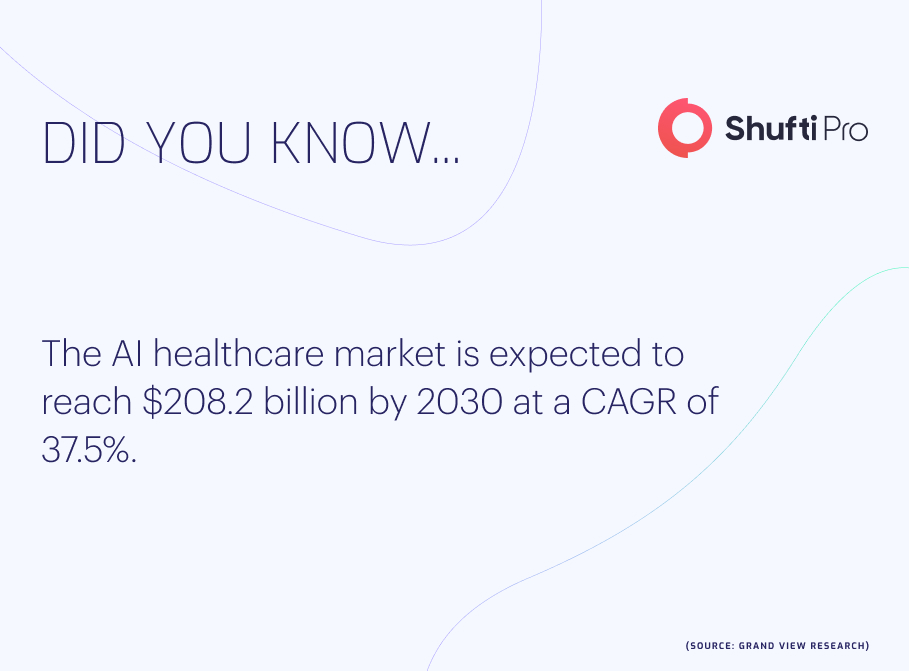 According to the research, North America holds a 58% market share, making up the majority of the global market. An article created by McKinsey & Company and Harvard University experts claims that AI can save up to $360 billion annually, or 10% of what is spent on healthcare. According to the Pew Research Centre, 38% of respondents think employing artificial intelligence in healthcare can improve medical results. 65% of adult Americans express that AI should be used for cancer screening. 
Transforming KYP into a Profit Center
73% and 86% of the United States and Canadian financial institutions projected an increase in AML compliance costs of 13.6% in 2022, with labour accounting for more than half of those expenses. 
By providing improved KYP experiences, the healthcare sector can gain a competitive edge and draw in and keep customers. Reduce onboarding times and friction rate, whilst boosting customer satisfaction by integrating procedures into processes. Additionally, organisations reduce laborious chores, cutting expenses whilst enhancing the capacity to retain staff and draw in new talent.
Competitive Advantage by Enhancing Better KYP Experience
The healthcare sector runs the risk of missing out on important upsell and cross-sell chances if they don't have an up-to-date image of the consumer. They can more successfully market their institution by obtaining a complete image of them through automated customer lifecycle management (CLM). By providing the correct product at the right time, such as following a business development or a major life event, they can eventually give the consumer more value.
Adopting a Comprehensive Approach to KYP
The healthcare industry has long voiced the need for automated KYP with a single-pane-of-glass perspective on compliance risks and growth indicators. The healthcare sector can more accurately evaluate risk, spot fraud, and upsell chances when they have a complete, real-time view of the customer.
It is possible to take such a comprehensive strategy without changing the existing organisational structure. The diverse systems and data sources can be layered with new data fabric technologies to orchestrate the entire KYP procedure. Whilst maintaining the organisational framework that is familiar to regulators, the healthcare industry obtains a digital workflow that accesses data wherever it resides, at any point in the process. Make sure the healthcare workflows are flexible to account for any unanticipated risks and new rules. 
Implementation of KYP in the Healthcare Sector
Given all the information regarding healthcare fraud, it has become crucial for healthcare organisations to have Know Your Patient security measures in place to combat fraud and financial crime. The only workable answer for the remote medical profession is to have a strong KYP system that allows them to thoroughly check their patients' backgrounds. Strong KYP will be implemented, which will not only help to secure user data and identity but also prevent financial losses for the industry.
Countering Financial Frauds
The healthcare industry is experiencing a sharp rise in financial fraud, and this weakness is luring more crooks to join the fray. If stringent steps are not taken to stop them, it has been anticipated that financial crimes might rise 17% by 2028. A strong Know Your Patient (KYP) programme can serve the aim of putting strict procedures in place to verify the patients' identities. Financial crimes will undoubtedly decline once organisations only allow real people to use the system.
Identity Theft Fraud
Identity theft fraud affects a wide number of parties involved in the healthcare system. Criminals can access the database and take advantage of the entire system because of the inadequate identity verification framework. Delivering medical facilities to those who deserve it and controlling healthcare expenditures depend on the verification of patients and are required at various phases of the healthcare process. All of this may be accomplished by simply adopting a viable KYP system that efficiently verifies all patients.
What Shufti Pro Offers
Using cutting-edge identity verification services to secure the healthcare sector is an international issue that will not only reduce identity theft cases but also help patients and healthcare institutions avoid financial losses. Shufti Pro's modern IDV services are the best option for the healthcare industry. Our KYP solution, powered by AI models, will onboard the patients with real identities in real-time. The identity of patients is verified using documents and facial recognition technology. The output is generated with 99.77% accuracy in less than a minute. Our sophisticated KYP solution is ahead of its time; we provide a state-of-the-art AI-automated solution that reduces fraud, identity theft, and risk whilst maintaining compliance. 
Wondering how to stay updated with the revolutionising KYP trends whilst maintaining compliance with your budget and time?