BEFORE YOU GO...
Check how Shufti Pro can verify your customers within seconds
Request Demo
No thanks
Like other industries, the medicare industry is also experiencing digitization. However, the health care sector is categorized into various sub-sectors depending upon the interdisciplinary teams of trained professionals to meet the health needs of the people. However, the last five years have been quite significant for the health service providers as on one hand due to the coronavirus pandemic many new trends and services emerged, yet on another hand, the rate of crimes including data breaches as well as identity theft surged. Due to criminals' activities, around 80 million individuals become victims as a result of data breaches. However, back in 2015, in a cyberattack on Anthem, the cybercriminals stole 78.8 million patient records, including highly sensitive information.
Therefore, the healthcare industry has also become subject to regulatory obligations. Thus, regulatory bodies including HIPAA, NHS, and various others have developed know your patient regulations that aim to ensure that legit entities get on board, the only way of reducing the number of crimes.
Healthcare Industry – Forces Driving Transformation 
Due to the covid-19 outbreak and dire need for digital services, the healthcare industry is in a continuous phase of change and key developments are being done by the businesses. However, according to the PwC's Health Research Institute, the medicare industry has become a siloed industry, so there is ample room for innovations, and for new players, it's the right time to step in. In addition to this, this industry has been resistant to change, now it must deal with and embrace new development opportunities that are occurring rapidly. There is a need to develop a modular health ecosystem, in which the patients can have a choice of choosing their desired care services or customized facilities that can be accessed seamlessly from anywhere anytime. This ecosystem will be more dynamic and responsive to patients.
The growing influence of consumerism: today, patients have more access to the data and are quite capable of exploring the options that fit their desires as well as suits their bank accounts. Therefore, the healthcare industry needs to increase transparency in its services and come up with innovative services to connect with customers.
Transition to value-based care: this is the key driving component and is most likely to develop immediately. Medicare centers and health service providers are pushing towards alternative payment models. Thus this will help this industry to increase its revenue and use it for enhancing the infrastructures.
Widespread use of technology: in addition to using sophisticated technologies to make data records electronic or to secure them from breaches, technologies like AI and machine learning are changing the ways of clinical services and how patients can connect with health centers. Other than this, with AR and VR technologies the health services are portrayed as they are physically availed.
Decentralization of care: with the increase in remote patient monitoring and digital clinical services, the patients are able to interact with the doctors the same as they previously met physically. This is also making the medicare service decentralized as patients are not required to visit a centralized center or location to avail of services. This means patients can get treatment anywhere anytime without the restrictions of borders.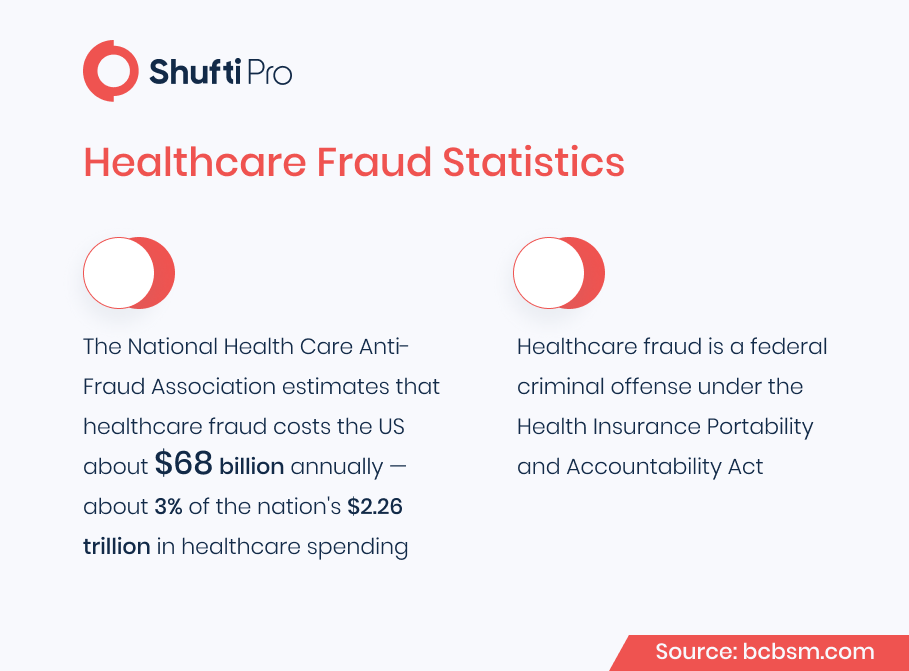 Building KYP Program to Prevent Fraud in Health Care
As know Your Customer (KYC) is considered a significant procedure that is widely being used by banks to safeguard financial operations and to onboard legit customers. Similarly, Know Your Patient (KYP) is becoming crucial for the healthcare industry. It is vital in both terms, to make the patient onboarding process seamless and also secure from medicare crimes. Digital patient identity verification solutions help to assure that health centers and service providers' databases remain protected from any kind of cyber attack and that sensitive patient information always remains in safe hands.
1. Patient Identification 
Before onboarding patients', healthcare service providers need to determine the true identities to ensure that legit patients get enrolled as the potential risk associated with the customers can impact the digital operation adversely. Therefore, medicare businesses are required to gather the personally identifiable information of the patients like ID card numbers, health ID, and other information for accurate verification. Other than this, alternative or secondary documents including the bills and insurance documents are also to be acquired.
2. Ongoing Monitoring and AML Screening 
The story doesn't end when the patient gets on board. As the criminals are becoming sophisticated the risk of manipulation always remains. Therefore, medicare centers need to keep an eye on the patients' activities for risk assessment. To do so, technological innovations have provided monitoring and AML screening solutions that provide accurate results. By integrating such systems, the patients can be easily categorized according to the risk they possess. This is quite significant for the insurance companies that can help them to reduce the instance of false claims. In addition to this, with ongoing monitoring and AML screening systems, health centers can screen patients' backgrounds in 1700+ financial crime databases and global watchlists for better risk analysis. 
3. Enhanced Due Diligence (EDD)
Through patient risk assessment procedures, healthcare centers can determine whether there is a need for simplified due diligence or Enhanced Due Diligence (EDD). In any case, it's crucial for digital service providers to practice customer due diligence procedures in a well-mannered way to ascertain whether enhanced due diligence is necessary or not. This is a continuous process, as clients can transition into high-risk categories as time passes, so performing due diligence periodically is a must to do.
How Shufti Pro Can Help
Safeguarding the healthcare sector and telehealth services are becoming a global concern and this industry requires automated identity verification solutions to determine and mitigate medical identity theft as well as other circulating crimes. Know Your Patient verification is considered the significant solution for ensuring that only legit patients get on board. KYP is a regulatory obligation and the health industry is required to comply with it. However, if medicare centers fail to employ ID verification systems or are non-compliant they can face hefty fines along with financial losses. 
Shufti Pro's state-of-the-art Know Your Patient (KYP) verification service is a viable option for the health industry. Shufti Pro's identity verification solution removes the friction and increases transparency, making the onboarding process seamless. Powered with thousands of AI models, ID verification services help to curb the risk of criminal attempts and assist to stay put with the ever-evolving regulatory regime.
Want to know more about KYP identification services in the health industry?