BEFORE YOU GO...
Check how Shufti Pro can verify your customers within seconds
Request Demo
No thanks
While the coronavirus outbreak has emerged with a lot of challenges for the healthcare industry, it is the driving force for the rapid digital transformation across this sector. New technologies are increasing global accessibility, as AI is becoming a crucial part of long-term digitization within the medicare industry. Through customization and adaptability of technologies, hospitals and other organizations can use AI to overcome challenges like enhancing supply chains, streamlining distribution channels, and vaccine trials.
In addition to this, as medicare scams and crimes are rising, health regulation, data privacy, and online identity verification are becoming significant concerns in the healthcare industry. The regulatory bodies' role is to secure healthcare customers from criminals, provide a safe working environment for medical professionals, and welfare is served by health programs. However, regulations are necessary for both reasons, securing the customers' PII as well as supervising the industry, ensuring that the rights of people are protected and businesses stay put with the government's standards.
AI vs. Coronavirus: The Changing Face of the Healthcare Industry
Artificial intelligence is shrinking the world into a crystal ball of technology. Everything is now bound to new smart tools and automation technologies. And then, the coronavirus pandemic hit globally and disrupted the world's order. Amid the perks of Covid, technology-based tools and solutions became the need of the hour. Due to this reason, the healthcare industry is subject to AI innovations, as this technology holds power to back the medicare sector and take it out from the verge of destruction. The SaaS providers and Fintech companies started to work together to resolve the healthcare issue. New technologies are being used to prune better options for vaccine development, patient identity verification systems, Internet of Medical Things (IoMT), to create solutions to treat patients and secure the industry from cybercriminals.
However, research analysts, while revealing the impact of the coronavirus outbreak on healthcare, say AI and IoMT will play a great role in future pandemics as well. The pandemic emerged as a full-stop in a never-stopping world. Yet, the deadly virus has taken millions and billions of lives globally, but it somehow paved the path for new medicare technologies. New norms like social distancing, work-from-home become normal, and with this smart gadgets came up to assist the health professional to overwatch patients virtually. 
However, for the first stage of Covid-19 till now, artificial intelligence has proved to be the most intelligent technology to tackle coronavirus challenges. The medicare industry is using heaps of AI-backed solutions and devices to treat, monitor, transport aid, enhance supply chains, and even for financial management purposes.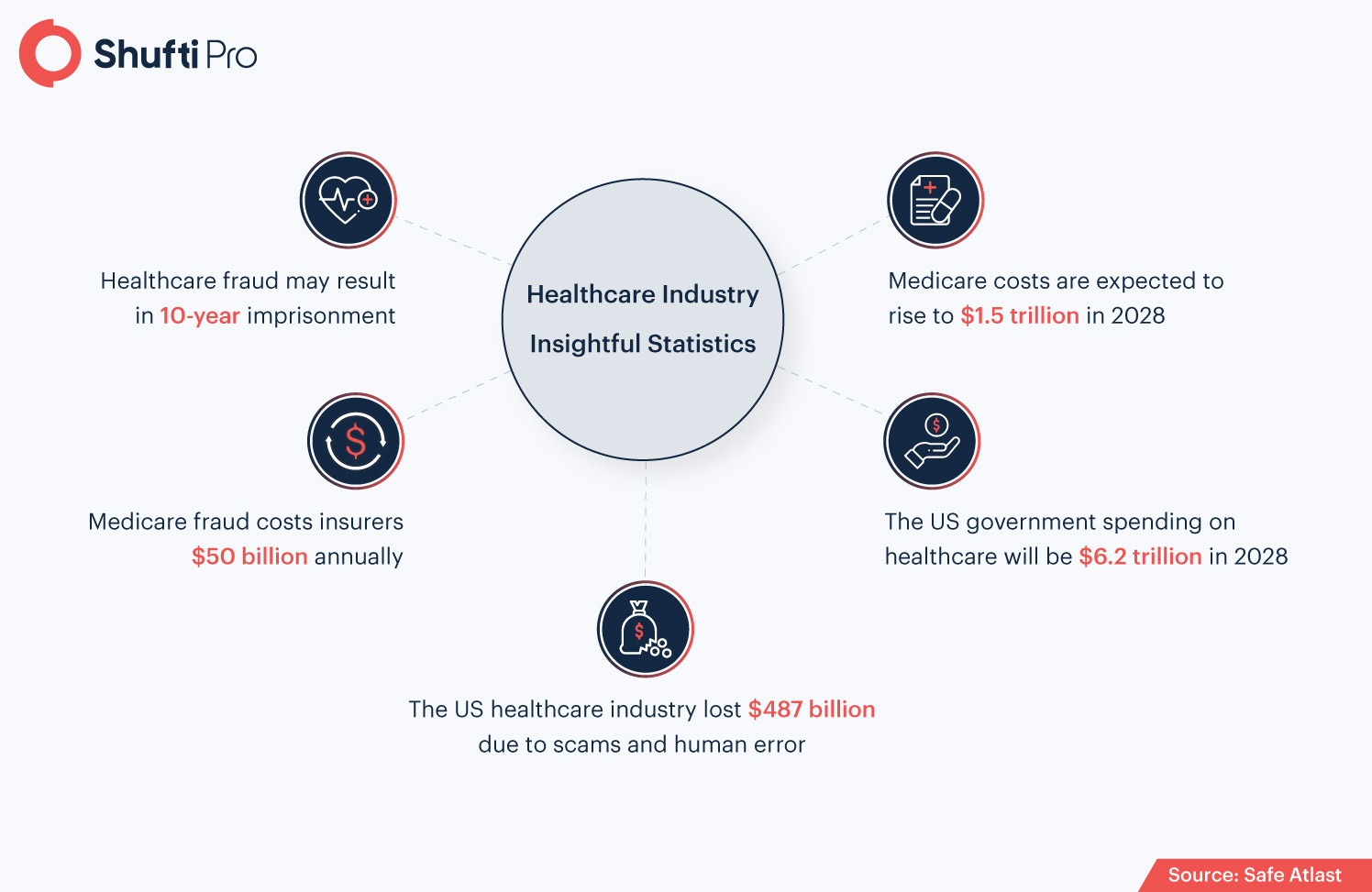 Real-life Healthcare Industry Crime Cases
The medicare industry was already prone to fraudulent activities even before, coronavirus came into being. But, undoubtedly, the Covid has increased in the number of healthcare frauds, as fraudsters have become more sophisticated with technological revolutions. However, the global pandemic has highlighted the significance of identifying and reporting medicare scams. On another hand, the aftermath of the healthcare frauds could lead to serious issues for both the patients as well as the hospitals. Patients could face financial loss, whereas, health organizations can face regulatory sanctions, hefty fines, and penalties. According to the National Money Laundering Risk Assessment (NMLRA),  health care fraud was the largest source of illicit funds used in money laundering across the US, with over $10 billion in proceeds generated each year. Following are some of the real-life cases that damaged the repute of the healthcare industry.
1. 20 Charged in $146M Healthcare Fraud Scheme in Brooklyn
20 individuals, including four health professionals, have been charged against the medicare scam scheme due to which, Medicaid and other healthcare firms lost $146 million. Law enforcement authority from Brooklyn stated that the suspects were operating a healthcare facility center that recruits the homeless or low-income people and offered them cash to undergo a set of unnecessary medicare tests. Then the criminals publicly advertised insurance programs for performing those tests and through this, they laundered millions through shell companies to Taiwan and Lithuania. Furthermore, once the illicit cash moves out of the country, fraudsters use it to purchase real-estate items or luxury cars.
"This massive scheme, which provided no patient care at all, wasted millions of taxpayer dollars dedicated to Medicaid and Medicare," Acting Brooklyn District Attorney Eric Gonzalez said in the announcement. 
2. Seven charged in $205 Million Insurance Fraud Scheme 
Seven individuals were charged with false insurance schemes. Victims lost more than $205 million in this scam. For instance, in one case, a doctor providing telemedicine services, the top prescriber in America, worked for more than 10 telemedicine companies, achieved licensed from 17 states, was alleged to making friends and relatives sign telemedicine orders in his name for genetic testing and durable medical equipment that was unnecessary from a medical point of view. However, this scheme individually resulted in $145 million in fake and bogus claims billed to Medicare, and around $54.6 million was paid to the doctors against associated claims.
Global Regulatory Standards and Laws for Healthcare Industry
The healthcare industry is very diverse, thus a unified regulatory system helps to keep the record of the medicare business, whether they are complying with the obligations, legal standards, and protecting patients' rights or not. Other than this regulatory bodies are efforting and working with medicare companies to come up with legislation to curb the criminal activities from this sector. For example, the California Employment Development Department (EDD) in an effort to overcome disability insurance fraud is all set to make it mandatory for the health service providers to verify their customers' identities before getting them on board.
The Health Information Technology for Economic and Clinical Health Act (HITECH) 
Under The Health Information Technology for Economic and Clinical Health Act (HITECH), electronic health records of the patients are standardized. This Act was first imposed on the healthcare industry in 2009 to address the rising concerns of patients' data privacy and security concerns, electronic records, and how they should be used by medical firms. Other than this, this Act strengthens the enforcement of the Health Insurance Portability and Accountability Act of 1996 (HIPAA) that was legislated to secure patient information, obligating the Health and Human Service Office for Civil Rights to carry out audits and imposing sanctions or hefty fines on healthcare companies for breaching of patient information and non-compliant to the laws. However, in case of a data breach, a fine of up to $1.5 million can be imposed on the alleged firm.
The Emergency Medical Treatment and Labor Act (EMTALA) 
Under the Emergency Medical Treatment and Labor Act (EMTALA), The citizens of America can access emergency health services regardless of patients' ability to pay for services of insurance coverage. However, this Act makes it mandatory for the hospitals and medical coverage centers to provide health screening and first aid treatment to the patients requiring a health emergency. EMTALA is considered to be a high-risk area as identified by the OIG due to conflicting legal interpretations of what constitutes "medical screening" and "stabilization"
Centers for Medicare and Medicaid Services (CMS)
The Centers for Medicare and Medicaid Services (CMS) works under the Department of Health and Human Services (HHS), responsible for administering Medicaid, Medicare, and the children's Health Insurance Program (CHIP). Administering programs include the enforcement of incorporating regulations and reimbursement steps that medicare businesses need to follow. CMS also oversees the Electronic Health Record (ENR) initiative programs, which sets standards and criteria for electronic health records.
How Shufti Pro can Help
As the healthcare sector is becoming the subject of cybercrimes and bogus fraud schemes, protecting the medicare facilities centers and patients' rights is the need of the hour. Phishing attacks, identity theft, database breaches, and various other crimes are surging, damaging the healthcare repute as well as limiting its growth.
Shufti Pro's state-of-the-art digital identity verification services are an all-in-all solution for the healthcare industry, as it allows businesses to determine the true identities of patients before they get medical services or claims insurance bonuses. Furthermore, Shufti Pro comes with more technology-powered services like facial biometric verification, document authentication, consent verification, and much more than completely ensuring that health firms stay put with the constantly-evolving regulatory regime. 
Want to know more about online identity verification for the healthcare industry?