BEFORE YOU GO...
Check how Shufti Pro can verify your customers within seconds
Request Demo
No thanks
In today's credit-thirsty world, Buy Now, Pay Later has emerged as a clear winner, forever changing online shopping. BNPL is a financing idea where consumers can buy things with a small down payment and pay the balance within a certain period, often interest-free. BNPL usually does not affect consumers' credit cards except if they fail to pay the initially agreed-upon installments on time. Due to consumer demand, a large number of companies have introduced Buy Now, Pay Later services for consumer purchases. Even PayPal jumped in, introducing a pay-later installment program.
Since BNPL has gained remarkable popularity among consumers, retailers have noticed signs of rising violations, hampering BNPL programs. To prevent illicit practices such as money laundering and terrorism funding, KYC & AML solutions have been designed and introduced by government regulators worldwide. According to compliance leaders in the biggest jurisdictions, incorporation of KYC & AML solutions in BNPL companies should be a legal requirement to steer clear of onboarding barriers in the process. 
BNPL Fastest Growing Online Payment Gateway
Buy Now, Pay Later is a monetary revolution that has shown significant growth since the onset of Covid-19. In 2022, the U.S. is observed a growth of 200% and doesn't appear to slow down any time soon. Most of the items purchased with BNPL consist of clothing, furniture, and electronics. By the end of 2025, Buy Now, Pay Later is estimated to reach a value of 12% of total e-marketing spend on just physical equipment. The rapid growth of BNPL platforms can be attributed to large number of online orders and customer retention strategies.
Minimum or No Interest Rate: One of the most attractive reasons for BNPL for consumers is that it has little to no interest rate. Also, the available alternative options for payment make it more flexible and user-friendly. After buying the product, the consumer can either pay the rest of the amount in installments or pay at a later date within the allotted period. 
Doable by Young Users: Most of the BNPL users are youngsters because of its natural benefit of paying later. Since teenagers largely have no source of income, they can spread the cost and pay later according to their stipends.
User Friendly: BNPL is in high demand by merchants as it offers smooth financing and a considerable consumer experience. People are adopting the service since it's in line with customer expectations when it comes to online checkouts. 
Possible Crime Risks Consumers are Facing Using BNPL Programs
With the uproaring popularity, breaches have been noticed in the BNPL industry. Like other digital platforms, BNPL has also become a center of attention for cybercriminals and fraudsters as a consequence of security and regulation gaps. Globally, online payment loss due to fraud is estimated to reach $206 billion from 2021 to 2025.
Account Takeover Fraud: This is considered the most commonly encountered form of BNPL fraud. The criminal here simply takes control of an existing BNPL account either directly or in association with any online business that allows charging their Buy Now, Pay Later account. As a result, fraudsters can make limitless uncertified purchases. As of 2022, a significant growth of 34.6%  is seen in ATO fraud attacks. 
New Account Fraud: Instead of using an existing account, the fraudster here steals distinctive information from data breaches to create sham accounts and operate them to their advantage.  
Synthetic Identity Abuse: This sort of fraud occurs at the very initial step in the enrollment process for a BNPL account. Here the imposter uses a combination of accurate and false information such as a counterfeit name and addresses with an authentic social security number to generate a new account and may pass as a genuine user account. According to Federal Reserve Analysis, 70% of synthetic identity accounts manifest standard consumer patterns. 
Trojan Horse Fraud: A sophisticated or master group of fraudsters execute this trickery by signing up for a consumer BNPL account and switching the payment method later on to an illicit credit card to conduct fraud activities.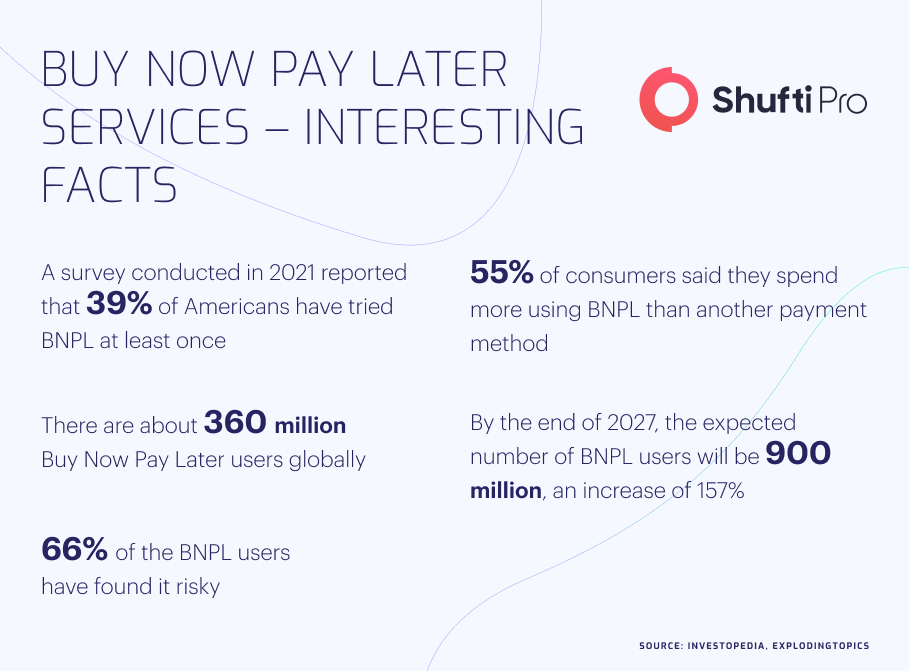 BNPL Under Regulatory Scrutiny Worldwide
Global regulators are already set in motion to figure out the amount of fraud and the awareness among consumers against them. Currently, several countries are working on passing new regulations to press the issues of BNPL platforms. 
United Kingdom: The UK government, after launching a consultation in 2021, has made clear regulatory scrutiny for BNPL. The consultation solicited perspective on the extent to which BNPL regulation should be applied. According to the UK government, lenders are supposed to know if the loans are economical and the offered product must be approved by FCA (Financial Conduct Authority). The government also allowed the purchaser to make a protest to the FOS (Financial Ombudsman Service) in case of any inconvenience. 
Australia: the central bank in Australia passed a law for BNPL firms to pull out their no-surcharge rules which allowed  merchants to charge the customers for using the BNPL method, if they want to balance the amount they pay to the BNPL suppliers. 
European Union: to stabilize consumer credit, the European Union is proposing strict rules. A new rule was proposed in June 2021 by the EU to regulate consumer credit, escorting the products to the extent of regulations. The BNPL firms in the EU are to deliver all the necessary financing information to consumers. Rightfully, consumer credit should also be regulated at the global level with no inconsistency. 
Significance of KYC & AML in Buy Now, Pay Later Firms
To run successful BNPL firms and minimize possible fraud attacks, compliance with KYC & AML is a must. Identity verification is now a legal requirement and the outcome of not complying with  associated regulations  can lead to cybercrimes and huge losses. To cut back the probability of identity theft and other frauds, BNPL firms worldwide need to review their operations and comply with uncompromising KYC & AML compliance. This will help authenticate and verify existing as well as new users  during onboarding. KYC & AML solutions can aid BNPL firms to identify customers that are causing payment problems in terms of high-value purchasing. Around 61% of fraud counts for identity fraud.
What Shufti Pro Offers
Effective KYC & AML solutions are a prime requirement for Buy Now, Pay Later firms, just like other digital financial businesses. In an effort to encounter evolving compliance demands, BNPL businesses need an effective and permanent solution to utilize KYC & AML technology in the best possible way. Shufti Pro offers KYC verification to verify a customer's true identity, in compliance with AML services. Shufti Pro provides real-time KYC services which support more than 3000 documents in 150 different languages globally. 
Have questions about Shufti Pro's KYC & AML services for BNPL firms?