BEFORE YOU GO...
Check how Shufti Pro can verify your customers within seconds
Request Demo
No thanks
With emerging technologies, the pharmaceutical industry has transformed significantly, and rapid digitization has changed the way the sector operates. The pharma sector is directly linked to healthcare which has made it highly crucial in the global arena. Due to the influx of money in the industry, cybercriminals have started exploiting loopholes and committing fraudulent activities through sophisticated techniques. Unlike banks and insurance companies, the pharmaceutical industry has not implemented strict measures to curb fraud which has aggravated the whole situation offering criminals optimum chances of scams.
The global revenue of the pharma industry was $1.42 trillion in 2021 and is expected to rise in the coming years. Especially after the COVID-19 pandemic, the trend of using remote medical services has increased to a large extent and users are now preferring to make online financial transactions for health services instead of visiting hospitals and clinics. In order to meet the customers' demands and keep their assets secure, it is imperative for healthcare companies to find robust identity verification solutions and counter financial criminals while onboarding.
Insights Into Pharmaceutical Industry and Controlled Substances
The global pharmaceutical industry is constantly evolving, and criminals are also using advanced techniques to carry out financial scams. There are multiple types of fraud associated with this sector, including false claims, credit card scams, and illegal insurance bills. The origin point of all these fraudulent activities is common; onboarding of bad actors by using stolen identities. Once the criminals enter the system, they get access to other users' accounts which makes it easy for them to defraud the companies and submit false claims. The pharmaceutical industry is of considerable importance for any country without which healthcare operations cannot run smoothly, but the presence of criminals here is really inflicting a lot of damage on businesses and customers.
On the other hand, the controlled substance industry is also facing high risks of criminal activities, which are not only limited to financial losses but also responsible for illicit drugs falling into the wrong hands. Although all the major jurisdictions have stringent laws for controlled substances, scammers find their place through different hacking techniques and get access to sensitive medicines. The only effective way to curb fraudulent activities is through efficient identity verification measures, which restrict the criminals while onboarding and reporting them to concerned authorities.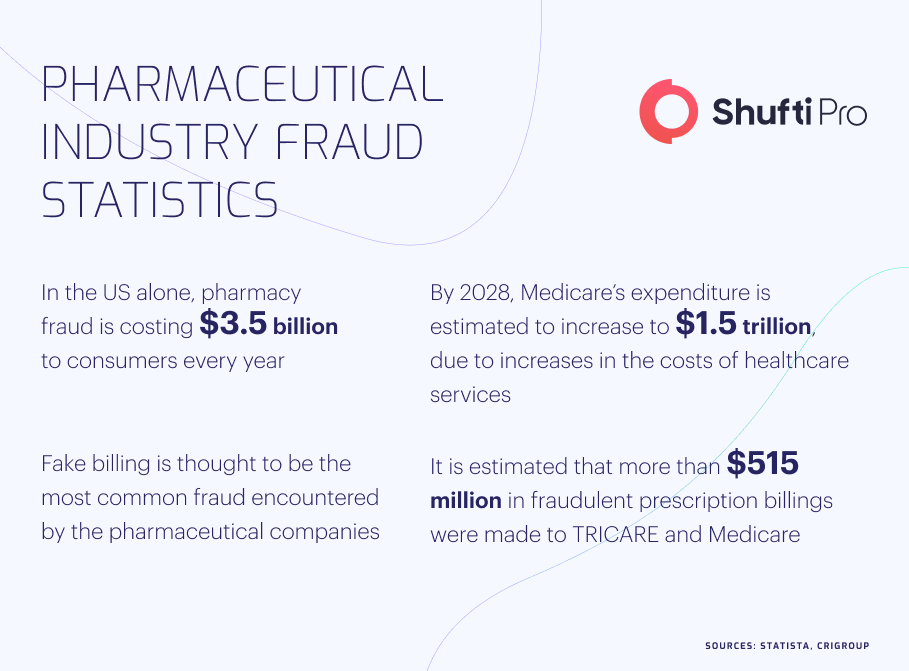 Financial Losses in Pharma Companies and the Role of Law Enforcement
In the past few years, criminal cases against pharmaceutical companies have increased which has raised alarms for global regulatory authorities. In the wake of rising crime cases, all the major jurisdictions are working tirelessly to legislate new laws securing businesses and their customers. Let's have a look at some of the high-profile crime cases prevailing in the industry:
Justice Department Charges Dozens for $1.2 Billion Pharma Fraud
US law enforcement authorities have arrested a gang of 36 criminals who were involved in fraud related to the healthcare and pharma industry. It was found during the investigation that the scammers cost $1.2 billion in losses to different pharma companies and laundered this money in other countries. All the criminals have been charged by the justice department and the court is yet to announce their penalties.
Group of Pharmacists Sentenced for $180 Million Fraud Scheme
The court has sentenced a group of pharmacists to jail for five years who were found to be involved in $180 million healthcare fraud. The criminals were using fake and stolen identities to submit illicit claims to pharmaceutical companies and inflicting millions of damages to the industry. Law enforcement agencies have vowed to counter all the bad actors trying to defraud the pharma companies and bring them under the law.
Rules and Regulations Monitoring Pharmaceutical Companies
All the global regulatory authorities and financial watchdogs have instructed the member states to secure pharmaceutical companies which have led countries to legislate strict laws against criminals. Currently, all the major jurisdictions have rules and regulations monitoring the pharma industry, which is helping them in mitigating risks of financial losses.
USA
The Food and Drug Administration (FDA) is the primary authoritative body in the US monitoring pharmaceutical companies. In recent times, FDA has amended several laws relating to the pharma sector and termed any attempt to defraud the system a criminal offense. As per the new laws, law enforcement authorities have arrested a large number of criminals and tried them under the law.
UK
In the UK, pharmaceutical is primarily governed by the Department of Health and Social Care (DHSC). As per the new laws, all pharmacists must get a license from DHSC to run any company related to medicines. Moreover, businesses have also been instructed to implement identity verification measures to secure other users' details and finances.
Canada
The Pharmaceutical Drugs Directorate (PDD) legislates all the necessary regulations for countering prevailing crimes in the health sector. PDD has termed that pharma companies are highly vulnerable to the threats of identity theft, which should be countered through identity verification measures and maintenance of a proper record of all the users.
Ensuring Compliance and Securing Pharma Companies Using IDV Services
Just like the financial sector, identity verification services are also important for pharma companies. With every coming year, crime in the healthcare industry is increasing, which could never be curbed without robust authentication measures. All the companies involved in the pharma business must go for a solution that is efficient enough to verify their customers' true identities and keep a record of their details. In this way, the criminals can easily be traced in case of any crime and brought under the law. Banks and insurance companies have lowered the crime ratio by implementing Know Your Customer (KYC) measures, and the same can serve the purpose of the pharmaceutical sector.
How Shufti Pro Can Help
Combating crimes, particularly identity theft and money laundering, is quite crucial for pharmaceutical businesses. The healthcare sector has huge importance for any country and it is here to stay, so investing in identity verification measures is the optimum option for companies.
Shufti Pro's state-of-the-art KYC measures are the most viable option for the pharma industry, which will help them stay compliant with global regulations and verify their users as well. Shufti Pro's KYC solution authenticates identity documents with support for 3000+ document types in more than 150 languages and provides results in seconds with a ~99% accuracy.
Would you like to know more about identity verification services for pharmaceutical companies?