BEFORE YOU GO...
Check how Shufti Pro can verify your customers within seconds
Request Demo
No thanks
The consumer demand for biometric and facial authentication technologies is rising, with the market for facial recognition reaching $4 billion in 2020,and it shows no sign of stopping soon.
Since biometric authentication technology is advancing so quickly, it's crucial that businesses stay on top of any potential threats from malicious parties looking to compromise the authentication process. However, how does liveness detection function, and how effective is it in combating fraud?
What is Liveness Detection?
An AI-based liveness detection method separates genuine human approaches to the system (fingerprint, iris, or face) from forgeries (spoof attack, presentation attack). An aspect of facial recognition technology called liveness detection separates people from presentational attacks in pictures and videos. Fraud detection and prevention are typically referred to as liveness detection. Its algorithms are created in a way that ensures user experience requires little to no user cooperation.
The History of Liveness Detection
The British physicist, Alan Turing, defined the phrase "liveness detection" in 1950. The Turing test was a procedure where a machine's intelligence and capacity to produce replies akin to a person's were put to the test. An assessor conducted the exam whilst being aware that one of the chat subjects was not a real person. They typed on a keyboard to converse, and the machine passed the test, the assessor was unable to distinguish between a human and a machine.
The initial liveness checks were conducted in 2000, much like the ones we are familiar with now. Users were given instructions to complete certain tasks on a video, however, the liveness check technology used at the time was slow and inaccurate. An active liveness check was used in the old generation.
The two well-known liveness detection methods are passive and active. In terms of user engagement, both are different. A user is prompted to take action by active identification, such as following a moving object on a screen. However, a passive liveness check is smoother from the user's perspective. Based on an exclusive frame that contains precise biometric information, a passive one can identify a presentation attack. It typically offers a quicker and more welcoming customer experience.
It has recently been noticed that many firms offer semi-passive liveness detection tests. They seek to combine strong security with a satisfying user experience in their liveness detection to achieve the best of both worlds of liveness detection. For instance, participants called Smile Liveness are urged to simply smile. The verification process, which is mostly utilised in banks, telecommunications companies, eGovernment, and the sharing economy, includes liveness detection in general.
Liveness Detection is a Luxury: Bubble Burst 
Many people believe that liveness detection is a luxury, which is merely a myth. It is essential to digital authentication, and cutting-edge AI-featured solutions can quickly distinguish between fake and real identities. Anti-spoofing safeguards need to be implemented in facial recognition systems. One of the safeguards that keeps a system safe from illicit access is liveness detection. Since then, spoof attacks have frequently increased on traditional identity management systems. 
The likelihood of break-in attempts can be considerably reduced with proper liveness detection levels. The biometric verification procedure can be closer to reaching its full potential if liveness detection is included. It makes a user feel protected and secure, which increases client trust and paves the way for better business-client communication and relationships.
Since data is always growing, user authentication calls for real-time processing to confirm a person's identity and deny unauthorised access. It stops biometric spoofing from happening. It introduces fresh methods that require the system to see beneath the skin's surface to validate that it's not a bot or fake profile. Ensuring that the system can distinguish in a matter of seconds between the traits of living skin and their replications or duplicates.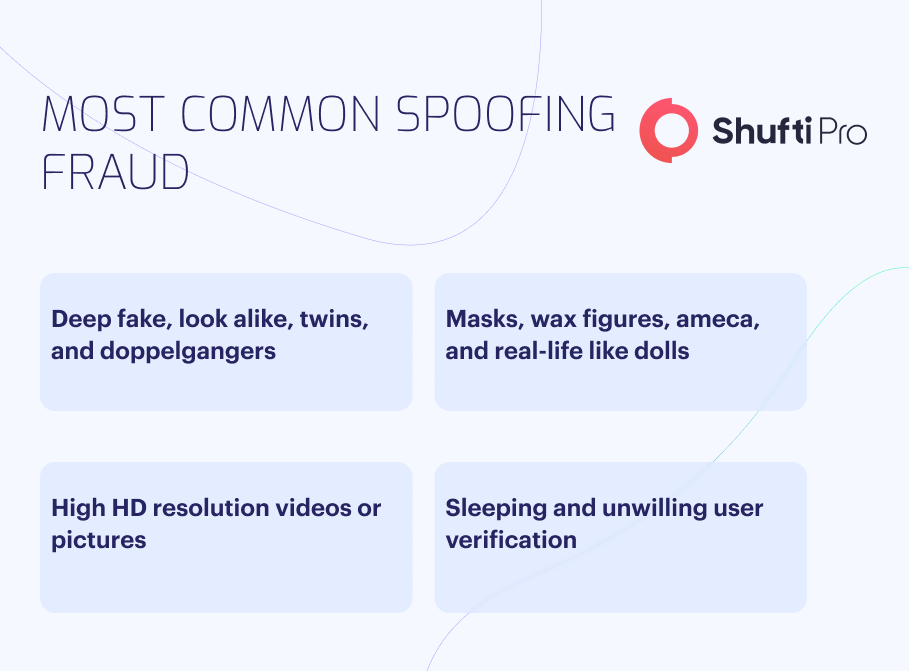 Which Businesses Utilise Liveness Detection?
Advanced 3D liveness detection methods are being used by a number of institutions, including but not limited to:
Finance
Activity detection enables customers to access their account information online and confirm their identification before completing transactions with banks, payment and credit businesses, and other financial institutions. By doing this, fraud and identity theft are reduced.
Government Institutions
Some government organisations utilise activity detection to confirm the identity of individuals to grant access to their services, which may include making requests for documents and statements, booking appointments for medical care, and more.
E-Commerce
Before conducting important transactions, many e-commerce businesses utilise liveness detection to confirm the identity of their customers. As a result, fraud is reduced, and customers are shielded against risky, unauthorised purchases.
Social Networking
Liveness detection is being used by social networks more and more to stop the formation of false profiles. By doing this, users are better protected from spam, harassment, and other types of abuse.
Control of Access to Offices and Buildings
In fact, activity detection is being used for access control in an increasing number of safe buildings and facilities. This helps safeguard persons and property by preventing unauthorised entry. A crucial security tool, liveness detection can shield individuals and institutions from risks like fraud, spoofing, and identity theft.
How Liveness Detection is Transforming the Verification Processes?
Liveness detection will be more common in a range of different businesses as the New Year approaches. To raise overall safety standards, minimise identification errors, and improve the user experience more countries will adopt 3D liveness detection in multiple sectors. By integrating several technologies, including 5G, artificial intelligence (AI), edge technologies, and the Internet of Things (IoT), smart cities help advance facial recognition and liveness detection processes. Real-time liveness detection is used in smart cities for purposes other than only public safety. 
Benefits of Liveness Detection
The following list of 10 significant benefits that liveness detection offers to regular customers and businesses:
Improved Security
Liveness detection makes sure that unauthorised users cannot get past it. Consumers will feel more secure using it, and businesses will face an overwhelming obstacle to fraud.
Convenience
Delete the need to remember several PINs or passwords. Liveness detection facilitates rapid and simple sign-in, increasing user happiness and adherence. Both customers and businesses benefit from it.
Regulatory Compliance
It's not simply sane; compliance with legal security requirements is necessary. Liveness detection assists companies in maintaining the highest standards, providing customers confidence that their data is secure.
Decreased Identity Theft
Customers may rest easy, and businesses are protected from problems related to fraud by using liveness detection, which ensures that biometric information originates from a real person and not via illegitimate means.
Cross-Platform Integration
Liveness detection gives a constant, smooth experience whether used on a phone, portal, tablet, or PC. It's like always being greeted by the same warm face. Consumers find it pleasant, and corporations find it uniform.
Cost-Efficiency
Liveness detection protects customers from potential financial losses related to identity theft whilst saving businesses money.
I
ncreased Customer Trust 
When companies deploy liveness detection, they show that they care about their customers' security. This increases the amount of trust that can convert infrequent, sleepy buyers into devoted ones.
Adapting to Emerging Threats
Liveness detection is one step ahead in a world where threats are continuously changing. It's like having a constant watchful eye, protecting customers from the most recent fraud schemes, and assisting companies in maintaining strong defences.
Accessibility
For those who are sick of forgetting passwords, biometric identification with liveness detection is a beneficial improvement. It increases consumer attractiveness and makes it possible for businesses to interact with a larger audience.
Data Reliability
Liveness detection verifies the accuracy of the information. Consumers are given assurance, and businesses are given a trustworthy authentication tool to rely on.
Detect Against Threats with Shufti Pro 
By using sufficient comparison data, Shufti Pro's deep machine learning engine ensures that 3D depth analysis is carried out to the highest possible standard. Different spots on the image are compared to those of a previously digitised template based on the computational algorithm. A person's genuine presence is demonstrated via Shufti Pro's liveness detection, which also guards against facial spoof attacks.
To offer optimum protection against spoofing, further procedures include image distortion analysis, 3D sensory techniques, and skin texture analysis. Our approach includes human intelligence as a final line of defence as part of its comprehensive, holistic security system. Shufti Pro takes every measure to handle any irregularities, and human eyes remain positioned to maintain continuous surveillance in real-time throughout a verification cycle.
Stuck with the manual, outdated process and having difficulty verifying individuals with advanced biometric means?