BEFORE YOU GO...
Check how Shufti Pro can verify your customers within seconds
Request Demo
No thanks
Fintech firms lose approximately $51 million to scams annually. However, the cost of fintech fraud goes beyond financial losses, such as loss of interest and increased customer abandonment rates. As business owners progress towards digitisation, scammers find sophisticated ways to exploit loopholes. To combat this challenge, fintech companies must implement robust security solutions to protect customer's sensitive data and build a positive image in the market. 
What are Face Liveness Checks?
Whilst facial verification checks whether the individual is who they say they are, face liveness checks ensure whether the individual is a live person. Face liveness verification ensures the individual is physically present on a tablet, computer, or camera-enabled device.
Active vs Passive Face Liveness Checks
Two key ways of integrating face liveness checks are active liveness detection and passive liveness detection. 
Active face liveness is the most common type integrated into today's biometric systems. Users are given a challenge, such as turning their head, smiling or blinking, and the system waits for the task to be completed. The system randomises these tasks to safeguard against a synthesised video of an individual doing the requested actions. However, active liveness might confuse the user rather than satisfy them. The reason is that active liveness apps require various functions to complete, and no standards exist among them. Without any standard, firms risk adding friction, frustrating customers and increasing abandonment rates, especially for new clients. Communicating why these actions are needed will help remove disruption caused by active facial liveness. 
Passive liveness detection is another option businesses can go with that does not require any extra effort from the user. Rather than asking the user to perform a particular step (turning head, blinking, or smiling) at every login, passive liveness detection is invisible to scammers. Thus, scammers can't read the user's actions to make video replays for committing AI modelling attacks. However, the frictionless login process creates uncertainty among customers regarding implementing passive liveness checks. Passwords and the friction they add are as old as the internet. Users may be confused about shifting from known processes to passwordless systems. Biometric systems are not much visible, and the fact that passive liveness detection does not require additional effort from the user may make users reluctant to transition to this system.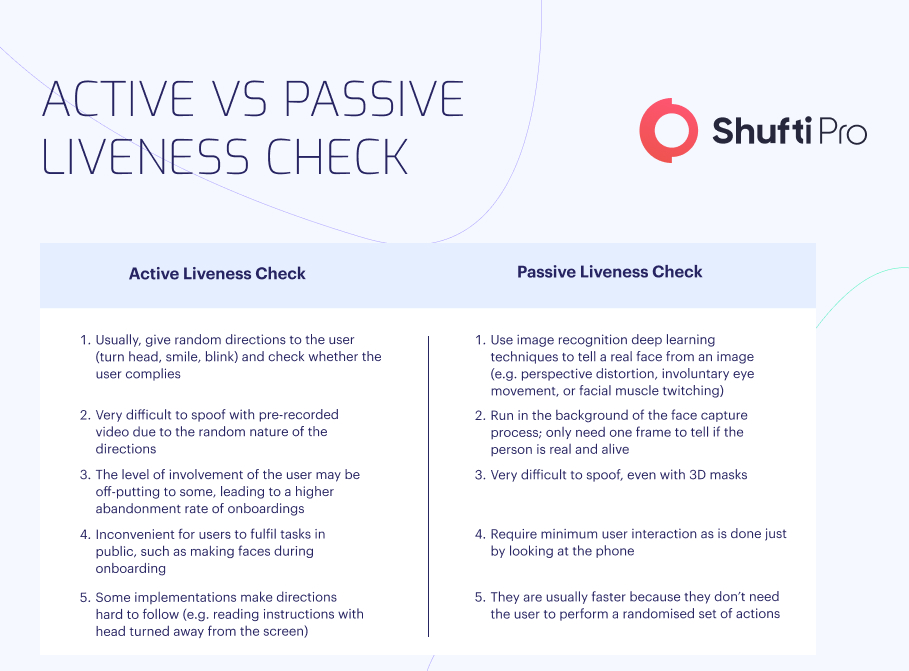 Key Considerations for the Fintech Industry
Whether it's active or passive liveness detection, a key consideration for companies regarding verification is how good the user experience is and how to support overall usability. Research highlights the high friction costs, abandoning

70% of carts

and resulting in nearly $260 billion in lost revenue. 

Users rate a greater user experience as the main reason they are keen to invest in biometrics. Thus, firms should check that liveness detection can keep clients safe and satisfied.

Businesses operating in the sector should explain to their customers how passive liveness checks add security, although the users will not see it happening.

They should also provide

Frequently Asked Questions (FAQs)

, answering users' every query regarding these biometric systems. 

Firms should consider adding an ever-present icon, indicating that the user has been positively authenticated and that the interaction is secure.
How Do Face Liveness Checks Improve Security?
Implementing facial liveness detection technology has enhanced security in the fintech sector. Liveness detection checks the authenticity of a customer by detecting and preventing illicit activities from accessing sensitive data or facilities. 
Here is how a facial liveness check enhances security:
1. Combatting Impersonation Attacks
Face Liveness checks act as a shield against spoof and impersonation attacks. The users have to show real-time facial movements, validating the presence of a live individual and combating attempts to use static videos or images to commit fraud. When integrated into biometric security systems, presentation attack detection solutions can strengthen the verification process and mitigate the risk of impersonation and fraud.
2. Spoof Prevention
Conventional verification methods are vulnerable to spoofing techniques involving impersonation or masks. However, face liveness detection offers an added layer of security by detecting facial nuances that are tough to replicate with static counterfeits.
3. Dynamic Verification
Active liveness checks provide dynamic verification, unlike static methods such as PINs or passwords. The verification procedure remains constant, ensuring great confidence in the customer's authenticity.
How Do Face Liveness Checks Enhance User Experience?
Liveness detection ensures the presence of users and that they actively engage in the verification process, lowering the risk of fraudulent activity.
1. Effortless Authentication
Face liveness checks simplify the verification process,  making the authentication procedure as simple as capturing a selfie. Individuals can authenticate identity through natural actions like nodding, blinking, or smiling, removing the need to remember long and complex PINs or passwords.
2. Seamless Transactions
Transactions become quick and more streamlined with face-liveness checks. Users have to only verify themselves through facial features without undergoing any lengthy authentication process, making the procedure more convenient and efficient.
3. Real-Time Verification
Face liveness detection provides real-time verification, ensuring that individuals are promptly verified. The very feature aligns well with the quick nature of digital interactions and avoids unnecessary delays.
How Can Shufti Pro Help?
Shufti Pro offers active and passive face liveness, mitigating the risk of fraud in the fintech sector whilst helping the industry maintain global regulatory compliance. We continue to innovate the verification process to make it more secure and seamless for the customers. 
Here are two different liveness checks that you can invest in as per your preferences:
Active Verification
Direct customer involvement for liveness detection

Prompts to do specific actions to show liveness

Get immediate feedback on the validity of the subject's identity

Involve Multi-Factor Authentication (MFA), combining passwords, One-Time Passwords (OTPs), or biometrics
Passive Verification
No customer participation is required for liveness verification

Liveness checked via government databases and Machine Learning (ML)models

Run in the background without demanding any user action

Continuously check and analyse users' activity for ongoing verification and risk management

ML algorithms and Artificial Intelligence (AI) models learn to respond to emerging threats
Still, deciding whether to choose active or passive face liveness checks?