BEFORE YOU GO...
Check how Shufti Pro can verify your customers within seconds
Request Demo
No thanks
Shufti Pro Ltd. began operations in 2017 and within three years, the company has onboarded more than 500 customers across the globe. It is not a piece of cake but taking risks, hard work, passion, and patience are some of the key elements that lead a business to success. As our CEO, Victor Fredung, said in an interview, "Passion about your work, ability to take calculated risks and a team is what helps you in achieving success."
The three-year journey has been exhilarating for everyone at Shufti Pro and penetrating into all corners of the world was not easy. So, are you ready to know some of our secrets behind such a high customer acquisition rate? Our co-founder, Shahid Hanif, and CEO have spilled the beans.
Simple Systems
From day one, we have aimed at providing a seamless experience to the end-users as well as merchants. To ensure a swift identity verification process, we designed a customer-centric system so that the process is not tedious for anyone. Our integration options are as simple as they could be and we promise an experience that is frictionless instead of being a headache for businesses and end-users. Until now we have managed to scale 4.8/5 score on average for great customer experience. Moreover, we have bagged many awards for best product and state of the art customer experience.  
Recommended: How Can You Make Your Onboarding Process Cost-Effective? 
A Well-Thought USP
Our unique selling point is highly accurate identity verification results which nobody else has offered yet. We offer identity verification services across 230+ countries and territories supporting more than 150 languages. Moreover, the results delivered are highly reliable with a market-leading accuracy rate of 98.67%. Apart from this, our AI is the fastest and takes about 30 seconds to complete the identity verification process. 
Adaptability 
We aligned our services with the leading industry trends to come up with better solutions for verifying identities digitally. First, we enhanced our artificial intelligence models and as of 2021, we have five new products. All these new offerings were introduced to satisfy variable compliance needs in different areas of the world.  For instance, the AUSTRAC amendment for remote identity verification led us to offer video interview KYC and now, the rapidly increasing use of NFC technology has encouraged us to introduce NFC-based identity verification. 
Recommended: NFC – Building New Grounds for Identity Verification
Enhanced Databases
To ensure the perfect identity verification solutions, we enhance our databases on a regular basis. For example, our AML dataset includes international watchlists, PEPs and sanction lists, data from FATF, GDPR and OFARC, fitness and probity, and warnings and regulatory enforcement. Now, we are planning on adding more databases to make sure our merchants deal with legitimate identities only. 
Global Expansion
Shufti Pro has not only expanded virtually across the globe but we have physical presence in many regions of the world. Remote and local teams are available for continuous and prompt support. We have offices in the United Kingdom, Cyprus, Sweden, and Dubai. Now, we also have an office in Ukraine. Furthermore, we have teams working remotely worldwide.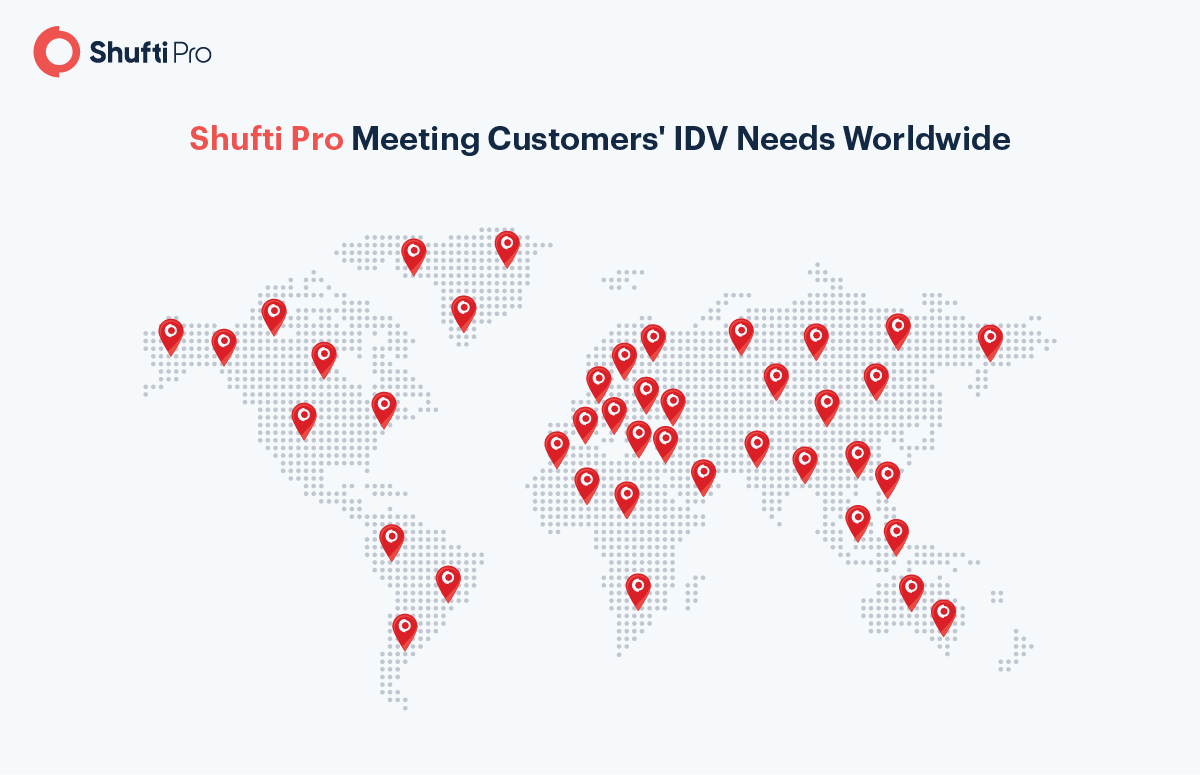 Market-Leading Accuracy with Flexible Pricing 
Shufti Pro's pricing plans have been flexible ever since it entered the industry. The good part is our flex pricing never came in the way of delivering accurate results. Keeping the pricing flexible helped us onboard companies from a wide array of industries. Along with good pricing plans, our clients enjoy market-leading precision, enhanced AI models, synergised human and artificial intelligence, and above all, an effortless identity verification mechanism. 
Advanced Technology 
Enhanced artificial intelligence algorithms are the foundation of all our services. We never limit the products/services to the same model. The AI models are constantly trained to maintain our traditional accuracy rate. All the databases for ID verification, KYB, AML screening, etc. have improved over time. Shufti Pro offers identity document verification in more than 150 languages supporting 3000+ document types. From driver's license to passport to utilities, our updated databases can verify any type of ID document. You name it and we verify it. 
Customised Services 
Shufti Pro offers customization to all the merchants so that they can choose the right combination of our products and fight identity fraud. Our "Pay as you go" pricing plan lets businesses choose what they find right for their company. For instance, you think a combination of face and ID document verification is perfect for your company? Go for it. Our easy pricing plans are what your company needs. 
You can check our pricing plans here. 
This is What We Did, Will You?
These are a few secrets behind Shufti Pro's global expansion and acquiring more than 500 customers in three years. From a fantastic idea to achieving 100%+ year-on-year growth, Shufti Pro has not only managed to scale clients but we are a globally acclaimed company today. Sounds cliche but resilience, hard work, and a good team are all that you need to begin. Rest is all on how updated you are and the methods you are using to get in touch with potential customers. 
Got more concerns? Feel free to drop them here.