BEFORE YOU GO...
Check how Shufti Pro can verify your customers within seconds
Request Demo
No thanks
The term e-commerce was tossed back in the 1960s, with the rise of electronic commerce in which the customers were able to buy or sell goods through the transmission of data. Fast forward fifty years and the idea of the online marketplace has completely transformed into the way people sell services and products. Therefore, e-commerce has become one of the most popular means of making money through digital platforms and a significant opportunity for investors. However, as the demand for online services is increasing, it's expected that the global eCommerce market size which was valued at $9.09 trillion in 2019 will increase by 14.7% between 2020 to 2027.
On another hand, this industry is also getting prone to cybercriminals' activities. Scams including identity theft, card not present, account takeover fraud and various others are putting businesses under great stress to sustain in this fast-moving economy. Thus, fraud prevention is becoming the utmost priority for online businesses in 2022.
E-Commerce Industry and Rising Scams 
The global online marketplace sector was valued at $13 trillion in 2021. The rapid urbanization and the pandemic situation across the globe are the critical factors that are driving the growth of this sector. Additionally, due to digitization, the shift to online marketplaces with supply chain disruptions prompted businesses to reassess investment priorities. Moreover, the improvements in internet services and the use of smart devices such as laptops, phones and tablets to access eCommerce websites, are also boosting the growth of the industry.
The eCommerce industry is enabling businesses to operate without requiring a physical presence while reducing the cost of operations and minimizing the infrastructure. Online marketplaces aim to reduce the hassle along with friction in the shopping experience while displaying a wide range of products from which customers can buy in no time. Moreover, the advent of customer-based business models and private labels is also becoming the reason for assisting the e-commerce sector to experience growth. 
However, as the industry is growing and the revenue is increasing, such businesses are getting prone to cyberattacks and a series of scams including phishing, malware, identity theft, forged documents, chargeback, etc. it's a known fact, that where there is money involved, there will be a number of criminals present just to scam customers or exploit business services. As the businesses are using emerging technologies to enhance their operation. On the other side, criminals are utilizing tech-driven tools and becoming sophisticated enough to trick out companies' verification systems. Moreover, in today's digitized world, fighting emerging types of fraud demands effective and innovative security as well as identity verification solutions for digital businesses.
Amazon Crackdown on Fraud Seizes More Than Three Million Counterfeit Products
Amazon has seized nearly three million illegal products in recent years and flagged around 600 criminal activists for investigation. The e-commerce giant also revealed that they have invested more than $900 million and employed 12,000 people including software engineers, machine learning scientists and expert investigators, who were assigned to safeguard clients' integrity, brands and selling partners from scams and various other forms of abuse. With such efforts, Amazon has successfully prevented around 2.5 million unauthorized attempts of creating fake accounts, stopping criminals from selling illegal items or services.
"Our team continues to innovate to stay ahead of bad actors while working in partnership with rights owners, law enforcement, and other experts to ensure customers can continue to shop with confidence," said Dharmesh Mehta, Amazon's vice president of Selling Partner Services. "While we are proud of the progress we have made, we will not stop until we drive counterfeits to zero in our store."
Eight Arrested by Law Enforcement Authorities for Defrauding €2 million in E-Commerce Customers
Romanian and Greek law enforcement authorities have arrested members of an organized crime group that was involved in exploiting online shoppers for at least €2 million ($2.4 million). In addition to this, police have also seized €220,000 ($261,000) in cash, smartphones and travel documents during the raids at 30 hideouts, in a crackdown coordinated by Eurojust, the EU agency that helped to make it happen across borders. Through phishing attacks the criminals tricked victims into paying for services and goods that they believed were legit, including €50,000 ($59,000) cars through well-known online marketplaces including eBay, goods from Amazon, and accommodation through Airbnb. In addition to this, fraudsters also used forged documents to set up around 300 bank accounts in Spain, Hungary, Poland, Germany, and the Netherlands to hide their profits. Moreover, they also created bogus ads, along with shell transport and payment companies which appeared legitimate firms. Social engineering attacks were also carried out that infected victim's devices with malware viruses and successfully got hands-on their credentials, credit card and bank accounts numbers and other personally identifiable information.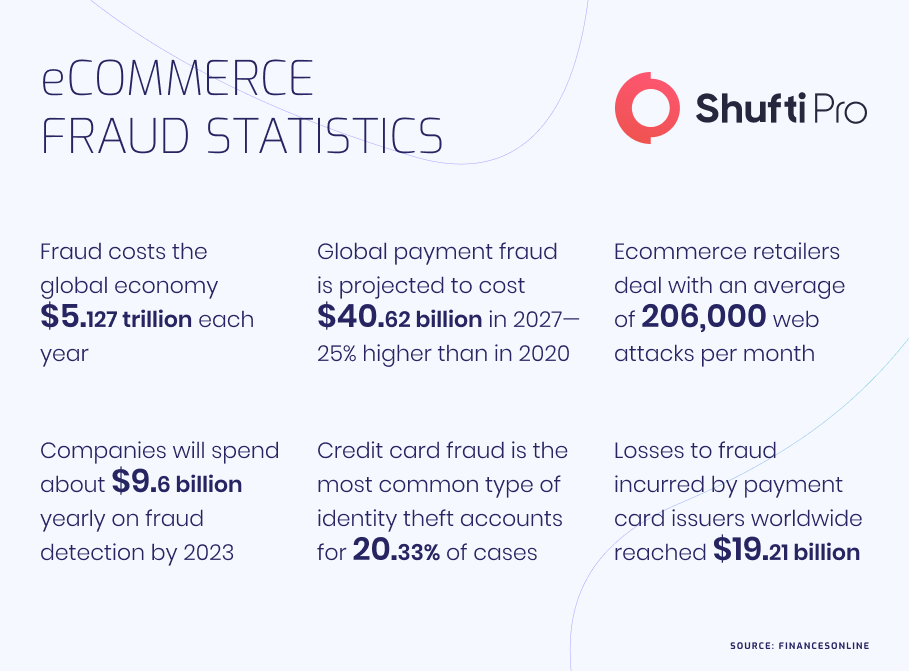 Global Regulations for Safeguarding E-Commerce Businesses
EU Payment Services Directive (PSD2)
The EU Payment Services Directive (PSD2) is legislated to impose standards for any kind of business that provides or involves payments, and will particularly affect financial firms, e-money exchanges and the eCommerce sector. PSD2 aims to increase client data protection measures, making digital transactions more secure and lower down the cost of payments. Additionally, under this Directive, the FCA's scope will expand. This includes account-creating services that will assist online businesses to manage finance and allow customers to make payments through other means other than credit cards. In addition to this, the PSD2 has emerged with the new security standards called Strong Customer Authentication (SCA). This mandates banks and online payment service providers to enable 2FA in their security systems.
Children's Online Privacy Protection Act (COPPA)
Children's Online Privacy Protection Act (COPPA) is a US Federal Law that aims to safeguard personal data along with the rights of children under 13 years of age. Under this law, the online service providers or eCommerce websites are obliged to gather personal information from children under 13 along with notifying their parents to get verifiable consent before using or disclosing their personal information, while keeping the data secure they collect from children. Whereas, verifiable means using the methods of attaining the consent that could not be easily faked by the minors and that is demonstrably likely to be given by an adult.
How Shufti Pro Helps
Shufti Pro's state-of-the-art identity verification solution is an ideal option for online e-commerce businesses as it allows them to determine the real identities of their customers and can verify their transactions before getting them on board. Powered by thousands of AI models, Shufti Pro's ID verification can provide results with 98.67% accuracy in less than a second.
Want to know more about identity verification services for the online marketplace?