Blog
Card-Not-Present (CNP) Fraud – How to Prevent False Chargebacks?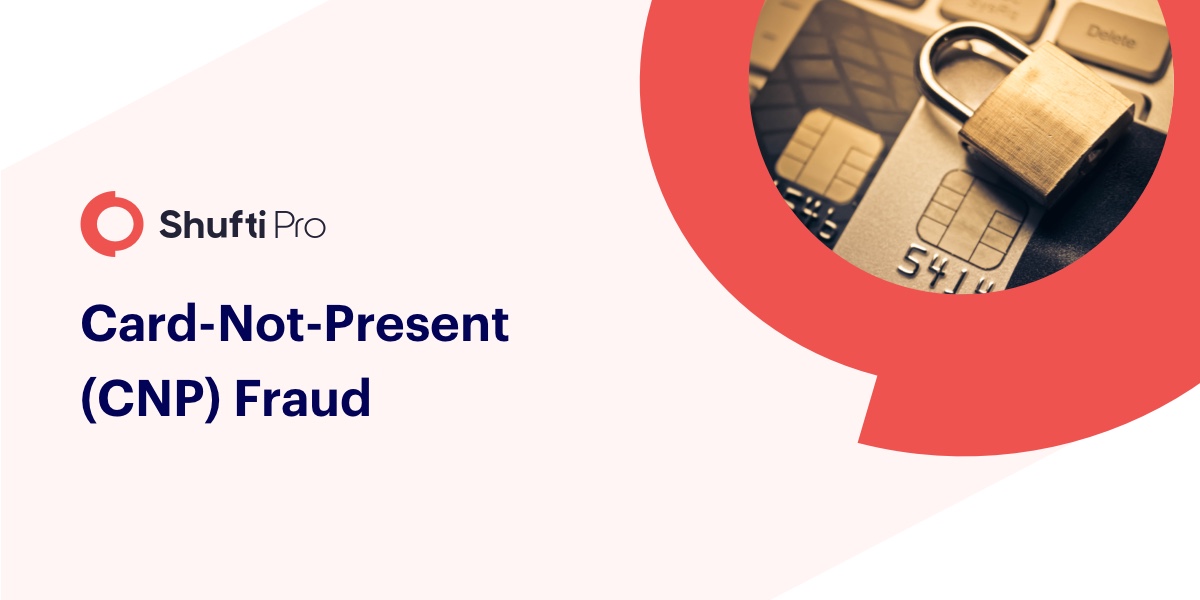 The eCommerce industry continues to grow rapidly, so are fraudulent activities. According to Statista, eCommerce sales in 2019 were amounted to be $3.53 trillion and e-retail revenue is expected to grow to $6.54 trillion by 2022. The bad actors in the digital space are roaming to exploit vulnerabilities and target online users. There are a variety of malevolent activities that are becoming part of the streamlined eCommerce activities. Among those, Card-Not-Present (CNP) fraud and false chargebacks are on the top. In the U.S federal reserve report 2018, the amount of CNP fraud in 2016 was estimated to be $4.57 billion. This fraud projection rate is sky rising due to a lack of preventive measures that help combat an array of digital financial frauds. 
The digital transactions in the eCommerce are categorized as CNP. There are serious risks associated with the CNP fraud in which online merchants are liable for bearing the costs.
What is Card-Not-Present (CNP) Fraud?
Card-not-present fraud is a fraud that occurs in online transactions over mobile or phone. The fraudster does not present the card to the retailer for a visual check.
With the rapid invasion of individuals in the digital world, eCommerce sales and eventually CNP frauds are rising. Online merchants are required to be vigilant when it comes to the adoption of appropriate security measures over the platform. The cost of false chargeback claims from the fraudulent entities is received from online merchants, even merchant would be liable for the additional assessments and fees associated with the chargebacks. In case of a high chargeback rate, the merchant could be at risk of its account terminated. A study predicts that digital CNP fraud can cost retailers $130 billion dollars by 2023.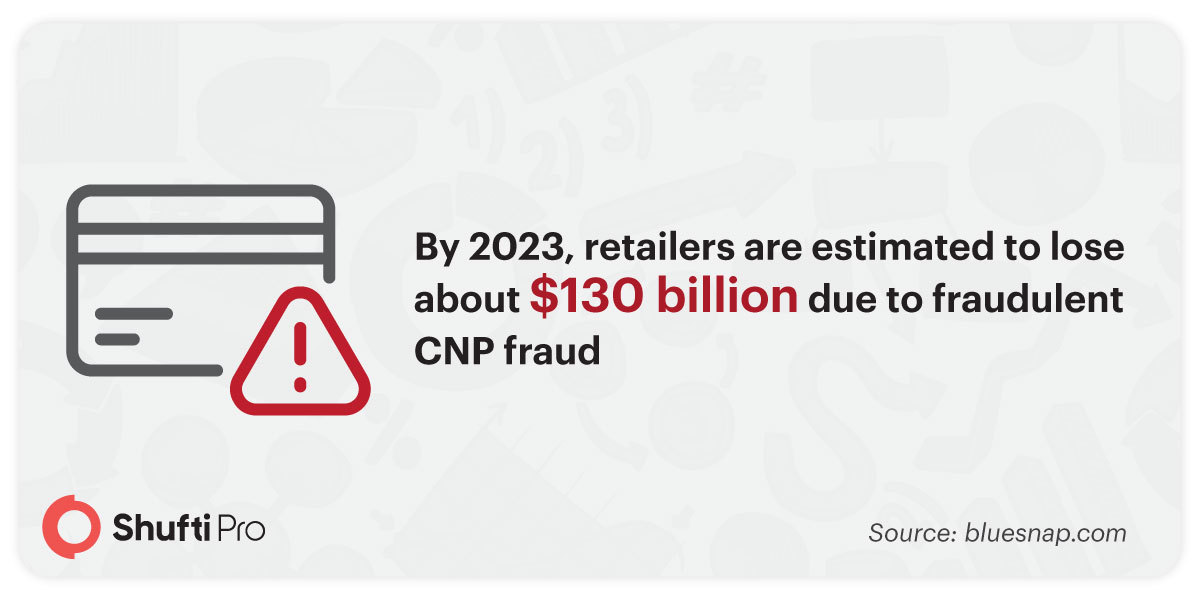 Detection and Prevention of CNP Fraud
Risk mitigation measures need to be taken into consideration by detecting and preventing the CNP fraud. These measures can be ensured by first understanding the fraudulent tricks and attempts of bad actors. The fraud prevention system requires a dynamic approach to fight against CNP fraud and its evolving techniques. 
It is forecasted that by 2023 all the companies that support retail transactions will spend about $10 billion every year for the purpose of fraud detection and prevention. 
KYC Verification
Just the way financial institutes used to verify their customers to mitigate the risk of financial crimes, the eCommerce industry can adopt the Know Your Customer (KYC) requirements to assess the risks. When it comes to open an online account, it is crucially important to perform the identity verification process on each onboarding customer. Identity checks can help determine if customers are legitimate or not. The process of KYC verification is secure and aligns well according to the demands of customer experience. 
KYC verification ensures that no fraudulent entity is allowed to take part in the financial system. The AI-powered identity verification solutions help verify customers digitally in mere seconds. Through innovative solutions and advanced AI-based algorithms, individuals can be verified and false chargebacks can be mitigated in the eCommerce industry. The following are some methods through which online identity verification can be ensured in a streamlined manner:
Document Verification of online customers against official ID documents such as ID card, passport, or driving license can be done.

AI-powered Optical Character Recognition (OCR) technology

can help extract the information from the document in real-time which can be verified. 

A biometric facial recognition system can help identify and verify the facial biometrics of the legitimate users against the ones uploaded at the time of account registration. Also, the face on the ID document can be matched against the one which is captured in real-time. 

Address Verification System (AVS) verifies the user-entered address against the one present on the ID document. The customer will be verified if both addresses match. 

Verification of customers at the time of account registration through video-KYC. The KYC expert connects the customers and verifies their identity through a video call in which other than ID document verification checks, experts take into account behavioral verification through a customer's body language. Other than this, the

liveness detection checks

in video-KYC ensure the physical presence of customers through their minor facial movements. 

Anti-money laundering (AML) screening of customers against updated global watchlists, sanction lists, and PEP records can help the eCommerce industry mitigate financial crimes such as money laundering by the high-risk profiles.
Implementation of these measures can help online merchants prevent CNP fraud and false chargebacks. These practices can help organizations protect themselves from high-risk profiles that can become the reason for high-scale financial crimes that ultimately ends up giving harsh fines.
Find more relevant resources:
Disclaimer:
No warranty is herein provided that the information contained in this document is accurate, up-to-date, and/or complete. In no circumstance(s), does such information constitute legal or any other advice. Any person who intends to use, rely, pass-on, or re-publish the information contained herein in any way is solely responsible for the same. We suggest to verify the information and/or obtain
expert advice
independently if required.