BEFORE YOU GO...
Check how Shufti Pro can verify your customers within seconds
Request Demo
No thanks
With the global digitization, mobility services are known to the world before the pandemic has irrevocably changed. The transportation sector has been disrupted due to technological transformation, with ride-sharing applications allowing riders to have more control over their movements. However, the coronavirus outbreak has majorly become the reason behind revolutionizing the mobility experience into one of necessity and convenience. According to the fact, around 20% of the workforce across the globe was ordered to work from home as per the pandemic restrictions, whereas the overall impact on the transportation industry can't be understood. 
Thus, ride-hailing services are here to stay, having proven their value and utility. Despite the benefits such services are providing, there are some emerging crimes and scams that are de-valuing such service providers. Therefore, to secure operations companies need to integrate ID verification solutions, aiming to make businesses secure and credible.
Ride-Hailing Industry Overview [2022]
The global ride-sharing industry's market capitalization was $53.25 billion in 2021, while it's projected that it will touch $106.19 billion in 2026 with an annual growth of 14.8%. The number is quite satisfying as the industry is constantly evolving and will continue in future. Prominent players in this industry are Uber, ANI Technologies, Lyft DiDi and various others. The ride-sharing sector's revenue is majorly generated by services used for passenger transportation in which the riders are directly connected with the drivers through an application. The transportation industry comprises establishments particularly engaged in providing mobility services through automobiles or vans, not operated over fixed routes or schedules.
However, before the pandemic, urban mobility demand was projected to grow exponentially. But, various research indicated that the sector experienced a significant decrease in the overall growth as people were restricted by multiple norms like working from home etc. that's where mobility as a service came into the spotlight. It's becoming the new way of travelling that combines easily accessible means of transportation to provide riders with a seamless and secure journey. These services are totally based on the technology, enabling customers to be better informed of available services and make them more productive as never seen before.
However, the sharing economy is all about the digitization of assets as well as services. Like every other industry, the transportation sector is also embracing the digital revolution and businesses are re-thinking as well as redesigning their revenue models to provide exotic services to meet customers' ever-evolving requirements. Yet, as the industry is growing and the trend of using ride-sharing services is intensively growing, there is a significant growing risk of scams that is badly impacting the sector's revenue as well as damaging businesses' reputation.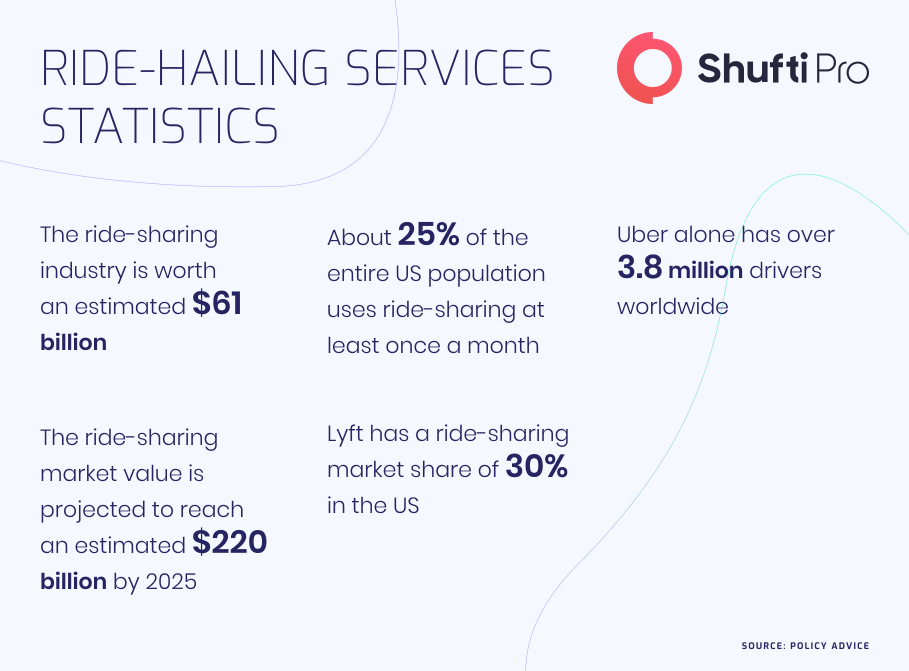 Criminal Activist Pleads Guilty in Ride-Hailing Fake Driver Account Fraud
Law enforcement authorities have arrested two individuals as they have pleaded guilty to using stolen identities to scam ride-hailing and delivery service companies into hiring drivers with illegal identities. According to the U.S. attorney's office reports, the criminals were convicted of committing wire fraud and identity theft. The bogus scheme involved the use of fake identities to set up illicit accounts with multiple ride-sharing and delivery companies. Those accounts were then sold or rented to other drivers who were struggling to qualify for jobs for those services, including the drivers who failed to pass background checks or were not eligible to work in the US.
However, according to the court documents, drivers' license details were stolen from unsuspecting victims during the exchange of information following intentionally caused car accidents. In addition to this, these schemes also involved the use of automated bots and GPS spoofing tools to earn illegal earnings from the fraudulent accounts. Furthermore, fake driver's licenses and social security numbers were obtained from the dark web and other sources to create new accounts. additionally, the sale or rent of such accounts was also advertised over the social media platforms, which helped them to make $430,000 through these schemes.
19 Charged in Ride-Hailing Fake Driver Account Scheme
The federal prosecutor has arrested 19 members of an organized crime group for their alleged roles in fake schemes that involved the use of stolen identities to trick ride-hailing and delivery service companies. However, ten suspects were charged by criminal complaint with one count of conspiracy to commit wire fraud. According to the federal prosecutor, all the suspects were Brazilian citizens, who stole more than 2,000 victims; identities while making deliveries and then created fake driver accounts over multiple ride-hailing applications.
"The scheme alleged in today's charges was extensive, violated customers' privacy, and enabled unqualified drivers to work for rideshare and food delivery services," said Acting U.S. Attorney Nathaniel R. Mendell. "Millions of us rely on these services every day for transportation and to have meals and groceries delivered to our homes. They are an important part of the economy, especially now." In addition to this, the criminals were also alleged to obtain referral bonuses through bogus schemes from ride-sharing companies by setting up fraudulent driver accounts for the sole purpose of referring to other illegitimate drivers.
Shufti Pro's KYC Services for Ride-Sharing Services
Ride-hailing companies like Uber and various others with similar business models are in dire need to integrate KYC solutions into their security systems. Knowing your customers' checks will not only help service providers to secure the company's operation and allows them to onboard drivers with legit identities. This will add an extra layer of security to gain customer trust and credibility toward ride-hailing services.
​​Shufti Pro's state-of-the-art identity verification solution can help ride-sharing companies onboard legit drivers. With a market-leading accuracy rate of 98.67%, ride-hailing applications can provide  customers with a seamless experience with increased security.  Shufti Pro's identity verification services support cross-platform integration with pre-existing online systems, IOS apps, android apps, and web applications.
Want to know more about ID verification for ridesharing companies?