BEFORE YOU GO...
Check how Shufti Pro can verify your customers within seconds
Request Demo
No thanks
October 2021 marks four complete years since the launch of Shufti Pro. As years begin to stack, the company continues to outperform with its award-winning identity verification portfolio, a trusted team of global experts, and unparalleled AI-powered features. With consumer convenience in mind, Shufti Pro was launched in 2017 while recognizing that most legacy identity verification solutions were full of friction in terms of both time and accuracy. By filling this gap, the global SaaS provider has won the trust of 500+ clients and successfully verified millions of identities, with instant detection of identity and financial frauds. 
In the past year alone, Shufti Pro witnessed a growth of 100% and expanded globally, with regional offices now open in Ukraine along with Sweden, Cyprus, the UK and UAE. Where the COVID-19 pandemic exposed numerous businesses to major security loopholes, Shufti Pro stayed one step ahead of the game and introduced innovative products to safeguard digital identities. 
"Being persistent and dedicated ever from the start and not letting obstacles get in our way allowed us to develop our company to become one of the major players in the world of identity verification & compliance" — CEO Shufti Pro, Victor Fredung. 
Celebrating Milestones
As we look back at the past year, here are some highlights of which team Shufti Pro is particularly proud of:
1. Covid Certificate Verification Solution
Not long after the COVID-19 pandemic struck, fake vaccines and forged covid certificates became an everyday phenomenon. Renowned apps such as Telegram among others were being used for the distribution of fake covid vaccine certificates, causing a steady rise in the global Covid-related crime rate. This posed a major threat to businesses, as Covid certificate verification has now been mandated by governments to curb the spread of the virus. But with fake vaccine certificates in the market, financial crimes and identity fraud seemed imminent. 
Playing its part in the safe renewal of businesses amidst the pandemic, Shufti Pro launched its AI-powered Digital Covid Certificate Verification service, which verifies the identity and vaccination status of individuals in one go. The solution requires no installation or integration and can be easily used at airports, shopping malls, and public transport terminals, among other areas, to enable Covid-free customer onboarding.  
2.  NFC and On-premises Identity Verification
Within the last year, Shufti Pro also launched two other identity verification services — NFC Verification and On-premises Identity Verification — to provide unmatched customer convenience. 
Given that 81% of smartphones today are NFC-enabled by default, identity verification with near-field technology renders a streamlined identity verification experience to both, the end-users and businesses. On the other hand, the On-premises Identity Verification service allows organizations to experience full control over their customer's data with an in-house deployment of the identity verification solution.
Here's what Shufti Pro's CEO had to say about new product launches on the occasion of their anniversary
"Whenever we are launching new products, we do it based on two criteria: What does the client want and what does our market research say will be the next trend. Based on these criteria, we develop and launch the appropriate client/market fit … In 2021, we launched our On-premises deployment that allows clients to host the entire product of Shufti Pro within their system architecture, this allows clients to meet some of the more stringent regulatory requirements as well as to protect their customer's data in a secure manner".
3. Global Expansion Targets
In June 2021, Shufti Pro opened a new regional office in Kyiv, Ukraine, to safeguard Ukrainian organizations against the surging cases of money laundering, banking scams, and other financial malpractices. Commenting on the future plans of scaling Shufti Pro, Fredung states, "Our near-future goals include further international expansions where we have identified key-markets where we see tremendous potential going forward". 
4. Native pages 
To deliver a consistent IDV experience to all markets, Shufti Pro has mitigated language barriers by providing the local audience of 100+ countries with native country pages. As a result, the services of Shufti Pro have become easily accessible for any business worldwide that seeks to comply with global AML/KYC regulations with 98.67% accuracy.  
5. Award-winning Streak
Since Shufti Pro leverages a hybrid identity verification model, one that involves the use of automation as well as human expertise, its IDV services are well-received worldwide. This is particularly because, despite human intervention, Shufti Pro's services provide minimal verification response time. Due to its "under 30-second" verification processes and one of the highest accuracy rates in the IDV market, the company was named in the World's 100 Most Innovative CyberTech Companies for financial services in 2021 and has won various awards. These include:  
6. Trusted by 500+ Clients 
Shufti Pro's identity verification solutions are offered in 230+ countries and territories, for businesses in sectors such as Finance and Banking, Healthcare, Gaming, Travel, Cryptocurrency, FinTech, Education, Telecommunication, and 
Social Media among others. Owing to the consistent innovation, cutting-edge technology, and swift services, Shufti Pro acquired a customer satisfaction rate of 92% in May 2021.  
Here's what the customers have to say about Shufti Pro's KYC and AML solutions: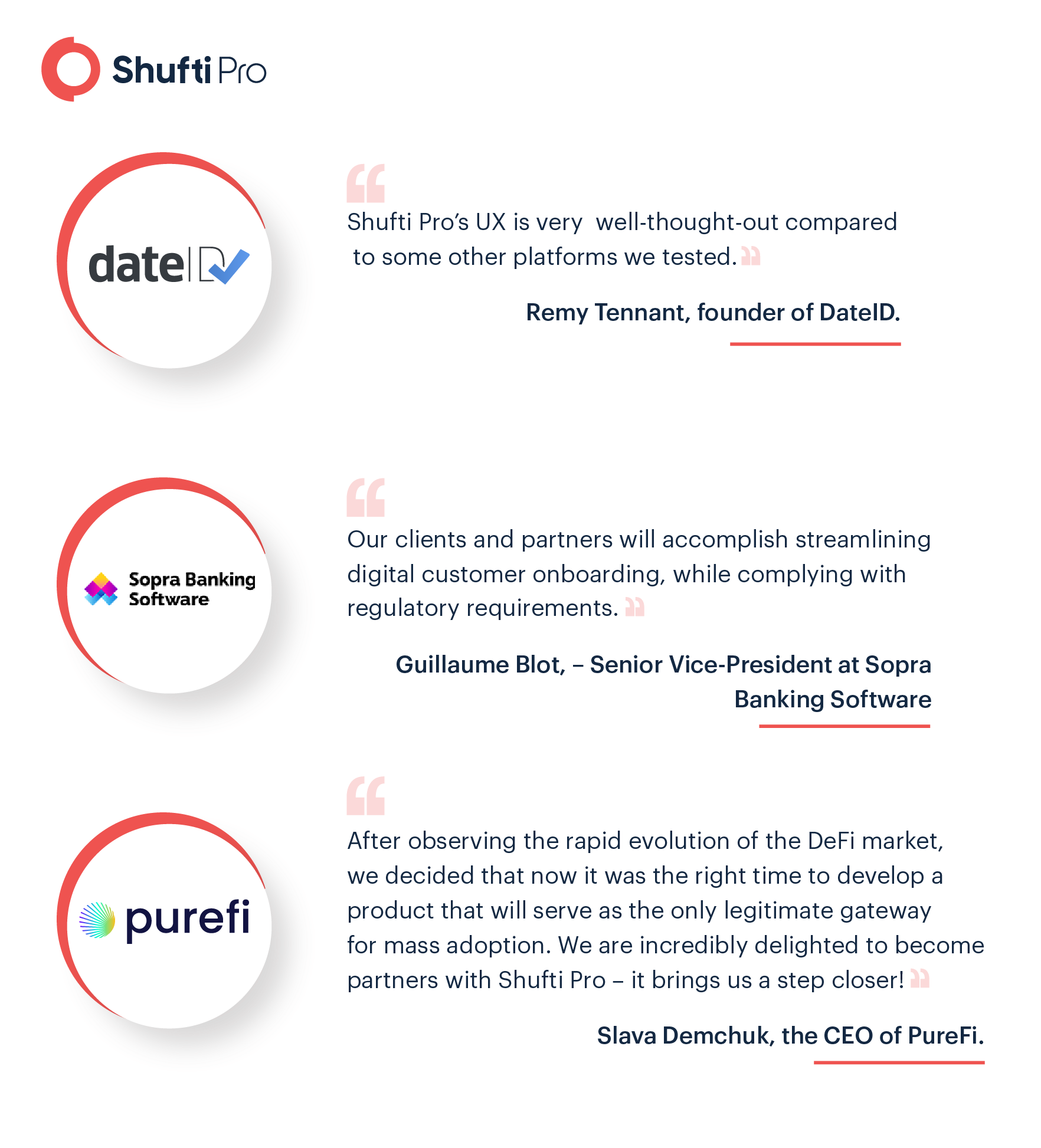 What's Next for Shufti Pro? 
Today, the global IDV provider leverages thousands of in-house AI models and a global team of over 100 professionals to provide state-of-the-art identity verification services to its customers. In the near future, Shufti Pro will be expanding its services to maximum segments of the market with an aim to make IDV seamless, cost-effective, 100% accurate and achievable within milliseconds. In the long run, the company seeks to continue building trust between businesses and customers and innovate in the space of identity verification & compliance.
Extending his gratitude towards his team, here's what Fredung had to say on Shufti Pro's 4th anniversary:
"I would like to give a warm thanks to each team member that have contributed to the Shufti Pro saga, we have all worked extremely hard over these 4 years developing what I would call the leading technology for customer onboarding".
Streamline your identity verification needs right away by availing our 7-day free trial or talk to our experts for more information!