BEFORE YOU GO...
Check how Shufti Pro can verify your customers within seconds
Request Demo
No thanks
The Non-Fungible Token (NFTs) market exploded last year and became one of the most popular buzzwords in the crypto community across the globe. But with the hype, criminals saw an opportunity. Significant money laundering and wash trading activities started to become an essential part of the headlines. Additionally, illicit funding to the NFT marketplace jumped exponentially, surpassing nearly $1 million worth of digital currencies.
However, the most-hyped technology, blockchain, is critically becoming the subject of bad news in 2022 as well because of increasing crimes. NFTs being driven by blockchain technology are also one of the attributes fueling illicit activities that includes wash trading, money laundering and terrorist financing.
NFTs Market – The State of Financial Crimes
Non-fungible tokens essentially are digital artworks and hold the same characteristics as physical art. In addition to this, NFTs being fully digital allows creators or customers to move assets much easier for trading purposes. Like cryptocurrencies, they can be transferred from one wallet to another in a matter of seconds, without requiring authorization. This paves new opportunities for criminals including money laundering and terrorist financing.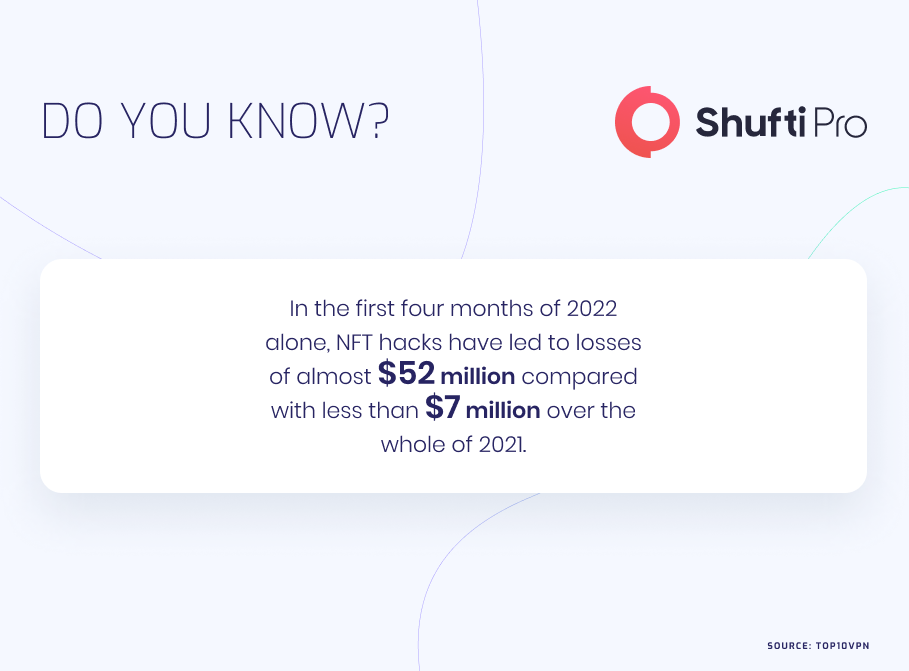 Is Wash Trading Illegal with NFTs?
For the past few years, cryptocurrency experts have become increasingly concerned about wash trading. This means, executing a transaction in which the seller is on both sides of the trade to paint a vague picture of an asset's liquidity and value, which is another key concerned area for NFTs as well.  Wash trading has historically been associated with the digital currency exchanges attempting to make their trading volumes appear greater than they actually have. However, in the case of NFT wash trading, the goal is to make one's NFT appear more valuable than it really is by selling it to a new wallet the original owner also controls.
However, in traditional finance, wash trading is considered illegal. The US was the first country to declare it unlawful in the 1936 Commodity Exchange Act. However, in the world of NFTs, the legality of wash trading is still undefined or better to say unclear. While it is deceptive, there are no laws or policies in any region of the world detailing what is right and what is not in NFT trading as their asset class has not been defined.
Despite the absence of NFT regulations and class determination, some jurisdictions have taken a stand on the use of NFTs. For instance, Bithumb, a South Korean digital currency exchange, was alleged to facilitate criminals through wash trading worth over $250 million in a fake volume in 2018. Unfortunately, NFT wash trading is hard to regulate, this is because it currently stands in a legally ambiguous area. Although it is prohibited in conventional securities and futures, it is yet to become a subject of enforcement action in relation to NFTs.
FATF's Enforcing Travel Rule To Secure Crypto Market
According to the Financial Action Task Force (FATF), the global financial watchdog, only 11 of 98 surveyed jurisdictions have enforced and implemented the Travel Rule. The 2018 proposals from the FATF, which were amended in 2019, stated that crypto service providers must verify their customers' identities. Identity verification checks are a way to ensure that the authorities oversee the financial processes and mitigate the risks of illicit financing in the same way as banks and other financial institutions. However, most industry players have gone against the rule and said that it compromises privacy and is poorly formulated for payments being processed on a transparent blockchain. A quarter of the countries that are supposed to pass FATF's travel rule are now in the process of implementation, around one-third have still not introduced the bill, FATF's report said, citing figures from a March survey that has now been made public.
"Countries that have not introduced Travel Rule legislation should do so as soon as possible, and FATF jurisdictions should lead by example," the report said. FATF's 39 direct members include the US, UK, Germany and China, while the watchdog is responsible for monitoring cryptocurrency activities in smaller countries as well such as Cyprus.
EU Take on Non-Fungible Tokens (NFTs)
Currently, in the United Kingdom, non-fungible tokens come under the umbrella of digital assets. In the country, NFTs regulatory status completely depends on the characteristics and is categorized into three major categories, a security token, an e-money token and an unregulated token. However, based on the distinctive traits, some virtual assets fail into the first category and are perfectly defined as an investment opportunities. It makes it subject to Financial Services and Market Act 2000. Whereas, some types of crypto assets fall under the second category and become subject to Electronic Money Regulation 2011 particularly designed for e-money tokens.
Furthermore, the UK's government along with the regulatory bodies has also come up with anti-money laundering laws that are legislated while keeping the cryptocurrency industry under strict monitoring. EU's Fifth and Sixth Anti-Money Laundering (AMLD5/AMLD6) is specifically legislated to safeguard the NFT industry and restrict the bad actors from carryout illicit acts including wash trading, money laundering and terrorist financing.
How Shufti Pro Can Help
Shufti Pro's all-in-all identity know your customer and anti-money laundering screening solutions are a viable option for NFT service providers as they aid them to identify the true identities of customers along with the true owner of the digital assets. Powered by thousands of AI modules screens customers against 1700+ global financial watchlists. Apart from AML background screening, according to FATF's guidelines and suggestions businesses need to comply with KYC compliance. To ensure that, Shufti's all-in-all ID verification solution is an optimum option.
Want to know more about KYC/AML solutions for the NFTs market?