BEFORE YOU GO...
Check how Shufti Pro can verify your customers within seconds
Request Demo
No thanks
Non-Fungible Tokens (NFTs) emergence is providing a whole new segment to buy or sell digital creations. Many NFTs, at least in their early days, have been virtual assets that already exist in some form elsewhere, like viral video clips from NBA games or different versions of digital art that are floating around the social media platforms. Additionally, digital crypto money aims to act as a payment gateway by either letting people buy or sell goods or store value. Whereas, NFTs come up with the objective of creating one-of-a-kind tokens that can secure ownership and preserve rights over digital assets. Thus, due to an increase in the demand for NFTs, it's projected that the market will grow by $147.24 billion from 2021 to 2026 at a CAGR of 35.27%.
However, the critical challenge associated with this industry's growth is the uncertainty of the market. The validation of NFTs depends on the uniqueness, availability of distribution channels, scarcity and the perception of owners as well as buyers. As there are little or no regulations for such assets, thus, are being widely used for money laundering and terrorist financing activities. Therefore, to make the ecosystem secure, regulatory authorities are putting efforts to safeguard investors' as well as service providers' interests.
NFTs Market Overview [2022]
The cryptocurrency industry is constantly evolving, there are heaps of tokens, coins, assets and currencies that are readily available, each holding distinctive value. Among them, NFTs are an essential type of crypto token that is entirely unique and indivisible.
However, cryptocurrencies can be split into smaller portions that hold their own value, but NFTs remain whole for till their existence. Making it clear, NFTs can't be interchanged with other tokens while always attaining distinctive value. This diversifies the market and provides different options to sell, buy or trade rare digital creations such as artwork or assets ingrained with blockchain technology.
But how do fungible and non-fungible assets differentiate? A fungible asset of currency is one that can be interchanged with other assets, such as the most popular cryptocurrencies Bitcoin or Ethereum. These can be split into tiny parts indistinguishable from the next. However, the ability to split fractionally is considered significant for any token or coin that is intended to be used as a payment option, as the value of an asset may increase or depreciate. Whereas, NFTs are developed in smart contracts, similar to digital currencies such as Ethereum or DAI, with the information that differentiates this asset from others all over the marketplace in the contract.
As NFTs are gaining global attraction and are becoming increasingly popular, they are also being used by criminals to launder money or finance organized crime groups. However, in the financial crime and compliance world, it's a well-known fact that emerging technologies or trends can be adopted by fraudsters unless such assets of investment opportunities are rigidly regulated and monitored. Non-fungible tokens hold enough potential to be utilized in the same manner and pose similar damage as any other form of high-value asset to launder money. Particularly criminals buy NFTs with illegal earnings, then hold them for a while and sell them to clean the black money by hiding the original source of the funds.  In addition to this, there is a more significant risk of financial crime that has presented so far with the rise in popularity particularly wash trading, which is where the value of NFTs is inflated and one group appears to be both buyer and seller in a transaction.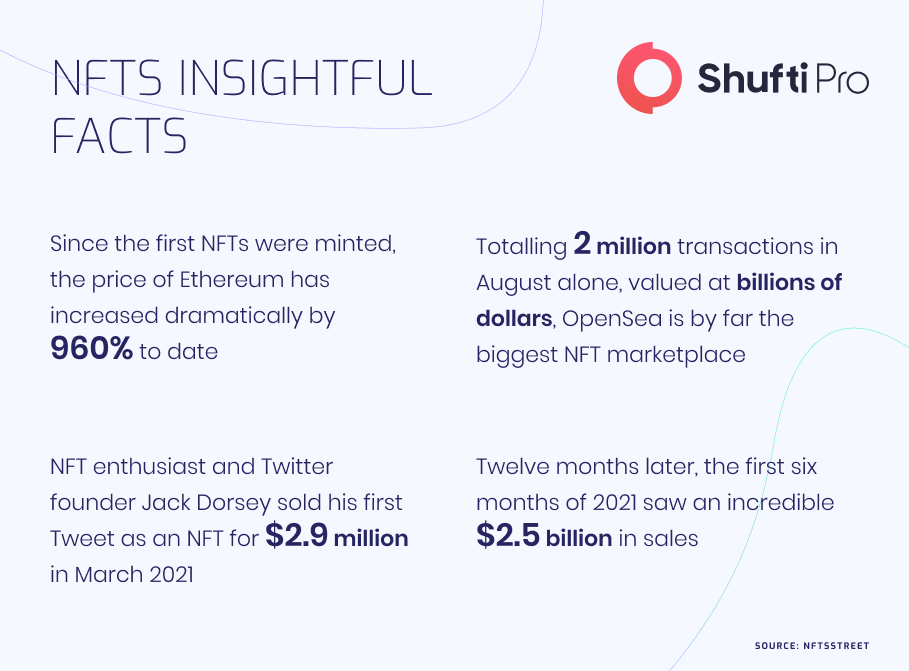 29 Moonbird NFTs Worth $1.5M Succumbs To A Phishing Attack
A moon bird owner lost 29 Ethereum-based NFTs through a phishing attack. As published by Cirrus through a tweet, the hacked non-fungible token (NFTs) were valued at $1.5 million and occurred when the victim fell prey to a criminal's trick and clicked on a malicious link. Moonbirds NFTs is a pixelated owl character with randomized features and traits. It's similar to the famous Bored Apes and various other viral pictures on the market right now. Moreover, for those who are not familiar with Moonbirds, it is an Ethereum NFT collection consisting of more than 10,000 profile pictures. Owners gain access to the "Proof community", and can "nest" their NFT owls for future benefits. Twitter users and NFT enthusiasts, posted that the peer-to-peer transaction was used by the cyberattackers. Claims are made that the address, as well as the name of the criminals, are tracked down. As per TronWeekly reports, through this phishing attack, criminals earned $438K worth of NFTs and cryptocurrencies from hacked Beeple accounts.
Dutch Police Seize NFTs in a Criminal Probe into Private Data Sales
Dutch law enforcement authorities have seized a number of non-fungible tokens (NFTs) as a part of a criminal investigation for the first time. The mega seizure was made during an investigation into the trade-in of private information, which led to the arrest of convicted entities. The individuals were suspected of selling sensitive information to cybercriminals and organized crime groups on a massive scale. Advertentie-NFTs are unique digital ownership certificates which are linked to a digital asset, such as a painting or an image of a piece of music. However, NFTs hold a significant value, they can be concealed during the criminal investigation, as also happens with high-value cars or their assets. Furthermore, the Dutch police did not give any other information about how the NFTs were acquired by Jarno Duursma stating to the broadcaster NOS they may have had a court order to obtain the access codes. Additionally, the law enforcement authorities also seized nearly €35 million worth of cryptocurrencies.
Are Non-Fungible Tokens (NFTs) Legal In the UK?
Currently, in the UK, NFTs are considered a form of crypto asset. In the country, such an asset's regulatory status is totally dependent on its traits and is categorized into three major categories, a security token, an e-money token and an unregulated token. However, depending on their unique characteristics, some cryptocurrency assets fall into the first category of crypto assets and are particularly defined as investments for the purpose of the Financial Services and Market Act 2000. However, some types of assets lie under the second category and come under Electronic Money Regulation 2011 designated for e-money tokens. 
In addition to this, the UK's government has also legislated anti-money laundering regulations for the cryptocurrency and virtual asset industry, specifically the EU's Fifth and Sixth Anti-Money Laundering Directive (AMLD5/AMLD6). These laws are legislated with an aim of securing the NFTs and crypto asset service providers while curbing the risk of money laundering as well as other financial crimes.
How Shufti Pro Can Help
Shufti Pro's all-in-all identity verification and anti-money laundering screening services are an ideal solution for NFTs service providers as it can help them to identify the true identities of the customers along with the legit ownerships of the digital assets. Powered with thousands of AI models, our AML solution screens clients against 1700+ global financial watchlists. To ensure that, Shufti's all-in-all ID verification solution is an optimum option.
Want to know more about KYC/AML solutions for the NFTs market?