BEFORE YOU GO...
Check how Shufti Pro can verify your customers within seconds
Request Demo
No thanks
2022 has been one of the most turbulent years for the cryptocurrency sector. For starters, Bitcoin and Ethereum lost nearly 64% (more than half) of their value at the time of this blog.
The world of crypto also witnessed the collapse of FTX. With an $8 billion liquidity crunch and Binance pulling out of the deal to acquire the troubled exchange, FTX was the talk of the town in November 2022.
A Quick Recap of Major Cryptocurrency Events in 2022:
Let's have a look at the top events for the year 2022:
Bitcoin lost more than 50% of its value.

FTX collapsed due to mounting management failures, leaving behind an $8 billion hole in accounting.

Despite the harsh crypto winter, more than 5000 new cryptocurrencies are trading on multiple exchanges and platforms.

Sam Bankman-Fried, stylized as SBF, became the first billionaire to lose almost all of his wealth overnight, freefalling from

$16 billion to less than $900 million

in 24 hours.

Terra Luna's crash of 95% in value wiped out more than

$60 billion

from the crypto market.
What 2023 holds for the Crypto Sector
Considering the turbulence of 2022, we expect a gradual revival of cryptocurrency prices and adoption rate in 2023. Twitter figures with laser eyes are always optimistic about Bitcoin reaching $100,000, but that may unlikely occur in 2023.
Will 2023 prove to be the turning point for cryptocurrency users? Will Bitcoin, Ethereum, and stablecoins skyrocket, plummet, or remain as volatile as they were this year?
Will the sudden fallout of FTX lead to new and tight laws by regulatory watchdogs? As we bid goodbye to the current year and enter 2023, it is time to highlight some future trends in crypto.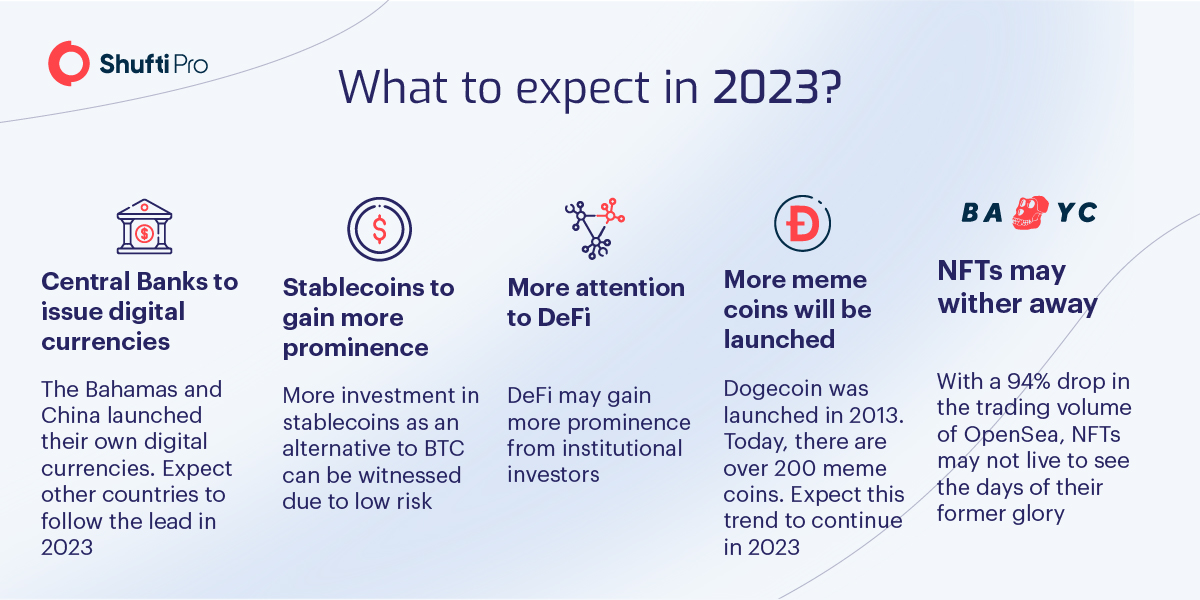 1. More Governments will Introduce Their Own Centralized Cryptocurrencies
The Bahamas has become the first country to officially test and launch the Sand Dollar, the digital equivalent of its Bahamian Dollar, in 2020.
With it taking the lead, China has already tested and launched the pilot version of the digital Yuan in the first week of January 2022. So far, it is available in 23 major cities, with the government planning a rollout nationwide in the coming year. You can buy and sell the digital Yuan using the e-CNY app available on the iOS and Google Play stores in the domestic market.
We expect the US Dollar, GBP, and Euro to launch their digital currencies in 2023.
2. More investment in stablecoins, aka stable assets
During volatile times, investors turn to stable assets for a safe haven. In the crypto world, stable assets are also known as stablecoins, considered more stable than volatile cryptocurrencies such as Bitcoin and Ethereum.
This quality makes them an ideal option for investors looking to safeguard their funds in times of volatility.
3. More attention toward DeFi
As an investor or researcher in crypto, you must have come across the word "DeFi" more often than you thought. DeFi stands for "Decentralized Finance," which refers to an alternate world of finance and investment relying on cryptocurrencies and blockchain technology. To illustrate this concept, the search trend for DeFi has grown by over 5,600% since 2017.
It is the backbone and the reason for the very existence of cryptocurrencies in the first place.
The idea behind decentralized finance is that any single entity doesn't control it, and all transactions are conducted in a public ledger. DeFi uses "smart contracts" to make transactions possible without having intermediary banks in the middle.
This is the mirror opposite of today's centralized finance, where transactions take place over private ledgers, completely in control by financial institutions and banks.
Ethereum has the industry's first-mover advantage by successfully building the first cryptocurrency with the possibility of smart contracts. Till date, the Ethereum network is the top choice of developing smart contracts.
But DeFi is still in its infancy stages, much like the early version of the internet, with chat rooms and colourful websites dominating the 90s. It wasn't until the 2000s that the full potential of the internet started surfacing, such as digital payments and the rise of remote work.
4. More meme coins will be launched
Created in 2013 as a meme based on a viral image of a Shiba Inu dog, Dogecoin has come a long way to register a $13.71 billion market capitalization at the time of writing this article. With over 200 meme coins in circulation, this trend is likely to continue in 2023.
The most recent meme coin is Tamadodge, which users can earn while playing games, or buy using fiat currency to make in-game purchases.
5. NFTs may not make a revival
NFTs (Non-Fungible Tokens) were everywhere in 2021. But things can quickly change in an ever-volatile world of crypto.
Opensea is the world's first and largest marketplace for digital collectables and NFTs. It registered the largest drop in monthly trading volume, from $4.86 billion in January 2022, down by a mind-boggling 94%, to $303 million in October 2022. Here's the visual representation to understand it better:
Is this the end of trading in digital collectables?
Will it ever make a revival to early 2022 levels in monthly trading volumes?
While the only thing certain in crypto is uncertainty, we do not expect trading volumes at OpenSea to bounce back to the January 2022 levels.
Experts have differences in opinions. Some believe that the market is dead, whereas others are hopeful it may return back to its days of former glory. However, it may take several years for the NFTs to even operate like a normal market.
Wrapping it up
Regardless of expert opinions, what cryptocurrencies will change in value and where do we go from here in 2023 is still not clear. One thing is for certain though, that cryptocurrencies are here to stay.
We can only expect more regulations, and development of crypto exchanges by institutional investors. With the Metaverse, NFTs, and the option of building a virtual land, things can also get pretty exciting in 2023. Let's all brace for the coming year.
Want to learn about Shufti Pro's AML Screening solution for secure crypto transactions?