BEFORE YOU GO...
Check how Shufti Pro can verify your customers within seconds
Request Demo
No thanks
The digital world is evolving at a greater pace than ever before. The Metaverse is considered a digital universe where people from the physical world interact with each other online. People use avatars as their identity and take charge of any activity virtually like gaming, attending events, exchanging services, and dealing virtual property utilizing cryptocurrency as a payment method. 
Among the most popular reasons to participate in the Metaverse include remote work innovations, live entertainment, and alternative investments. The Metaverse offers great potential to companies having virtual assets to become partners with payment service providers. According to 2022 statistics, the market size of the Metaverse is $38.5 billion. There are over 400 million active Metaverse users.  
Metaverse – A Center for Cybercrime?
Around 53% of virtual companies are investing in cryptocurrency. NFTs are trending alongside cryptocurrency and are going to gain more popularity over time after receiving support from some of the biggest brands in the world. With the skyrocketing recognition of the Metaverse, there is an increased risk of financial crimes and investment fraud. According to experts' predictions, crime in the Metaverse will be unavoidable as it does not directly link to a centralized paradigm like cryptocurrencies.
The concept of Metaverse today is in its initial stages, but if recent history delivers any guide to the coming advancements, its evolution will be robust and the challenges it will present from a regulatory perspective could be substantial. Criminals are using sophisticated techniques to misuse the Metaverse and pursue financial crimes. Cybercriminals usually make use of NFTs and DeFi to further their corrupt activities. 
Decentralized Finance
DeFi is an emerging financial technology that's greatly responsible for testing the strength and resilience of current centralized banking systems. It is highly prone to financial crimes such as money laundering and terrorist financing due to the absence of a centralized gate-keeper. Criminals usually hack DeFi systems using stolen identities to execute illicit transactions utilizing cryptocurrencies.
Non-Fungible Tokens
Just like cryptocurrencies, NFTs are also based on blockchain technology which cannot be copied or subdivided. Non-fungible tokens also provide a favorable mechanism for cybercriminals to commit financial scams leaving a limited and hard to identify track. Tricksters usually buy NFTs with their illicit money and sell them to other users at higher prices to convert their black money into legitimate assets. A rough estimate of NFTs sales in 2021 is $24.9 billion, a massive rise from  $94.9 million in 2020. 
Battling Financial Crime in the Metaverse
Battling financial crime in the Metaverse is not streamlined and continue to cause further complexities in the occurring crimes. Just as the Metaverse is a venue to socialize and work, it is also where cybercriminals are on the lookout for a chance to take advantage of people and organizations for their benefit. Identity theft, data violation, and other monetary fraud are all inescapable emerging crimes intensified by the fact that digital assets are as prone to theft as physical wallets. Throughout the Metaverse, substantial illicit transactions can be performed as a result of a decentralized blockchain-dependent system.
Currently, there are no definitive financial crime regulations related to the metaverse. Also, the insufficiency of appropriate Know Your Customer (KYC) measures exposes users to a higher risk of cyber attacks in the Metaverse landscape. Non-competent regulations pertaining to the Metaverse have become one of the primary reasons criminals are more likely to invade users' privacy within the digital platform. Just like the internet, the Metaverse is also unregulated by any central authority. So, to secure digital assets, Web3 technology seems to be the only way to create a decentralized ecosystem to allow users to perform their regular tasks without any other intermediaries. Other crimes like cyber stalking and cyber harassment can also occur in the Metaverse.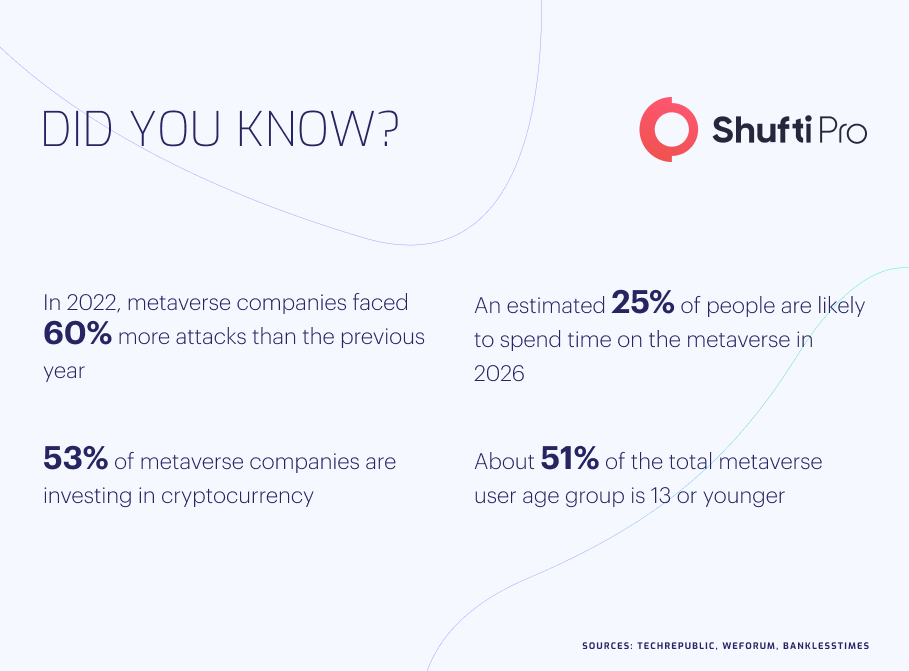 Money Laundering in the Virtual World
Financial institutions and other regulated entities are in dire need of identifying their customers during onboarding processes. There have been several crypto-asset thefts and fraudulent ventures in the Metaverse, the extent to which they can go is truly beyond imagination. Cyber-criminals are eager to disrupt the flow of goods exchange from one blockchain to another,  making it difficult to trace. With the potential to generate up to $5 trillion by 2030, it is impossible for companies to ignore the predicted growth in the budding decentralized economy. Hence, businesses must connect with industry experts to maintain stability between regulatory advancements in the Metaverse. 
Adequate knowledge of Web3 technologies is another indispensable factor to identify the fundamental cause of money laundering in the Metaverse. In quintessence, Web3 incorporates decentralized blockchain technologies to carry out multiple transactions and makes it nearly impossible to identify and figure out the sources responsible for money laundering. With the recent rise in NFT activity and sales, scammers are exploiting financial industries in the Metaverse in more creative ways than ever before. 
To encounter money laundering risks and discourage cybercriminals, there is an urgent need for robust security checks during customer onboarding. Investing in KYC and AML screening could be of great help to digital companies in the identification of legitimate users and exempting criminals. 
Anti-Money Laundering Regulations in the Metaverse 
Decentralization is to partly blame for increased money laundering in the Metaverse and needs to be regulated to create a secure platform for users. Understandably, there is no centralized authority who is responsible for the regulation of identity verification in the Metaverse. To make financial regulations practical in the Metaverse, financial organizations are required to make strong links with real-life personas and adopt many of the same principles that are responsible for the financial safety of consumers and businesses in the physical world. 
KYC & AML requirements, tax laws, due diligence, and other risk management practices have their importance in the newly emerging decentralized world.. Several countries globally are in a constant struggle to start working either independently or alongside FATF to implement sturdy KYC and AML compliance measures to avert cyber crimes. As fraud techniques continue to evolve, the Metaverse requires more than one verification system. 
The requirements for Metaverse governance will gradually rise over time as participants  better understand different ways of interacting in the new virtual world. AML compliance regulations and identified list of people registering for the Metaverse are necessary to ensure there are minimal compliance failures. 
Shufti Pro's KYC & AML Solutions for Metaverse Participants
As the Metaverse continues to become a significant part of the global economy, it becomes necessary to organize efficacious KYC & AML verification techniques to combat financial crime, especially money laundering and terrorist financing. Shufti Pro's ultra-modern KYC and AML solutions are the top choices for Metaverse companies to counter cybercrime, enable smooth customer onboarding,  and make the sector a safe place for users.
Shufti Pro's AML screening solutions ensure compliance with global regulatory standards. Furthermore, Shufti Pro's AML solution has access to 1700+ sanctions lists and watchlists worldwide. Also, the solution is powered by an AI algorithm and screens data within seconds with 99% precision. 
Contact one of our KYC & AML experts today for more information on how to increase the safety and security of your customers within the Metaverse.