BEFORE YOU GO...
Check how Shufti Pro can verify your customers within seconds
Request Demo
No thanks
With transforming technologies, the use of cryptocurrency is skyrocketing, and a large number of financial institutions are offering crypto-related services to their clients. User engagement on cryptocurrency exchanges and platforms is also increasing more rapidly than ever. Europe is one of the continents with the highest cryptocurrency adoption rate, with $1 trillion worth in 2021, covering 25% of all activities worldwide. The massive influx of money in crypto market has encouraged criminals to carry out money laundering and terror financing by exploiting loopholes in system.
Considering the rapid growth of crypto in all member countries, EU's law-enforcement authorities are legislating laws to secure crypto users while empowering economic growth. The European crypto market is expected to increase by 16.94% in coming years, raising the need for strict Anti-Money Laundering (AML) measures to protect the financial system.
European Union's Landmark Regulation to Monitor Crypto
The rising cases of money laundering and terror financing in crypto industry have led law-enforcement authorities in Europe to take stringent actions against money launderers. EU officials have signed an agreement on the first regulatory regime for crypto sector. EU lawmakers along with the European Commission hammered out a deal in Brussels after hours of negotiation. All the members agreed upon strict measures to curb money laundering and other financial crimes from crypto market.
The landmark law, Markets in Crypto-Assets (MICA), has been formulated to regulate all the major stakeholders of cryptocurrency market, including exchanges, crypto wallets, and coin providers. As per the new rules, all concerned parties in crypto business must implement strict AML measures to keep bad actors away. It has been instructed to all stakeholders to report suspicious activities involving mass withdrawals and deposits. The restrictions have also been placed on transactions of stablecoins up to 200 million euros per day. MICA has stated that all these regulations will come into force as early as 2024, and till then, member countries can propose more suggestions to eliminate monetary crimes in crypto sector.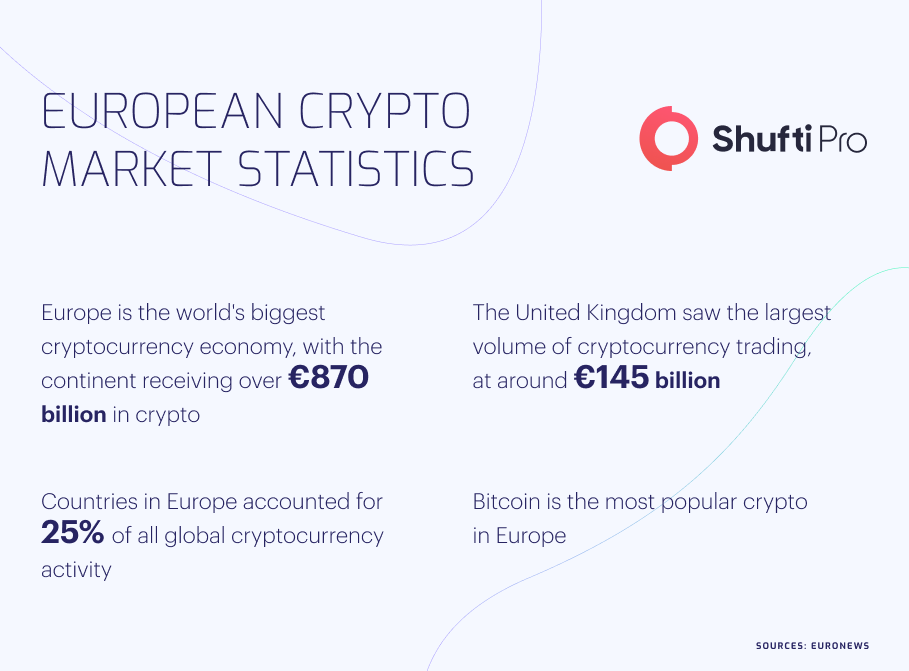 Prevailing Crimes in European Crypto Market
All the members of EU, particularly Eastern European countries, are experiencing more crimes in crypto sector, with $815 million lost to different scams in 2021. Unlike banks, crypto market has not imposed stringent AML checks, which has led the criminals to legalize their black money by investing in cryptocurrencies. In the recent past, several cases of corruption and terror financing have surfaced across Europe, encouraging law-enforcement authorities to regulate sector through effective measures.
$22m Crypto Investment Fraud Taken Down by European Police
European Police have conducted a raid and arrested a gang involved in crypto fraud across 71 countries. The criminals were encouraging common people through social media campaigns to invest in different fake coins and promising huge profits in return. 522 victims have registered complaints, and it is estimated that scammers collected $22 million from investors. Police have reported that criminals were also involved in money laundering activities. Investigations are still going on to trace all the financial transactions.
Suspected Cryptocurrency Fraudsters Arrested in Spain
The Spanish Civil Guard detained a group involved in money laundering through a cryptocurrency investment platform. €2.5 million worth of assets, including electronic devices, cars, and cash, were seized during the raid. The gang had set up a fake cryptocurrency investment coin and was offering a profit of more than 2.5% to the investors. The Police investigation is still going on, and a number of victims across Spain have been identified.
Recommendations by European Regulators to Curb Money Laundering and Terror Financing
Crypto-asset Service Providers (CASPs) are the major stakeholders of the cryptocurrency market, and they will now have to pass a variety of checks securing users' funds. European law-enforcement agencies have also proposed to screen the data of all users against sanctions listed by Financial Action Task Force (FATF), EU, and Interpol to restrict criminals while onboarding.
Regulating Stable Coins
The EU has raised serious concerns about stablecoins and recommended stringent regulations. As per the new regulations, it has been made mandatory for all stablecoins issuers to register all of their customers and obtain authorization for operations. The EU has further put limitations on stablecoins of maintaining a 1:1 reserve in their backend and it is expected that this move will wipe out billions of dollars of black money from crypto market.
Reducing Fragmentation
The member countries of the European Union have termed the harmonization of crypto market a crucial step that will lead to a comprehensive monitoring system.  MICA has advised financial organizations to set a road map curbing illegal small crypto firms and setting the ground for giant licensed companies which can be monitored through a centralized system. Following the suggestions, Coinbase, the leading cryptocurrency exchange platform, seeks licenses in all European countries.
Securing Crypto Wallets
MICA has highlighted crypto wallets as the main source of money laundering and other financial crimes. The criminals are using these wallets to store their crypto assets; most do not have any verification checks to identify users' true identities. EU Commission has strictly instructed crypto wallet service providers to implement robust identity verification measures to discourage the use of fake and stolen identities for illicit account creation.
How AML Compliance can Help the European Crypto Market?
European countries share a major part of global crypto market, and high influx of investments has led the criminals to carry out money laundering. EU has taken a considerable step forwards in addressing the prevalent financial crimes in crypto market. Soon after the implementation, Europe will become the region with the most comprehensive set of crypto regulations. Money laundering cases through cryptocurrency investments are increasing by 30% yearly, further raising serious concerns, particularly terrorism.
The European Commission has proposed that all the stakeholders need to screen data of users and crypto exchanges against sanctions lists by EU, FATF, and Interpol, which is the right step toward curbing monetary crimes. Moreover, Enhanced Due Diligence (EDD) approach is also imperative for the whole sector to verify true identities of users. Cryptocurrency is the future of digital financial transactions, and eliminating criminals from system is imperative to make it a secure place for investments.
What Shufti Pro Offers?
Combating financial crimes, particularly money laundering and terrorist financing, requires crypto exchanges to integrate efficient AML checks. Cryptocurrency adoption is showing no signs of slowing down, so it is the right time for crypto firms to invest in AML screening solutions.
Shufti Pro's state-of-the-art AML screening solution can help European cryptocurrency exchanges to stay compliant with international regulatory standards while preventing money laundering. Powered by thousands of AI algorithms, Shufti Pro's AML screening solution screens data of users against 1700+ global sanctions lists and provides results in less than a second with 98.67% accuracy.
Want to get more information about AML screening solutions for crypto firms?